Booker Plans Gun Registry And Bans; Dodges Question On Jailing Those Who Refuse
Democratic 2020 contender Sen. Cory Booker (D-NJ) on Monday announced a plan for gun control that calls for a ban on so-called 'assault weapons,' federal licenses for gun owners, and a probe into the nonprofit status of the National Rifle Association (NRA).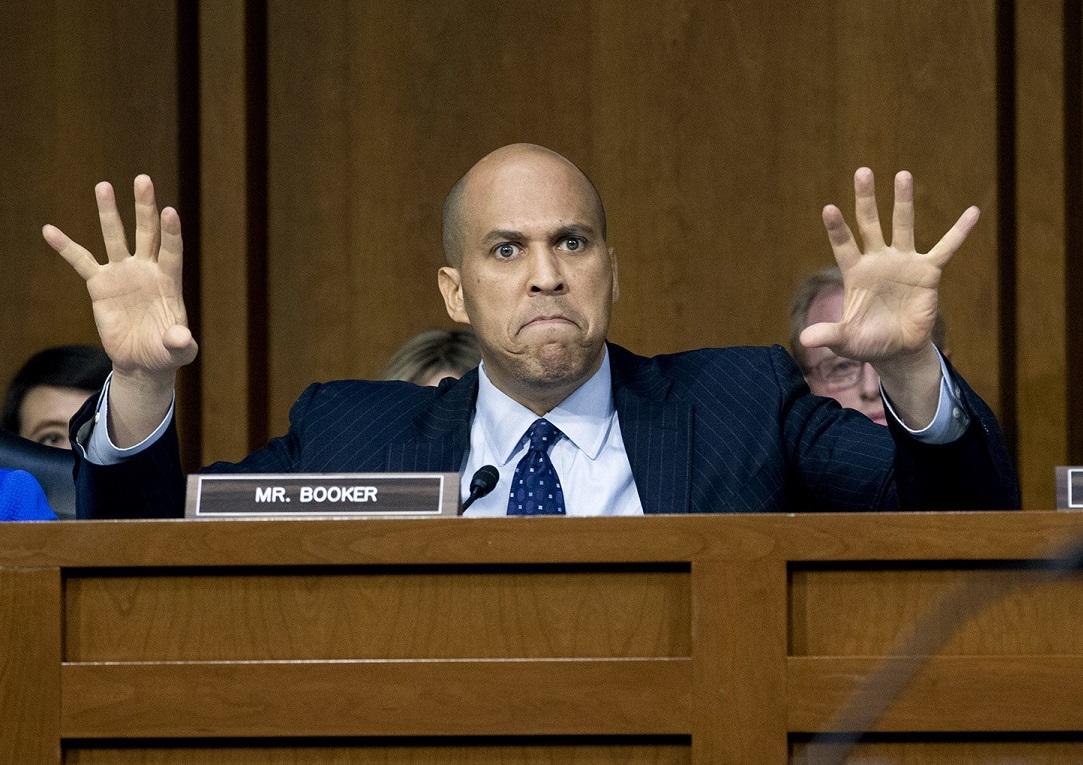 Booker's campaign called it the "most sweeping gun violence prevention plan ever put forth by a presidential candidate," reports the Washington Examiner's Emily Larsen. 
"As president, we will make commonsense changes to our gun laws such as requiring a license to purchase a gun that includes universal background checks, banning assault weapons, and closing the loopholes that allow domestic abusers and people on terrorist watch lists to get their hands on a gun," Booker said in a statement. "I am sick and tired of hearing thoughts and prayers for the communities that have been shattered by gun violence — it is time for bold action."
Several other Democratic presidential candidates, including Sen. Kamala Harris, D-Calif., and Rep. Eric Swalwell, D-Calif., have proposed universal background checks and a ban on "assault weapons" as part of their campaign platforms, but Booker goes further in proposing a national firearm licensing system.

Under the plan, individuals would need to submit fingerprints, complete a background check, and show completion of a certified gun safety course in order to obtain federal gun license. It would also limit gun purchasers to buying one handgun per month and ban "assault weapons," high-capacity magazines, and bump stocks. –Washington Examiner
On Monday, Booker refused to say whether he would jail Americans who refuse to surrender banned weapons under his plan, as noted by the Washington Free Beacon's Michael Smits. 
While appearing o CNN's New Day with Poppy Harlow and Jim Sciutto, Harlow asked Booker how his proposal stacks up to Congressman Eric Swalwell's – a 2020 Democratic contender from California who's running on an anti-2nd amendment platform. 
"Your competitor in the 2020 race, congressman Eric Swalwell has also, like you, proposed an assault weapons ban," Harlow began.

Swalwell has threatened noncompliant firearm owners with war, invoking the power of America's nuclear arsenal.

Harlow described Swalwell's "buy-back programs, where Americans who currently have those guns could sell them, essentially, to the government. But if they don't within a certain period of time, they would be prosecuted, thrown in jail."

The CNN anchor wanted to know whether he would similarly jail the gun owners. "Are you supportive of the same?" she asked.

Booker was initially evasive.

"Well first of all when I was a mayor of Newark, again, I have a record on dealing with gun violence. We did a lot of gun buy-backs and even other creative things I think we should have when I'm President of the United State," Booker said. "The critical thing is I think most Americans agree that these weapons of war should not be on our streets."

Harlow again pressed Booker.

"But would you prosecute people?" she asked. "Do you support the government buying them back and if not, potentially people could go to jail if they don't want to sell them back? Yes or no?"

Booker would not answer the question.
Watch: 
Cory Booker won't say whether he'll jail Americans who refuse to surrender firearms they lawfully purchased if he's president: pic.twitter.com/DTGDDLp2ud

— Mikhael Smits (@mikhaelsmits) May 6, 2019
Booker's call for the IRS to investigate the NRA, meanwhile, stems from an investigation opened by New York Attorney General Letitia James, who is probing the organization's tax-exempt status and finances. In October, James called it a "terrorist organization" rather than a charitable one.  
https://platform.twitter.com/widgets.js
---
This post has been republished with permission from a publicly-available RSS feed found on Zero Hedge. The views expressed by the original author(s) do not necessarily reflect the opinions or views of The Libertarian Hub, its owners or administrators. Any images included in the original article belong to and are the sole responsibility of the original author/website. The Libertarian Hub makes no claims of ownership of any imported photos/images and shall not be held liable for any unintended copyright infringement. Submit a DCMA takedown request.