VIX Curve Inverts: Nomura Warns Record Vol Shorts To Fully "Vomit"
VIX futures soared overnight after US-China trade-deal realities 'punched the market in the face', but spot VIX has soared even further this morning, spiking above 18 to the highest levels since January (blowing through all its key moving averages)…
And remember, this spike in vol is coming at the same time as speculators are record short vol futures…
However, as Nomura's Charlie McElligott explains in a note this morning, there are bigger, potentially reinforcing threats from this sudden spike:
For all of the recent market consternation about the VIX futures positioning (net spec short still outsized by the net ETN long, as the leveraged short ETNs are essentially extinct which is what matters the most), one thing all can agree on is that systematic VIX roll-down players are certainly "back-in" the trade post the Fed's dovish pivot – so as this morning we see UXA curve invert powerfully again.
VIX FUTURES CURVE INVERTS- ROLL-DOWN STRATEGIES WILL BE DYNAMICALLY COVERING PART OF THEIR 'SHORT VOL' POSITIONS IN COMING DAYS.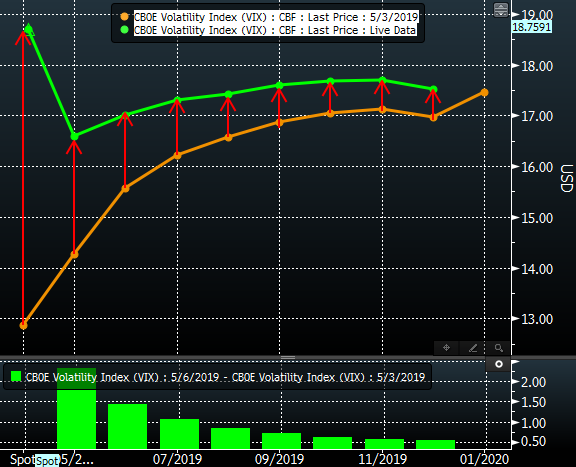 As cash markets open, here are Nomura's key levels to watch for CTA reversals and Gamma "flips"…
CTA FORWARD DROPOFF POINTS ARE 'MECHANICALLY RISING' IN COMING-WEEKS ON ACCOUNT OF THE MARKET RALLY – MEANING A 'LOWER BAR' FOR MARKET SELLOFF TO TRIGGER DELEVERAGING AS THE PRICE-SIGNAL WEAKENS IN U.S. EQUITIES (TOP ROW '0' = TODAY, '5' = ONE WEEK OUT, '10' = TWO WEEKS, '15' = THREE WEEKS):
It will be critical to watch how reactive OR dynamic these strategies are at unwinding – per Tom Eason, it will likely take a few days of inversion / higher realized for these trades to fully "vomit" their "short vol" positioning.
---
This post has been republished with permission from a publicly-available RSS feed found on Zero Hedge. The views expressed by the original author(s) do not necessarily reflect the opinions or views of The Libertarian Hub, its owners or administrators. Any images included in the original article belong to and are the sole responsibility of the original author/website. The Libertarian Hub makes no claims of ownership of any imported photos/images and shall not be held liable for any unintended copyright infringement. Submit a DCMA takedown request.