Foreign Buyers Flee From Ugly, Tailing 3Y Auction
With the US Treasury launching May's coupon issuance with today's sale of $38 billion in 3Y notes, traders were wondering amid today's sharp equity selloff, if we would see a flight to safety in the primary Treasury market.
We did not, and in fact the just concluded sale of $38 billion in 3Y paper was about as ugly an auction as we have seen in years.
Starting at the top, the high yield of 2.248% was the lowest since January 2018. However, more concerning is that the stop out tailed the 2.241% When Issued by 0.7bps, printing at 2.248%. This was the 3rd consecutive tailing auction, the 13tht ail in the last 14 auctions, and also the biggest tail since May 2017.
The internals were just as disappointing: the bid to cover slumped to 2.48, down from 2.49 last month and the lowest since January. However it was the Indirect takedown that was the most surprising, printing at 37.9%, a sharp drop from 42.7% last month, below the 46.6% 6-auction average, and the lowest since November 2014. And with Dealers taking down 42%, the highest since last October, this left Directs with a whopping 20.0% the highest since September 2014.
Overall, a disappointing auction, and doubly so when considering that buyers should have had no problem rushing into the relative safety of short-term paper, especially if the Fed is expected to cut rates in the coming year.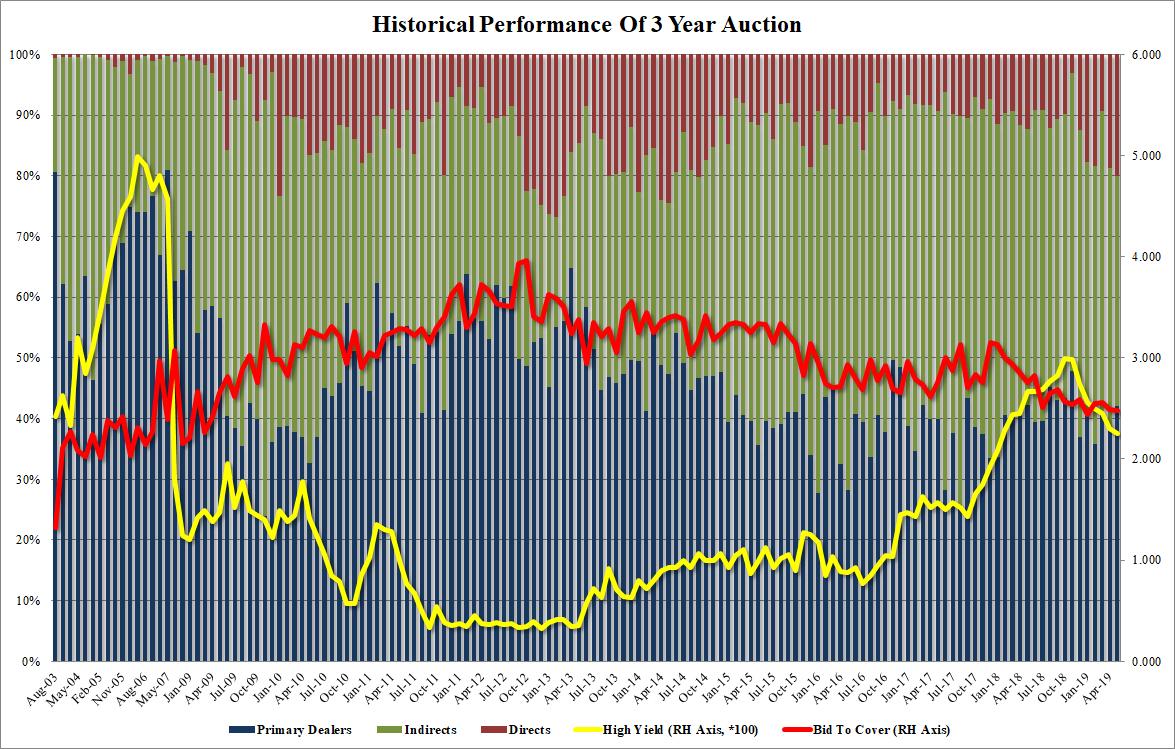 ---
This post has been republished with permission from a publicly-available RSS feed found on Zero Hedge. The views expressed by the original author(s) do not necessarily reflect the opinions or views of The Libertarian Hub, its owners or administrators. Any images included in the original article belong to and are the sole responsibility of the original author/website. The Libertarian Hub makes no claims of ownership of any imported photos/images and shall not be held liable for any unintended copyright infringement. Submit a DCMA takedown request.