In 2020 Race, Democrats Taking Aim At Corporations That Pay $0 In Federal Taxes
Voters are starting to wonder why massive corporations like Amazon pay zero in corporate taxes, in what is likely going to be one of the major hot-button issues of the upcoming election, according to the New York Times. 
A recent piece by the paper highlighted a growing group of people like Colin Robertson, who wonders why he pays taxes on the $18,000 a year he makes cleaning carpets, while companies like Amazon got a tax rebate. The confusion led him to join the Akron chapter of the Democratic Socialists of America, where at a gathering this month, members discussed Karl Marx and corporate greed over chocolate chip cookies. 
Robertson said of Amazon CEO Jeff Bezos: "One of the benefits of taxation is taking it and using it for the collective good. He could be taxed at 99.9 percent and still have millions left over, and I'd be homeless."
It's an issue that Democrats like Joe Biden, Bernie Sanders and Elizabeth Warren have made, or likely will make, cornerstones to their campaigns, especially after a recent report showed 60 Fortune 500 companies paid no federal taxes on $79 billion in corporate income last year. Last year, Amazon got a rebate on income of $10.8 billion.
Bernie Sanders said this month: "Amazon, Netflix and dozens of major corporations, as a result of Trump's tax bill, pay nothing in federal taxes. I think that's a disgrace."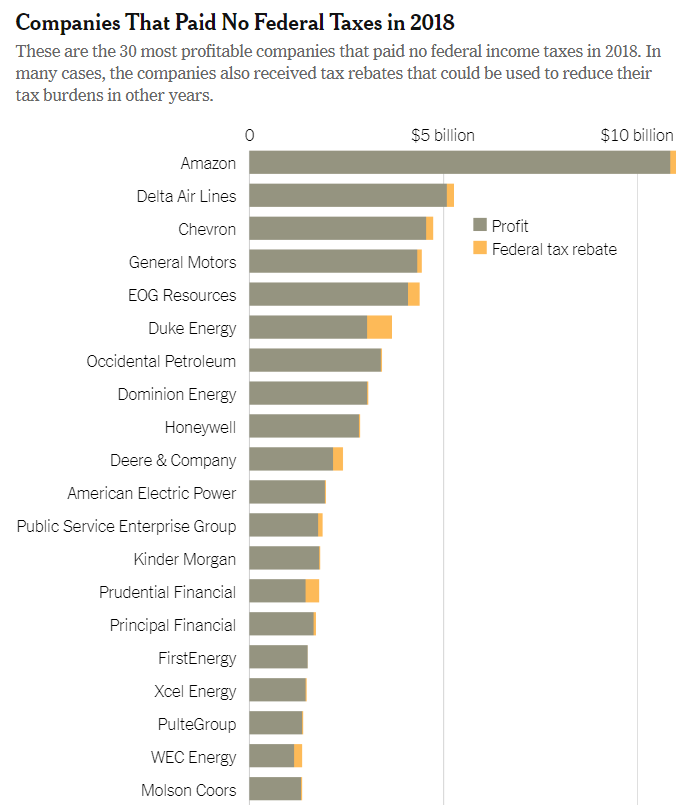 Warren has proposed that corporations pay a 7% tax on every dollar over $100 million in profits they earn anywhere in the world. She estimated this would apply to 1,200 companies and net about $1 trillion over a decade. Amazon would have paid $698 million, instead of $0, in taxes for 2018 under her plan. Joe Biden has yet to issue a formal corporate tax reform proposal. Last May, he stated: "We have to deal with this tax code. It's wildly skewed toward taking care of those at the very top."
Corporate taxes have been – and will continue to be – a target of criticism by Democrats. In 2020, Democrats will argue that corporations should be accountable for wage inequality, despite the fact that both parties have tried to lower the top corporate tax rate over the last 10 years. Obama proposed lowering it from 35% to 28% before Republicans in 2017 lowered it to 21%. The new law also allows immediate expensing of capital expenditures, which is a key factor in many corporations not paying federal taxes. 
The GOP has argued that the tax changes would stimulate investment and economic growth, which has happened mostly in the form of additional stock buybacks in an already inflated stock market. In Ohio, where Colin Robertson is from, the story is slightly different. The state has seen some counties with unemployment at 4.4%, a 600bps spread to the national rate of 3.8%, as a result of factory closures that have taken place over the past few years. Dems will seek to use this to their advantage in a state that Trump won by 8% in 2016. 
David Betras, the Democratic chairman in Mahoning County said: "Democrats [have] not yet figured out how to use the economic angst of laid-off employees and minimum-wage workers to defeat Mr. Trump in Ohio in 2020."
He continued, conceding that Trump has done a good job addressing the issue: "Believe it or not, if you listen to the president, he addresses that issue. He does it with a lot of smoke and very many mirrors, but he's at least talking about how good the economy is and what I've done for you. 'I'm with you. I have your back.'"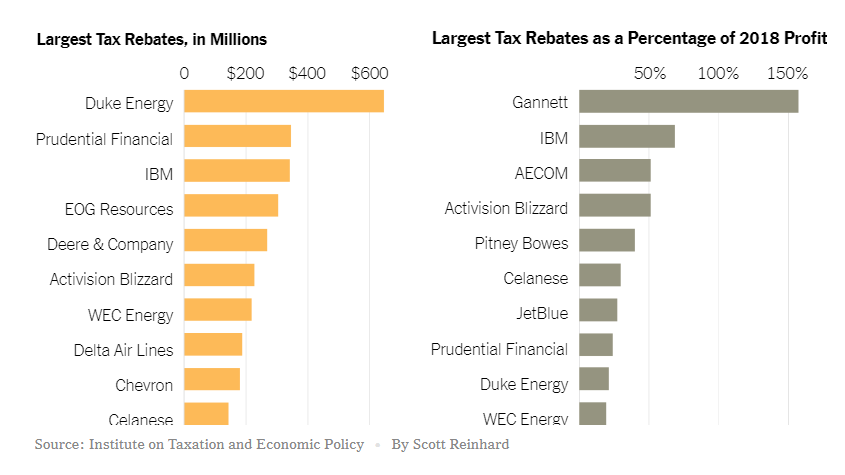 Ultimately, Betras said the issue didn't resonate as much with voters as health care or immigration, especially because taxes are much more of a resonant issue for Republicans than for Democrats, traditionally. Tyler Savin, a real estate agent in the area who has seen home prices fall as a result of the closure of some plants, said: "I think corporations should pay their taxes, like Amazon, but health care and support for abortion rights [are] more important."
Thomas Chhay, a Republican student at the University of Akron said: "I lean Republican. I agree with corporate tax cuts unless the companies ship the jobs overseas."
In addition to Amazon, Goodyear and FirstEnergy, two other Ohio companies, also paid no taxes. FirstEnergy paid no taxes last year on $1.5 billion in income and instead received tax credits that can be used in the future. General Motors recently idled a large plant near Youngstown and, in 2018, paid no federal taxes on $4.32 billion in income. Lordstown, where one GM plant is located, is buried in a county with an unemployment rate stuck at 6.6%. 
David Green, president of United Auto Workers Local 1112 said: "What was promised to these people was more jobs. When you give them the tax break and they take the jobs away, that's like a double whammy. That's a lose-lose."
And the truly worrisome thing is the "solutions" that these policies are driving Democrats to. For instance, Robertson told the NYT that he believes "nationalizing the companies" would be an answer. "I think forcing them to pay higher alone is inefficient, and taxation alone is inefficient," he said. 
---
This post has been republished with permission from a publicly-available RSS feed found on Zero Hedge. The views expressed by the original author(s) do not necessarily reflect the opinions or views of The Libertarian Hub, its owners or administrators. Any images included in the original article belong to and are the sole responsibility of the original author/website. The Libertarian Hub makes no claims of ownership of any imported photos/images and shall not be held liable for any unintended copyright infringement. Submit a DCMA takedown request.