Why Investors Aren't Panicking (Yet): Here Are The Four Possible Scenarios For Friday
Authored by Steve Englander, Head of G-10 FX Research at Standard Chartered Bank
Investors are worrying, but not too much yet
Risk is being sold but from a very low level of risk aversion

Investors likely expect that Friday tariff deadline will be stretched

Expected outcome is still a deal, so there is a lot to sell on no deal

Near-term we see CAD as highly vulnerable to bad news and a general underpricing of volatility
No real fear of aggravated trade war yet
Discussions with market participants indicate an almost unanimous view that investors are not pricing in enough risk of a major trade war escalation. Relative to Sunday, when President Trump first tweeted, and most of Monday, more investors see a possibility that the US will follow through on tariffs in response to the Administration's perception that China is backing off on already agreed parts of the deal. Initially the tweets were seen largely as posturing and an attempt to get a last-minute negotiating advantage, but this view has shifted.
As of early afternoon on 7 May, EDT, US equity futures had broken through the post-tweet lows on 6 May, while the CNH had broken 6.80 again. 1M and 2M 10-delta risk reversals on AUD-JPY, which should be sensitive to trade tensions, are at the low end of the past year, pointing to concern that AUD-JPY might fall sharply on a risk-off event. However, these risk reversals are not at their lows and nowhere near where they have gone when there was a real scare in Asia and global asset markets in prior years (Figure 1). The same can be said for USD-JPY risk reversals – interestingly, these have jumped modestly on a 1- to 2-week horizon and much less so on a 2- to 3-month horizon, suggesting that markets expect tensions to subside relatively quickly.
Investors still may be underpricing both upside and downside risk.
A two-week USD-JPY ATM straddle costs less than 100pips indicatively. The USD-JPY down-move over the past three days is bigger than this premium and USD-JPY could easily move much lower if no deal is in sight. Commodity currencies have moved modestly downwards since 3 May. For example, the CAD is down 0.45 since Friday's close and the growth fears and commodity price risk leave it vulnerable, in our view. We still expect a deal will happen but the timing and the path are much more uncertain.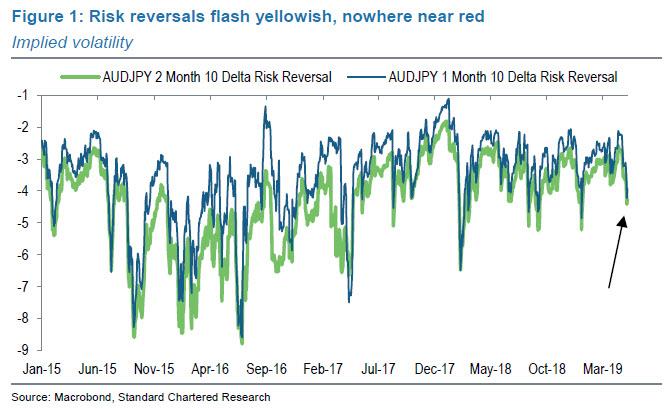 So far, Friday options pricing does not look very aggressive despite the threat. Options markets do not look to be pricing in too much additional premium between Thursday and Friday, so the Friday deadline is not being taken too seriously. Note that the tariffs are scheduled to be imposed just after midnight EDT in the US, in the middle of the scheduled visit of Vice-Premier Liu.
Our subjective judgements on the outcomes for markets are:
1) Rabbit out of a hat deal (25%) – Given the recent history of trade negotiations, it is hard to discount the risk that the mutual threats are choreography to show domestic hardliners that nothing is being given away. Possibly China is trumping Trump by shifting the goalposts at the end of negotiations on the view that they can always accept last week's deal. It is even possible that the Administration sees this as a way of accepting last week's deal and making it seem like a win. However damaging to credibility such a deal would be, it could be positive for asset markets, which could regain and maybe even exceed previous highs on the view that the deal is finally done. FX moves have been relatively muted so the upside is more limited. In G10, AUD-JPY or AUD-CHF might be the biggest winners. The USD would probably weaken most versus Asia currencies, then against commodity exporters and least against remaining G10. The JPY would likely lose some of its gains. Commodity prices have dropped as well so commodity-linked currencies would likely also see support. US 10Y Treasury yields would probably rebound back over 2.5% and possibly above 3 May's 2.5250 close.

2) Delay of tariff imposition because talks are making 'progress' (50%) – This is neutral to somewhat positive for asset markets. A delay would be read as the US blinking, which would be good for asset prices by and large, setting aside the likely perception that the US may settle for far less than advertised. On this basis, US asset prices may bounce less than foreign, and the USD would weaken almost as much as in the first scenario above.

3) Limited tariff imposition, for example, going from 10% to 15% tariff rates on already tariffed goods (10%) – this is neutral to somewhat negative for asset markets. Raising tariffs in the middle of negotiations is an invitation for your counterpart to walk. This is true even if the tariff increases look largely symbolic. The investor takeaway would likely be that a major frontier had been breached, and there would be uncertainty about retaliation and counter-retaliation. The immediate focus would be whether China's delegation left or kept negotiating, but higher tariffs even in miniature would breach a major frontier. Much closer to neutral would be a small increase that would be implemented in a few weeks if no progress is made. This has less implications of 'caving,' shows a good negotiating attitude from a market viewpoint and does not put the onus on China to respond. The neutral effect would be time-dependent; a short-term delay would be hard to repeat.

4) Full tariff imposition and breakdown of talks (15%) – this is the big risk event. The question would be whose economy and asset markets were stronger and who could withstand the pain that would ensue. Given the limited price action, it is hard to believe that this is more than 20% priced in and 15% looks more realistic. It is probably the case that a bad deal (based on current negotiating positions) is better than a 'good' trade war outcome for both economies and their asset markets. The drop in US breakevens over the past few days suggests that investors see more risk to growth than inflation out of these events, but the Fed might respond more quickly given below-target inflation.
The JPY would likely be the big winner, but other Asia and risk-correlated currencies could take a significantly bigger hit than anything we have seen so far. Safe-haven flows to US bonds would likely be the other big trade.
---
This post has been republished with permission from a publicly-available RSS feed found on Zero Hedge. The views expressed by the original author(s) do not necessarily reflect the opinions or views of The Libertarian Hub, its owners or administrators. Any images included in the original article belong to and are the sole responsibility of the original author/website. The Libertarian Hub makes no claims of ownership of any imported photos/images and shall not be held liable for any unintended copyright infringement. Submit a DCMA takedown request.