Beyond Meat Plunges As Shorts Assault The Stock… But It Will Cost Them
With Beyond Meat's stock exploding a grotesque 225% since its IPO last week following what was already the strongest first day of trading for an IPO since the financial crisis, countless stunned investors have expressed concern (usually in far less polite terms) that not only is the market as frothy as it was during the bubbliest days of the (pets) dot com bubble, but that Beyond Meat's valuation has become ridiculous. 
Take Harrington Alpha Fund's founder Bruce Cox, the first fund manager to go on record as questioning Beyond Meat's runup, saying BYND's valuation has become "absurd" and the stock should pull back soon: "The valuation, by any metric, is out of control," Cox said by phone, pointing to the stock's elevated trading volumes. "It will definitely roll over…it's a matter of when."
Cox, a former SVP at Stifel, told Bloomberg that anywhere in the $40s – where the stock opened on its IPO day – was a more reasonable price, and predicts that sell-side analysts, who will start publishing on the stock in three weeks after research restrictions expire on May 28, will urge clients to sell shares at these levels.
But while that has yet to be confirmed, uber-skeptics can now put their money where their mouth is, and short the stock. That's precisely what Cox did, becoming one of the first to initiate a short position in the fake meat company which has just three products, virtually no barriers to entry (all of its far bigger competitors will soon offer a competing selection of products), and no profits.
Judging the by today's stock performance, Cox wasn't alone: after rising relentlessly since its IPO, Beyond Meat shares fell as much as 9% percent on Wednesday, closing at the lows in first down session since it started trading on May 2.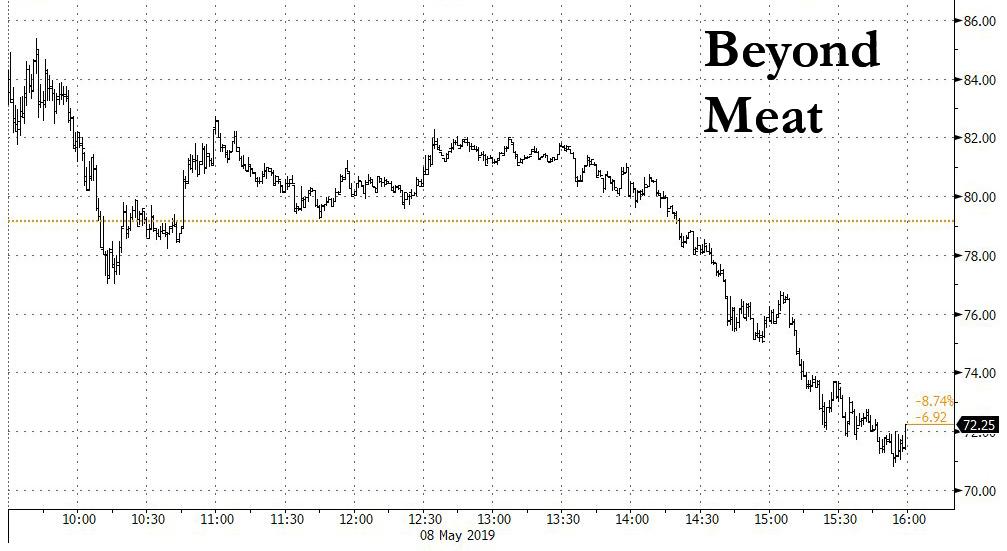 And while Cox will almost surely end up being right about BYND's stock price, he better get there fast, because while shorting of this bubble mania stock is now possible, it will cost you.  According to Bloomberg, traders shorting the stock cited borrow fees from 36% to as much as 111%, "a sign of how early it is to short the newly minted stock." The exorbitant borrowing costs have not daunted the shorts, and according to data from S3 Partners, shorts already represent about 6.6% of Beyond Meat's float, with the prevailing financing rate at 19.7%, although practically speaking, the cost to short the name is far higher.
Shorts may find an additional challenge when the IPO underwriters publish their requisite "Buy" trade recos: as a reminder, Goldman Sachs, JPMorgan, Credit Suisse, BofAML, Jefferies and William Blair are among banks that managed the company's initial public offering, and who will publish research after the quiet period ends in three weeks. The stock has already received two bullish initiations from Freedom Finance and Bernstein, but with widely different price targets, $28 and $81, respectively.
Any risk of bullish sellside research appears to not be part of the shorter equation, and Cox claims that fundamentals don't support the current valuation, noting that companies like Tyson Foods can "pretty easily" enter the market.
On the other side of the table is Bernstein analyst Alexia Howard, who acknowledged the competitive dynamics in the alternative meat market in her initiation note on Monday, but expressed optimism that rising consumer demand should allow for multiple players.
Howard predicted the total addressable market could reach about $40.5 billion in the U.S. over the next decade. If Beyond Meat can grow its market share to 5 percent from 2 percent currently, this would imply sales of $2 billion in 2028. The El Segundo, California-based company in 2018 posted revenue of $87.9 million.
Those who are willing to take on some additional risk (or perhaps less, as BYND stock is certainly at risk of a massive short squeeze as more and more shorts jump in) to avoid the massive borrowing fees, can just buy puts – BYND's option  started trading today in a surprisingly quiet session, as only about 7,900 contracts changed hands. Expect that to change now that the early euphoria appears to be dead.
---
This post has been republished with permission from a publicly-available RSS feed found on Zero Hedge. The views expressed by the original author(s) do not necessarily reflect the opinions or views of The Libertarian Hub, its owners or administrators. Any images included in the original article belong to and are the sole responsibility of the original author/website. The Libertarian Hub makes no claims of ownership of any imported photos/images and shall not be held liable for any unintended copyright infringement. Submit a DCMA takedown request.