China Boycotts Shockingly Ugly, Tailing 10Y Auction: Indirects Plunge, Lowest Bid/Cover In 10 Years
There is just one word to describe today's just concluded sale of $27 billion in 10Y notes: disastrous.
Sparking immediate speculation if China simply decided not to show up for today's budget deficit funding operations, the 10Y auction was ugly from top to bottom. The high yield of 2.479% tailed the When Issued 2.465% by a whopping 1.4bps, the biggest tail since August 2016. The tail was so big that whereas the auction was initially expected to price at the lowest yield since December 2018, as the WI was below last month's 2.476%, the disappointing reception meant that the yield actually rose compared to last month.
But if the tail was bad, the internals were far worse, starting with the Bid to Cover, which plunged from 2.55 to 2.17. There is no point in comparing this to the recent average, because this was the lowest BTC going all the way back to March 209, or a decade earlier.
As for the reason for speculation if China bailed, one look at the Indirects, or foreign official authorities were China traditionally dominates, showed it tumbling from 68.4% to 53.3%, the lowest since November 2016. And with Directs doing their best to offset the collapse in Indirects, and taking down 11.5%, or in line with last month, Dealers were forced to hold 35.2%, almost double April's 19.6%, and the highest since April 2018.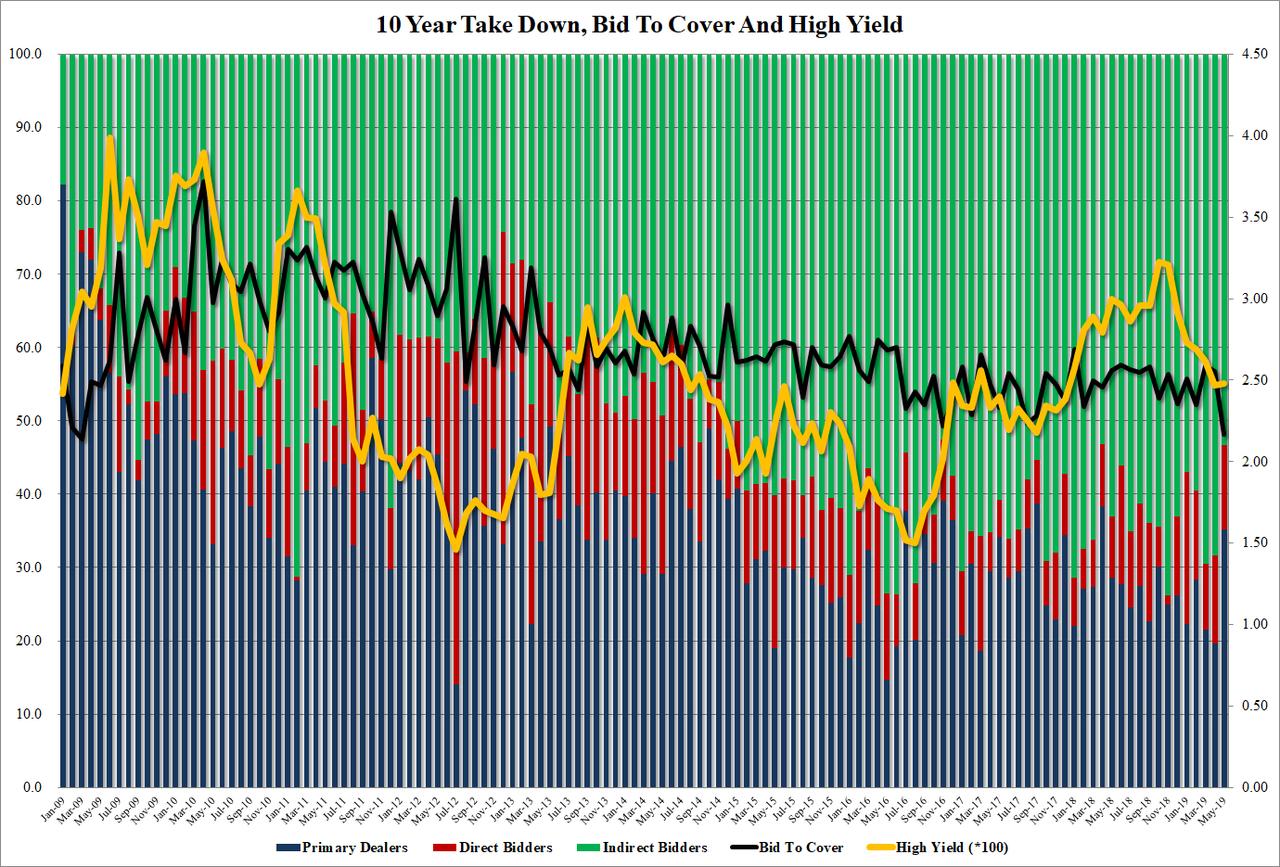 Overall, a very ugly auction, and if China wanted to send a message to the US, it clearly succeeded judging by the violent repricing in the 10Y whose immediately yield promptly blew out by over 2 bps.
---
This post has been republished with permission from a publicly-available RSS feed found on Zero Hedge. The views expressed by the original author(s) do not necessarily reflect the opinions or views of The Libertarian Hub, its owners or administrators. Any images included in the original article belong to and are the sole responsibility of the original author/website. The Libertarian Hub makes no claims of ownership of any imported photos/images and shall not be held liable for any unintended copyright infringement. Submit a DCMA takedown request.