Goldman Capitulates, Now Sees Tariff Increase As The Base Case
Just call it Gartman Sachs.
The past 12 months have been a catastrophe for anyone who followed Goldman's advice or trade recommendations. And for the bank which until last December predicted 4 rate hikes in 2019 (and now barely sees one more, some time in late 2020), and has been pitching a dollar short for as long as we can remember, resulting in substantial losses to anyone who listened as the greenback has continued to rise, it's time to admit it has been wrong on arguably the most important issue facing the market.
As Goldman's chief political economist, Alec Phillips writes, when President Trump "surprised" those gullible enough to believe a trade deal with China was imminent, and announced on Sunday (May 5) his intention to increase tariffs on $200bn of imports from China starting on Friday (May 10), Goldman "believed that there was a 40% probability that the increase would take place and that it was instead slightly more likely that the tariff increase would be narrowly avoided."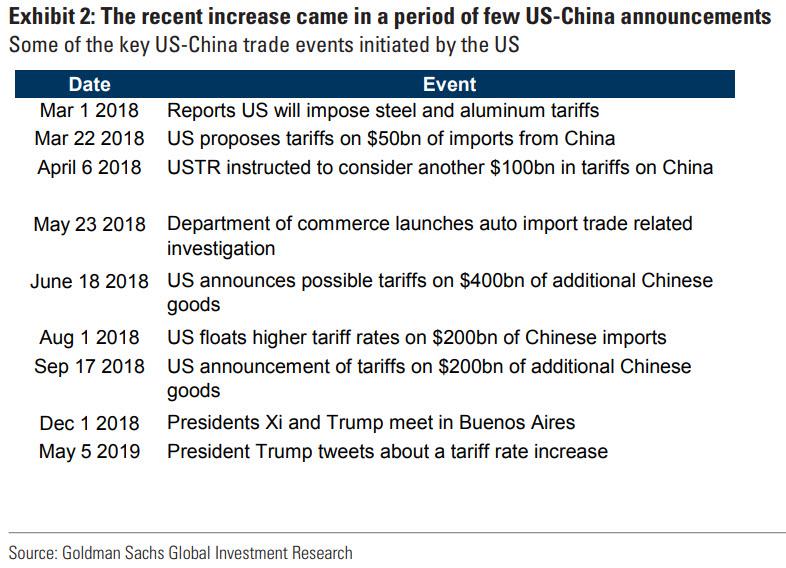 Since then however, Phillips writes that two key developments suggest the outlook has worsened incrementally.
First, on Monday (May 6) and again yesterday (May 8), USTR indicated that the 25% tariff rate would be imposed on imports starting Friday, May 10. USTR then released this morning a formal notice to implement the tariff increase. Separately, US officials have indicated that USTR will soon release an additional notice to impose a 25% tariff on all remaining imports from China not covered by the first three rounds of tariffs already imposed. In addition, the justification US officials have given for the move—reversal of what the US believed were commitments to change Chinese law in several policy areas—suggests that the proposed tariff increase is more than just a negotiating tactic.
Second, while Chinese Vice-Premier Liu He and a delegation of Chinese officials are still scheduled to meet with US Trade Representative Lighthizer and other US officials on Thursday and Friday (May 9 and 10), this visit has been scaled back somewhat from original plans, which called for three days of meetings starting Wednesday. This is clearly a more positive outcome than if the meetings had been canceled entirely but it nevertheless suggests the Chinese side may have lowered its expectations for an agreement.
As a result, Phillips has capitulated on his optimistic take, which until this morning had erroneously inspired Goldman clients with confidence that a deal is imminent – after all Goldman says it is – and notes that while he still views the outcome of this Friday's new tariff deadline as a close call, "the odds are somewhat higher (60%) that the tariffs will take effect as President Trump and other US officials have indicated." Ironically, reversing its base case to one of "no deal" is insufficient for Goldman, which still is eager to hedge its flip-flopping and notes that since Chinese Vice-Premier Liu He is still scheduled to meet with US officials on Thursday and Friday (May 9-10), "there is a fair chance (40%) that the tariff increase this week will be avoided."
Of course, the very fact that Goldman now expects no deal, just hours before the fateful meeting, virtually assures that some agreement, however superficial,  will be ironed out.
* * *
With all that said, and echoing Steven Englander's view of the possible outcomes from Friday's meeting, here according to Goldman, are the three potential scenarios that could play out heading into the Friday tariff deadline:
A deal (10%): It is possible, albeit not very likely, that US and Chinese negotiators could bridge differences and reach the deal that most observers believed last week that they might reach by May 10. Until very recently, the two sides had appeared to be genuinely close to reaching an agreement. Our understanding is that most of the key issues had been resolved and that, as Treasury Secretary Mnuchin recently put it, the negotiations were "90% complete." If so, reaching an agreement on the remaining issues might be possible in a fairly short period. That said, we do not believe this is a particularly likely outcome, as US negotiators seem unwilling to accept the terms Chinese officials recently offered and Chinese officials might be wary of the appearance of succumbing to US pressure.
A temporary reprieve (30%): While a full-fledged deal seems unlikely, a higher probability scenario would be for Chinese officials to offer enough incremental concessions to convince US officials that there has been no backsliding while stopping short of a formal agreement. In this scenario, we would expect that the US might delay the implementation of tariffs for a short period—two or three weeks perhaps—to allow remaining issues to be resolved. Such a delay would have a similar precedent: on April 30 last year, the Administration issued a last-minute order extending steel and aluminum tariff exclusions for Canada, Mexico, and the EU just hours before tariffs were set to take effect. This seems like the most likely scenario to avoid tariffs, but given the delicate balance that would be required between competing objectives and the short time—just one day—negotiators would have to reach an agreement, this does not appear to be the most likely outcome.
An increase in tariffs (60%): Now that USTR has submitted its notice to be published in the Federal Register, the increase in the tariff rate on $200bn of imports from China should take effect automatically on Friday, May 10, unless the President issues an order to prevent it. In the event that US and Chinese negotiators are unable to reach a last-minute understanding on Thursday (May 9), we expect that the tariff increase would take effect as planned. That said, with the short time between the announcement and implementation, it seems likely that while the tariff increase would technically take effect Friday under this scenario, actual tariff revenue might not start to be collected until next week.
So what happens if and when the higher tariffs do kick in, and how long could or would they last, especially since the reversal in the optimistic narrative means that the world's best performing stock market in 2019, that of China's, has been the worst this month?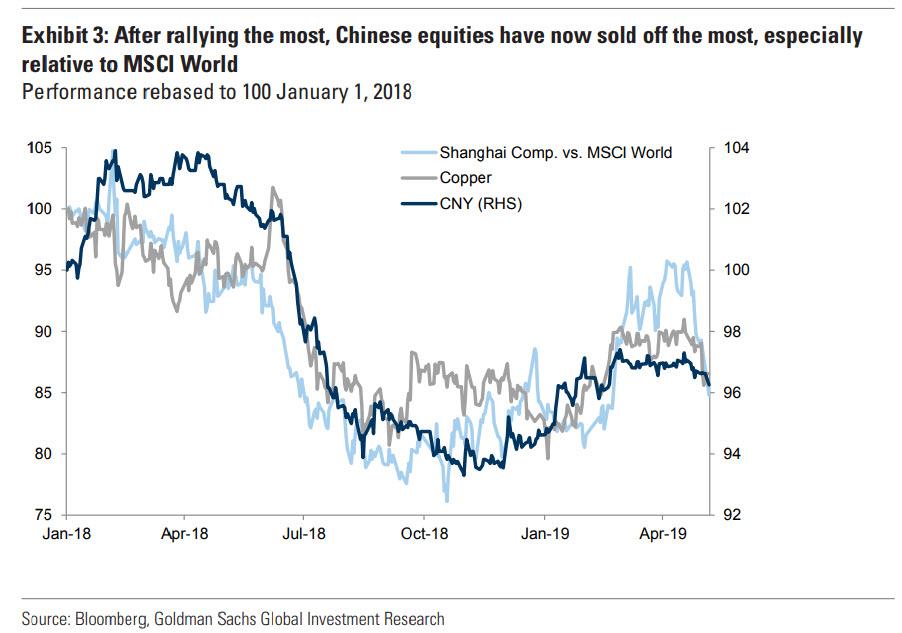 Here are some additional thoughts from Goldman:
Concerns about the economic outlook and a softening equity market might have been partly responsible for a more conciliatory stance with China in late 2018 and early 2019. With recent strength in economic data and US equity markets recently at new highs, the Administration might now feel more flexibility to impose tariffs even if they create temporary economic and market disruption. We also note that while the White House appeared to be pushing toward a near-term agreement with China, there is no particular deadline for a deal, so the Trump Administration might feel they have more time to strike an agreement.

That said, tariff escalation would not come without costs. Moving forward with the 25% tariff would likely set back the talks further and might threaten to reverse some of the progress that has already been made. US businesses who import affected products would face increased costs and US exporters would face disruptions from retaliatory tariffs. We note that Chinese retaliatory tariffs on soybeans and other US agricultural exports have negatively impacted the politically important farm sector, for example. While this might be a political price the Administration is willing to pay, it is likely something the White House would like to avoid, if possible.

While tariff escalation on Friday appears to have become more likely than not, we do not think there is a high probability that the US will impose the 25% tariff on the final tranche of $300bn or so of imports from China that President Trump suggested on Sunday (May 5), for two reasons. First, as shown below, the final round of tariffs would hit consumer products in particular, which would have even greater negative political implications than the earlier rounds of tariffs already implemented. Second, while we do expect that the US Trade Representative's office will soon release a proposal to begin the process of implementing those tariffs, that process is likely to take at least a couple of months before implementation. Given that we still think an eventual agreement is likely, we believe the odds of the tariff increase on the remaining $300bn in imports from China are therefore fairly low (25%).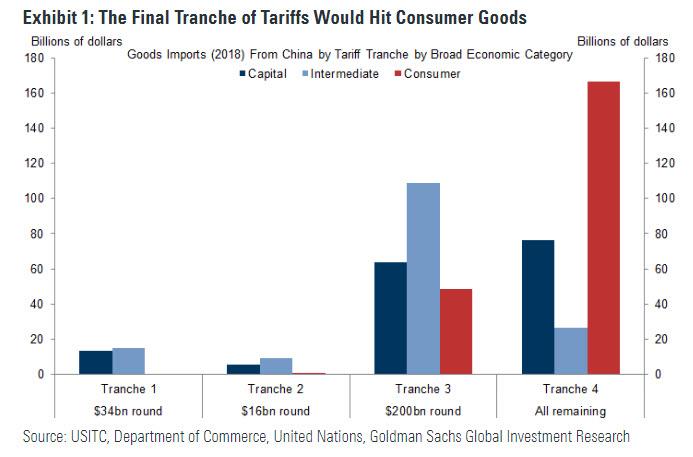 Finally, for what it's worth (not much), Goldman does not believe that the latest developments change the outlook for auto tariffs very much (coming from Goldman, we would be very worried about auto tariffs). As a reminder, the White House faces a May 18 deadline to announce a decision on auto tariffs, but that decision may be postponed. This seems even more likely now that trade tensions between the US and China have escalated further. Regardless, Goldman views the probably of implementation of auto tariffs in the near term "to be quite low mainly because doing so would make it nearly impossible, in our view, to pass USMCA in Congress, as many Republicans whose support would be needed to pass USMCA strongly oppose the tariffs." However, later this year, once USMCA has likely passed, the probability of auto tariffs rises somewhat even according to Goldman, "and the recent renewal of trade tensions suggests that the President is more willing than we had expected to disrupt markets and risk retaliation with trade actions."
---
This post has been republished with permission from a publicly-available RSS feed found on Zero Hedge. The views expressed by the original author(s) do not necessarily reflect the opinions or views of The Libertarian Hub, its owners or administrators. Any images included in the original article belong to and are the sole responsibility of the original author/website. The Libertarian Hub makes no claims of ownership of any imported photos/images and shall not be held liable for any unintended copyright infringement. Submit a DCMA takedown request.