Italian Spreads Blow Out As Budget Chaos Returns, War Among Populist Coalition Escalates
After the Italian government 'revised' its 2019 budget projections and admitted that its expected deficit would be much wider than the 2.04% it had promised Brussels, it was only a matter of time before tensions with the EU reemerged to push yields on Italy's sovereign debt higher.
And on Wednesday morning, that's exactly what happened, as the yield on 10-year Italian bonds pushed back toward the April highs, moving ever-closer to the multi-year highs reached during the most acute phase of the budget crisis from late last year.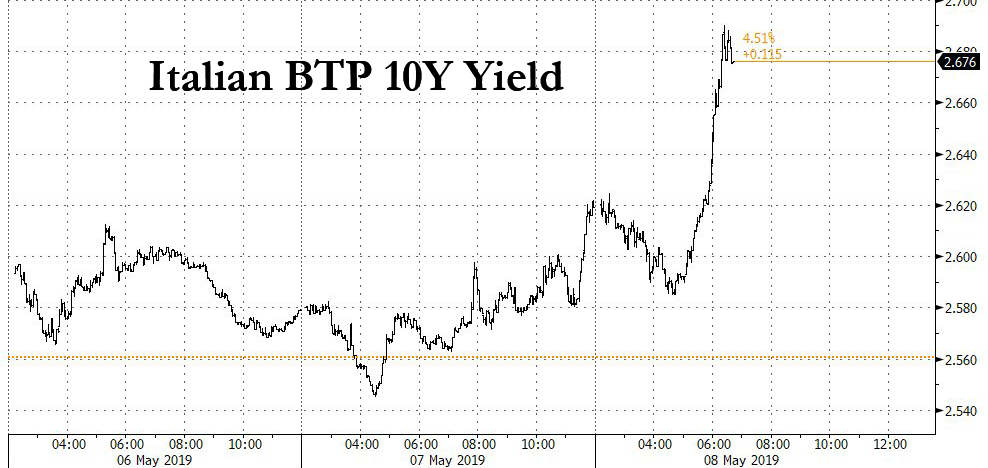 On Tuesday, the European Commission confirmed that the Italian budget is set to breach EU rules by a ride margin. A day later, il Sole 24 reported that EU forecasts suggested that the Italian government might be forced to "find" €35 billion to €40 billion to make up for past budget shortfalls.
Adding to the budget uncertainty, Deputy PM Luigi Di Maio said Wednesday that it would be possible for Italy to break the EU's budget limit of 3%, echoing comments from Deputy PM and League leader Matteo Salvini earlier in the week.
But as if the budget drama wasn't enough to rattle bondholders, the simmering feud between the League and the Five Star Movement – the two partners in Italy's ruling populist coalition – exploded into open hostility on Wednesday after Prime Minister Giuseppe Conte moved to oust Armando Siri, a League junior minister who is facing a corruption investigation. The League's steadfast defense of Siri had angered Di Maio, who had insisted that Siri "take a step back" and resign.
Siri is being investigated for allegedly taking a bribe from a mafia-linked businessman.
Salvini has steadfastly defended Siri, an undersecretary for transport and an advisor to the Deputy PM, and criticized M5S for inflaming tensions by trying to oust him. Now that he has been pushed out, Salvini has one more reason to acquiesce to League hardliners who have been calling for another general election, which they hope might allow the League to oust Five Star from the coalition and set up a new government backed by the League's conservative allies.
---
This post has been republished with permission from a publicly-available RSS feed found on Zero Hedge. The views expressed by the original author(s) do not necessarily reflect the opinions or views of The Libertarian Hub, its owners or administrators. Any images included in the original article belong to and are the sole responsibility of the original author/website. The Libertarian Hub makes no claims of ownership of any imported photos/images and shall not be held liable for any unintended copyright infringement. Submit a DCMA takedown request.