Stocks Pare Gains As Beijing Reportedly Readies Retaliatory Tariffs
Update (11:32 am ET): And down we go…
We warned earlier that Wednesday would be a hectic day for markets, but as it turns out, this is looking like an understatement.
Just minutes after Sarah Sanders told a group of reporters in the White House driveway that the White House had reason to believe the Chinese trade delegation intended to make a deal, reports about China's preparations for retaliatory tariffs, which circulated in the Chinese press earlier in the day, finally broke through on US newswires, causing markets to pare the latest spike.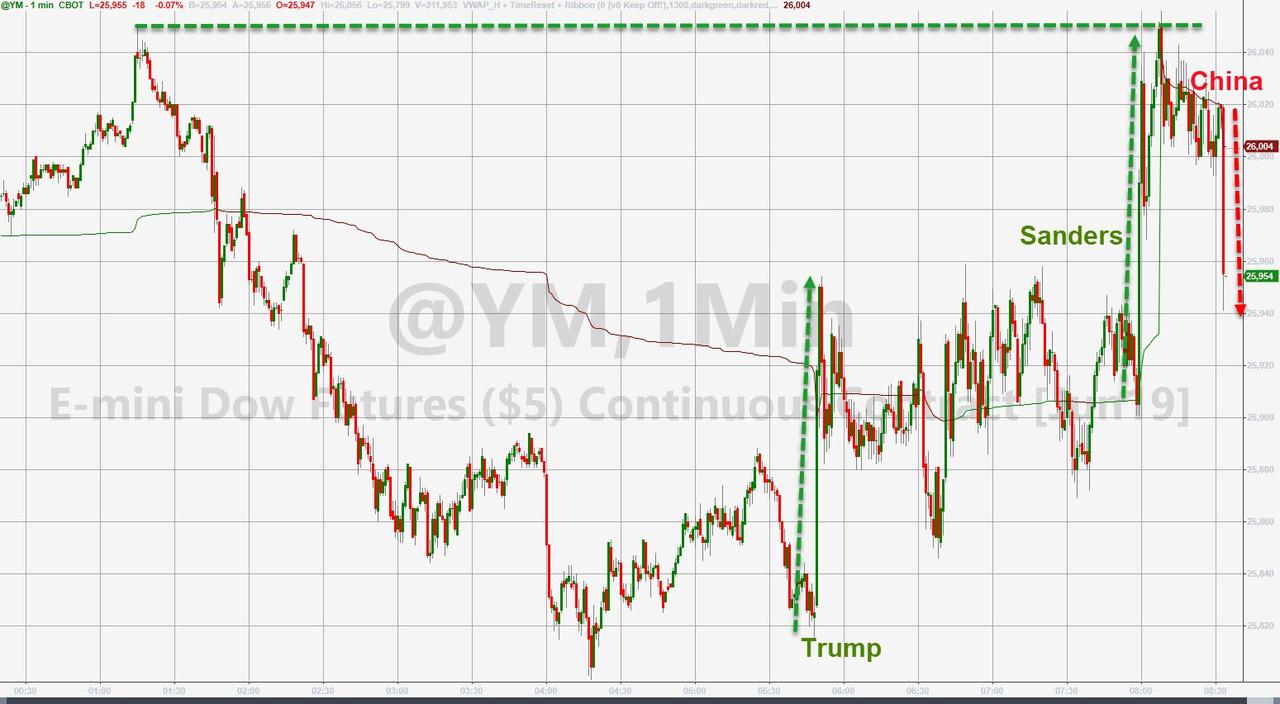 * * *
Though Steven Mnuchin insisted on Monday that the White House's plan to impose more tariffs on Chinese goods was free from market-related considerations, after another punishing session for markets on Tuesday, it's looking like the White House has reverted to its strategy of using optimistic trade rhetoric to jawbone the markets higher.
But this time around, Beijing has apparently lost its willingness to play along. To wit, an editor from the Global Times, seen as a mouthpiece for the Communist Party, responded to Trump's claim that China wants a deal by insisting that the exact opposite is true.
China is "fully prepared for an escalated trade war" he said, and added that Beijing is betting on the fact that its political system will ultimately give China more leverage over Trump (the opposite of the market consensus). 
China has fully prepared for an escalated trade war. It is a new strategy of China to engage in trade talks while fighting a trade war. I think China bets on the fact its politics is more powerful than US politics. Trade war will be decided by domestic politics eventually.

— Hu Xijin 胡锡进 (@HuXijin_GT) May 8, 2019
https://platform.twitter.com/widgets.js
Traders largely ignored the tweet, as the market continued to ramp ahead of the arrival of China's trade delegation in Washington.
Markets also appeared to ignore reports in Chinese media published earlier in the session warning that Beijing is already preparing retaliatory tariffs should Trump follow through with his promise to raise tariffs on $200 billion in Chinese exports on Friday.
---
This post has been republished with permission from a publicly-available RSS feed found on Zero Hedge. The views expressed by the original author(s) do not necessarily reflect the opinions or views of The Libertarian Hub, its owners or administrators. Any images included in the original article belong to and are the sole responsibility of the original author/website. The Libertarian Hub makes no claims of ownership of any imported photos/images and shall not be held liable for any unintended copyright infringement. Submit a DCMA takedown request.