Trump's Tariff-Threat Tweets Cost Global Investors $13 Billion Per Word…And Counting
Investors probably didn't need any more evidence to convince them that President Trump is the single most important figure in global markets.
But for better or worse, that's what they got on Sunday, when Trump precipitated the most punishing selloff in global equity markets since the beginning of the year on Sunday with a pair of tweets threatening to raise tariffs on Chinese goods.
Afterwards, US stock futures spiraled lower, while the Chinese equity market – the 2019 global performance leader – embarked on what would be its worst one-day drop in three years.
For 10 months, China has been paying Tariffs to the USA of 25% on 50 Billion Dollars of High Tech, and 10% on 200 Billion Dollars of other goods. These payments are partially responsible for our great economic results. The 10% will go up to 25% on Friday. 325 Billions Dollars….

— Donald J. Trump (@realDonaldTrump) May 5, 2019
….of additional goods sent to us by China remain untaxed, but will be shortly, at a rate of 25%. The Tariffs paid to the USA have had little impact on product cost, mostly borne by China. The Trade Deal with China continues, but too slowly, as they attempt to renegotiate. No!

— Donald J. Trump (@realDonaldTrump) May 5, 2019
On Wednesday, Bloomberg calculated that each word in the two Trump tweets that shook global markets on Monday and Tuesday cost global investors $13 billion, as global equities erased $1.36 trillion in market cap.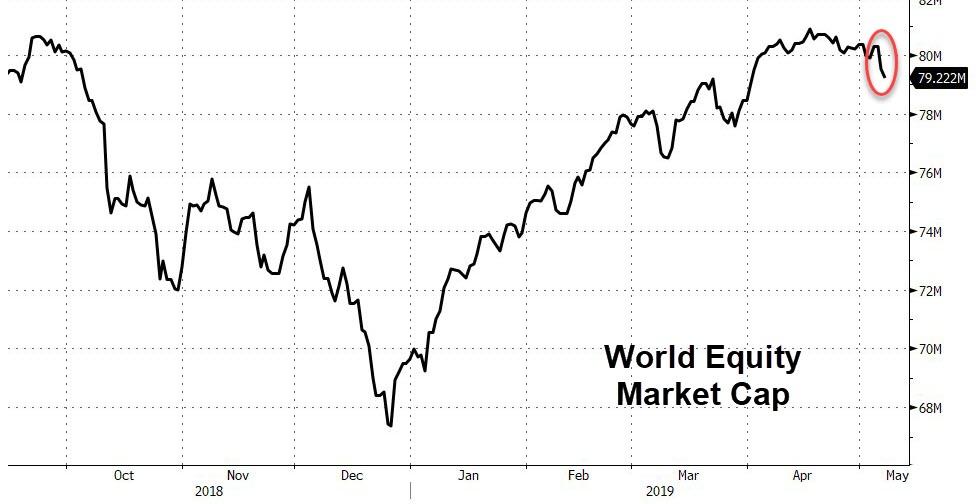 Depending on which strategist you ask, Trump's tweets either ushered in a new era of trade uncertainty, or merely gave investors an excuse to take profits after this year's torrid rally.
"The latest shift adds a new dimension of uncertainty to what most market participants were assuming was a done deal," said Eleanor Creagh, Sydney-based Australia market strategist at Saxo Capital Markets. "Something shifted over the weekend, and it could be wishful thinking to keep drinking from the glass half full."

[…]

Kerry Craig, a global market strategist at JPMorgan Asset Management, still believes a trade deal can be reached, but it could take longer than expected. "The pull back in markets was due given how hard global equities had rallied and investors may have been looking for an excuse to take some profits," he said.
Others warned that with the Fed and PBOC back in easing mode, Trump has room to be aggressive on trade, since the flood of central bank liquidity should backstop markets.
Furthermore, the dovish central bank pivot means its a different market now than last year when both the U.S. and China were tightening policy, according to Alex Wong, Hong Kong-based director of asset management at Ample Capital Ltd.

"Even if no deal could be reached, the impact won't be that severe," Wong said in a telephone interview. "I'm not that worried."

Everything now depends on what happens this Thursday and Friday when negotiations between two of the world's largest economies meet in Washington.

"This sets us up for a potentially very emotional week," Oanda's Halley said.
But that doesn't mean Trump won't deliver another market smiting as the tone of talks with the Chinese turns from cordial to contentious. And with stocks bouncing between gains and losses in early trade on Wednesday, the losses might not be over yet.
---
This post has been republished with permission from a publicly-available RSS feed found on Zero Hedge. The views expressed by the original author(s) do not necessarily reflect the opinions or views of The Libertarian Hub, its owners or administrators. Any images included in the original article belong to and are the sole responsibility of the original author/website. The Libertarian Hub makes no claims of ownership of any imported photos/images and shall not be held liable for any unintended copyright infringement. Submit a DCMA takedown request.