Is Lyft The Next Volkswagen: How A Rehypothecation "Chain Reaction" May Trigger A Historic Short Squeeze
Just over a month ago, when Lyft became the first decacorn to go public this year in what has since become a veritable cornucopia of private Silicon Valley companies scrambling to top-tick the market at its all time high and sell their stock to the general public, the IPO of the ride-sharing company was said to be massively oversubscribed. Just a few weeks later, one can barely find a motivated buyer with the stock of the grossly money-losing company – which just reported a record $1.14 billion LTM loss on $2.5 billion of revenue in tumbling from its first-day opening pop, and was last trading at $55, down from the mid $70s level at the start of April.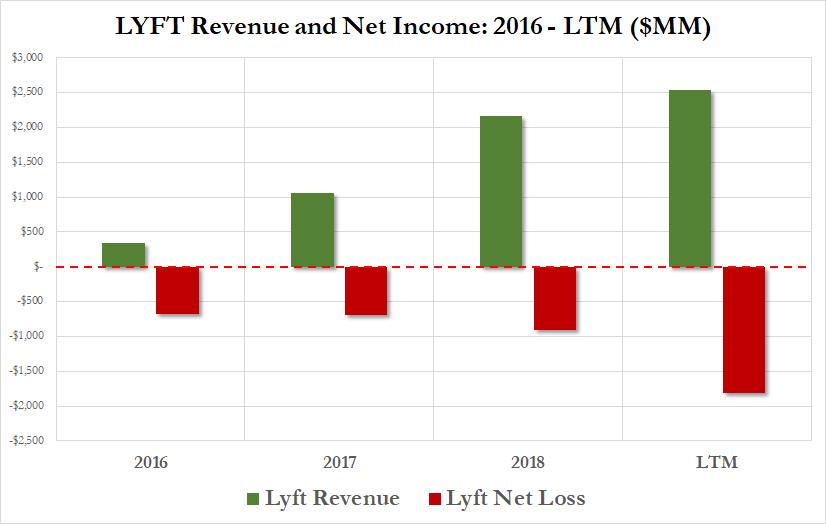 Predictably, as the bullish narrative was bulldozed and as more skeptical investors piled on, the short interest in the company has grown…. and grown… and grown. In fact, it has grown so vast that some are wondering if Lyft, on its way to insolvency, won't first become the next Volkswagen: a company that saw its market cap briefly become the biggest in the world as a result of a legendary short squeeze as the number of shares shorted was greater than the entire float of the company.
While Lyft isn't there yet, it's getting there fast.
According to Bloomberg, quoting data from S3 research, shorting shares of Lyft Inc. has become so popular that the short interest in the stock is now above 80%! Specifically, short interest in the No. 2 ride-hailing company has risen to 27 million shares, while Lyft's public float is about 33 million shares in total. At this rate, if the short interest surpasses the float, should a short squeeze be launched, it would mean that there is not enough shares out on borrow to meet demand to cover, and one or more investors will be forced to buy the stock at any price, potentially sending it into the triple or even quadruple digits.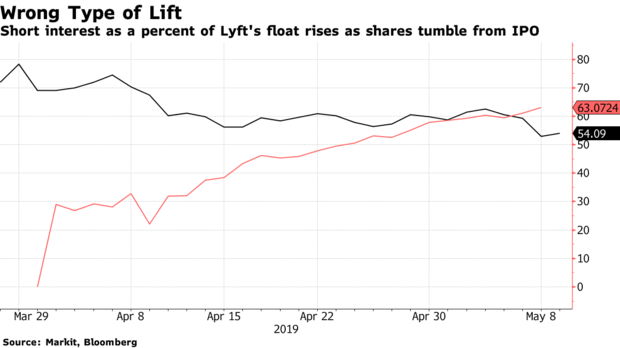 But how is it possible that there are more shares on loan (for shorting) than there are shares available? Simple: according to S3 research head Ihor Dusaniwsky, that's only possible with a significant amount of rehypothecation — or re-lending — happening at prime brokers, a practice that was made infamous during the 2008 financial crisis. "The risky transactions, known as rehypothecation, can last for as long as certain hedge funds remain bullish", according to Bloomberg.
While it is more common in ETFs than stocks and more restricted since the 2008 financial crisis, rehypothecation – made notorious by China when it comes to commodity-backed loan collateral – is a process in which banks borrow a security and then lend it back out to other short sellers… usually several times over, in the process ensuring that a wholesale scramble for the underlying asset, in this case Lyft stock, would end in more demand than supply, potentially sending the price of the stock to +∞. Stated simply, "this means Lyft's short sellers face a higher recall risk", the same was Volkswagen shorts, who were ultimately proven right, faced what would in 2008 become the biggest short squeeze in history.
And, as Bloomberg adds, hedge funds that have been buying these shares and then lending them to prime brokers could spark a chain reaction of recalls if they turn bearish and decide to sell.
Meanwhile, not only do short sellers run the growing risk of a historic squeeze, they are also paying an annual interest rate of 14% to short Lyft, the highest price since the volatile days that immediately followed the company's IPO. The spike came just one day before Uber made its stock market debut after pricing its IPO at the low end of the range. Lyft shares rose as much as 3.8% on Thursday, but remain about 24% below the March 28 IPO price.
What does this mean in practical terms? Keep an eye on Lyft's short interest: the more hated the stock becomes, the more rehypothecated its short base, the greater the risk of a paradoxical Volkswagen-like short squeeze. And more explicitly, once the short interest rises 100% of the float, bears – who have correctly targeted this cash burning stock for extinction – will want to quietly cover and go long ahead of what may be the biggest fireworks in short covering history since Volkswagen and Herbalife.
---
This post has been republished with permission from a publicly-available RSS feed found on Zero Hedge. The views expressed by the original author(s) do not necessarily reflect the opinions or views of The Libertarian Hub, its owners or administrators. Any images included in the original article belong to and are the sole responsibility of the original author/website. The Libertarian Hub makes no claims of ownership of any imported photos/images and shall not be held liable for any unintended copyright infringement. Submit a DCMA takedown request.