The Democratic stronghold of Oakland, California – which narrowly escaped Bankruptcy in 2009 – is planning to divert state gas tax revenues to keep the city's lights on amid a $100 million annual shortfall projected in the the 2019-2020 fiscal year (74% worse than forecast just two years ago).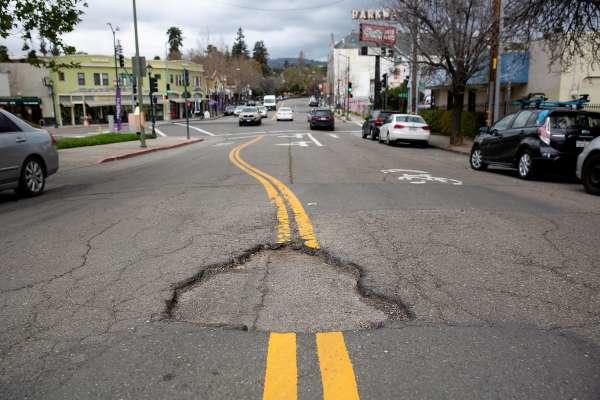 The money, $2.9 million to be exact, was intended per the state's constitution to be used for the "research, planning, construction, improvement, maintenance and operation of public streets and highways (and their related public facilities for nonmotorized traffic)," according to the San Francisco Chronicle. 
"Though cranes are rising across the skyline and Oakland's revenues are growing at a steady rate due to the strong real estate market, the city's expenses continue to rise faster than revenues," said Mayor Libby Schaaf during a recent budget statement. "Particularly the cost of medical benefits and pensions — as well as insurance, utilities and fuel costs — are growing at two to three times the rate of inflation and revenue growth."
"These structural problems threaten our ability to deliver core services to Oakland residents, including our youth," Schaaf added. 
Meanwhile, the city is facing an estimated $25 million deficit in its operating fund this year. 
One of the most severe shortfalls is in the city's Landscaping and Lighting Assessment District, which pays for a number of city services, including street lighting and park recreational facility maintenance.

Revenues collected by the special district, however, haven't increased for more than 30 years, which has led to a sizable shortfall that could have meant choosing between keeping the city's streetlights on or cutting into park funds.

Enter the state gas tax. –San Francisco Chronicle
Officials in Oakland say that the diversion of funds is too legit, hammering home the idea that based on the state controller's recent guidelines, they can use the gas tax for the "furnishing of power for street or road lighting and traffic control devices," according to mayoral spokesman Justin Berton. 
Meanwhile, there are more than 7,700 open service requests to fix potholes – which the city is somehow planning to fix by materializing a $100 million over three-years. 
"The state gas tax provides an incremental $7 million per year that we are directing toward that work," said Oakland DoT spokesman Sean Maher. 
---
This post has been republished with implied permission from a publicly-available RSS feed found on Zero Hedge. The views expressed by the original author(s) do not necessarily reflect the opinions or views of The Libertarian Hub, its owners or administrators. Any images included in the original article belong to and are the sole responsibility of the original author/website. The Libertarian Hub makes no claims of ownership of any imported photos/images and shall not be held liable for any unintended copyright infringement. Submit a DCMA takedown request.