Trend Followers Capitulate: CTAs Flip "Max Short" In The Russell
Yesterday, we summarized the violent action in volatility as follows: "If Feb 5, 2018 was the infamous inverse VIX ETF "volmageddon", then May 7, 2019 was the "VVIXtermination" event", following the recent explosion in the vol of vol, or VVIX, and as Nomura's Charlie McElligott writes today, "the trade yesterday certainly was short delta, short VVIX, long front VIX."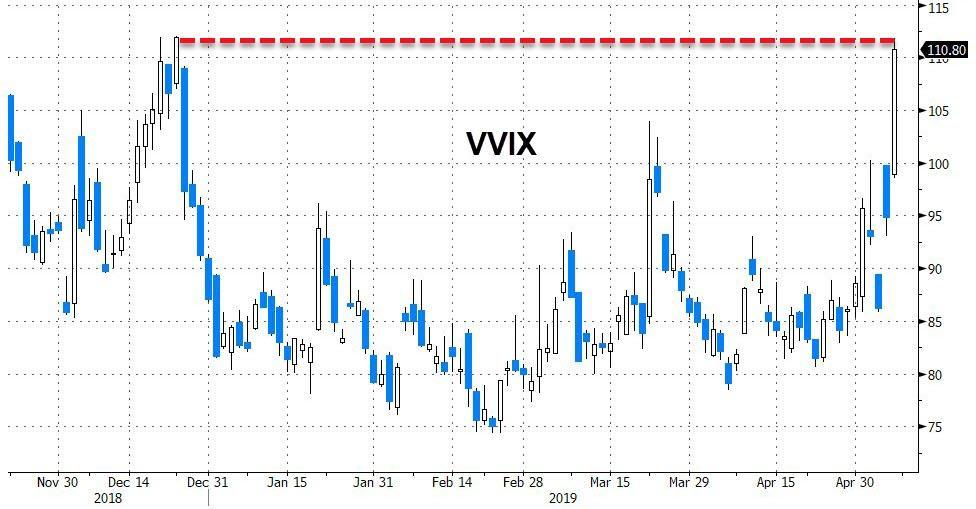 Then, as McElligott elaborates this morning, the "consistent dynamic" – which we first previewed over the weekend in "Is The VIX About To Explode Higher Thanks To A Record Short Squeeze " – across the last few bouts of market turmoil have seemingly first evidenced-themselves in vol of vol—or "VVIX never lies"; As the Nomura strategist also notes, "since that initial "VVIX as ground zero" theme, we thereafter witnessed the VIX curve turmoil with systematic short vol covering, and thereafter, said issues then-showed in Delta One –type products (Risk Premia strategies, Notes etc as we begun seeing more "Yield Enhancement"- / Carry- / Momentum- strategy stop-outs on short vol positions)."
Meanwhile, as stocks slide ever deeper into "negative gamma" territory, which we first discussed late on Sunday, the lower the S&P drops the greater the risk of a sudden repricing lower in risk.
It's not just this feedback loop of selling begetting more selling that is notable, but as the Nomura strategist also notes, CTAs are sharply losing faith in the rally and accelerating their deleveraging, most notably the Russell 2000, where trend-followers are now -100% max short, to wit:
the Russell's notable momentum breakdown since February is showing in the trend lookback windows, as the overall model has again pivoted back outright "-100% Short"—FWIW, the model would begin covering-back on a close above 1563 (signal goes to -79%), so this price-signal remains very volatile.
Meanwhile, outside of Equities and the rising deleveraging risk, McElligott asks 'where else is "Trend",' and answers: 
Still "+100% Long" in Global DM Bonds / Rates, as not just "end-of-cycle slowing" and global CB "dovish pivot" are dictating, but now too just the obvious risk-aversion with the trade-war / tariff re-escalation
"+100% Long" signal in USD remains vs nearly all G10 as well as USDCNH
The Commodities view is hyper-bearish, with Shorts across 21 of 22 assets the model trades (11 of those 21 are "-100%" signals as well); the only "Long" is in Gasoline)
Summarizing this, McElligott writes that the "position sensitivity" optic is particularly powerful right now, as the highlighted Equities- and Commodities- visuals capture the proximity of recent inflection points / deleveraging; "however, the Global Bonds- and USD FX crosses- capture still how deeply "in the money" the signals are, with little current threat of deleveraging said positions."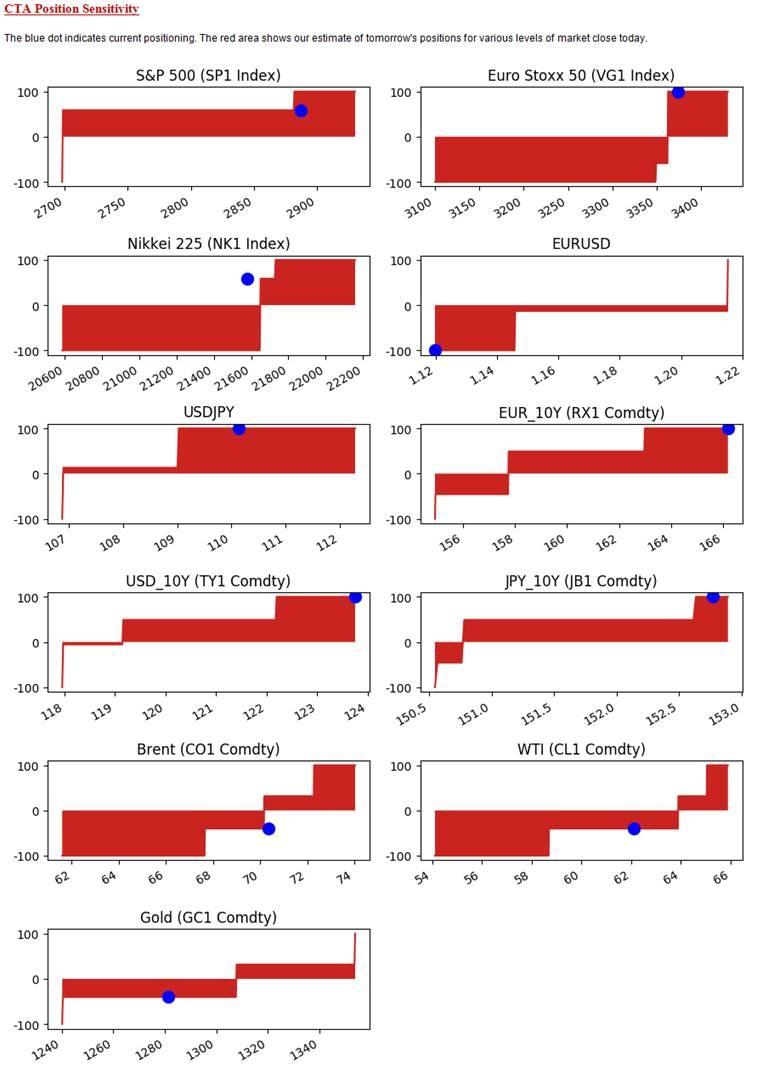 In short, the biggest sensitivity to marginal news is smack in the middle of equities, which judging by the continued slide in the S&P suggests that not only is the bad news nowhere near close to priced in, but depending on what happens tonight, the real pain may be yet to come.
---
This post has been republished with permission from a publicly-available RSS feed found on Zero Hedge. The views expressed by the original author(s) do not necessarily reflect the opinions or views of The Libertarian Hub, its owners or administrators. Any images included in the original article belong to and are the sole responsibility of the original author/website. The Libertarian Hub makes no claims of ownership of any imported photos/images and shall not be held liable for any unintended copyright infringement. Submit a DCMA takedown request.