Angelo Mozilo Makes Surprise Appearance, Is Shocked People Blame Him For The Housing Crisis
Who is better suited to opine on the boom and bust of the current US housing bubble than the man who personally presided and profited from the last one?
One decade since the housing market collapse and financial crisis, real estate is still struggling, according to former Countrywide CEO Angelo Mozilo. And in a show of either senility, ignorance, pure bravado or all three Mozilo still doesn't seem to understand why so many people see him as the (orange) face of the 2008 housing crisis.
Speaking to FOX Business' Liz Claman during the SALT conference on Wednesday, Mozilo said "I'd say that there's still issues — serious issues in the country particularly as it relates to housing."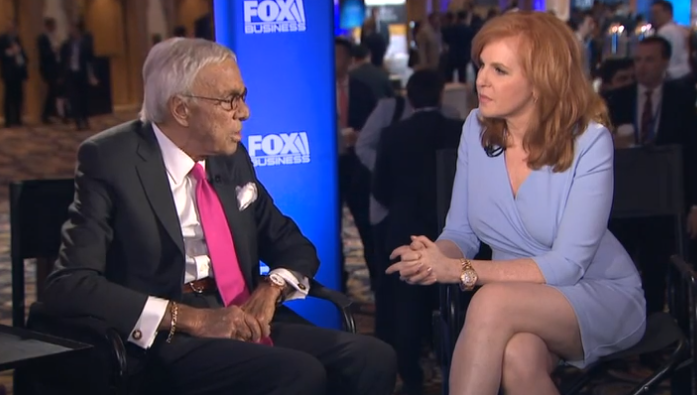 To add insult to the billions of dollars in injuries he helped cause, Mozilo also thought the time was finally right to defend his role in the subprime crisis. Claman asked him: "You're here at this conference. People haven't seen you in 11 years, certainly on television. Why are you sitting here with me?"
To which Mozilo replied: "I was asked to come to this conference and I think turning 80 had a big effect on me. You know, I'm running out of runway. And I thought well now's the time to speak out and I don't have any inhibitions anymore."
Mozilo conveniently also didn't seem to understand the role he played during the crisis, stating during SALT: 
"Somehow for some unknown reason, I got blamed for it." — Mozilo says of housing crash. #SALT2019

— Carleton English (@carletonenglish) May 8, 2019
https://platform.twitter.com/widgets.js
He continued, warning about the current state of the housing market, and expressing concern for minorities trying to get housing: "It's a very important part of the economy, but it's also a very important part of people's lives and their children's lives. And since the crisis, things have clamped down again. African-Americans, Hispanics — still very difficult for them to get a home of their own even though they could afford it. They can't get over all the barriers that are in their way because the barriers don't fit their lifestyle. But those barriers have to be taken down."
He didn't clarify as to whether or not "taking down barriers" referred to offering no-doc and NINJA loans and issuing mortgages based solely on whether or not a person was qualified to sign their name, with no additional due diligence. Something he truly excelled in just before the housing bubble burst.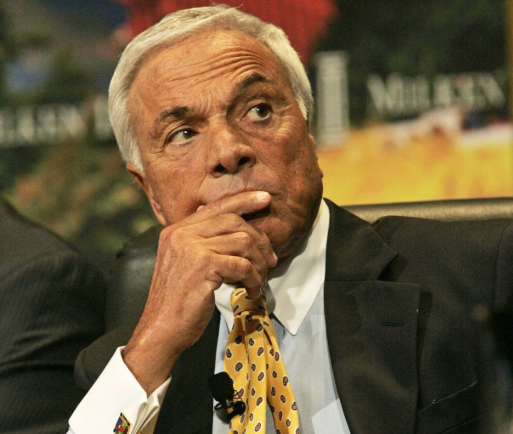 https://platform.twitter.com/widgets.js
"Barriers to qualify for a mortgage, the underwriting requirements, just don't fit the lives of minorities," he continued, doubling down on the idea of once again making lending easier. "Fannie Mae had a survey some years ago that clearly pointed out the African-Americans and Hispanics have a higher desire for housing than do whites. Whites considered, you know, that's their part of living in America you're entitled to."
He then used the race issue to try and justify Countrywide's conduct, stating that it was his company's duty to "lower the barriers of entry for everybody in America getting a home, as long as they could afford it."
But that was the problem. People who were issued Countrywide loans couldn't afford it. 
Instead of showing remorse, Mozilo claimed his bank became an "easy target" because of their size and for making low barrier loans, which he claimed only made up 3% of the company's business. He also reaffirmed his emotional attachment to the now-defunct Countrywide:
"I'm emotionally attached to Countrywide. They didn't deserve the reputation they were given but we were an easy mark."

-Anthony Mozilo founder of Countrywide says about the housing crash at @SALTConference #SALT2019 pic.twitter.com/lwSb8DNPDR

— Frank Gruber ✨ (@FrankGruber) May 8, 2019
He concluded: "This is a huge economy — the whole world economy. If you take all the assets of the world and you put a price on it and you value one and you take the amount of subprime mortgages in the United States — it's a pebble in an ocean — it's ridiculous. People who want to discriminate said, 'Look, we told you if you don't make these loans you're going to have a crisis.' Nonsense, absolutely nonsense. They had nothing to do with it."
You can watch the full interview at Fox Business.
---
This post has been republished with permission from a publicly-available RSS feed found on Zero Hedge. The views expressed by the original author(s) do not necessarily reflect the opinions or views of The Libertarian Hub, its owners or administrators. Any images included in the original article belong to and are the sole responsibility of the original author/website. The Libertarian Hub makes no claims of ownership of any imported photos/images and shall not be held liable for any unintended copyright infringement. Submit a DCMA takedown request.