Bankruptcy Fears: Sprint Warns 'Not On Sustainable Path,' As Subscribers Collapse 
Sprint reported its quarterly financial results Tuesday. CEO Michel Combes warned investors on a call that the company incurred the steepest decline in cellphone customers in nearly four years, reported The Wall Street Journal.
Combes shocked investors by telling them 189,000 of its phone connections were canceled in the first three months of the year, the sharpest decline since 2015.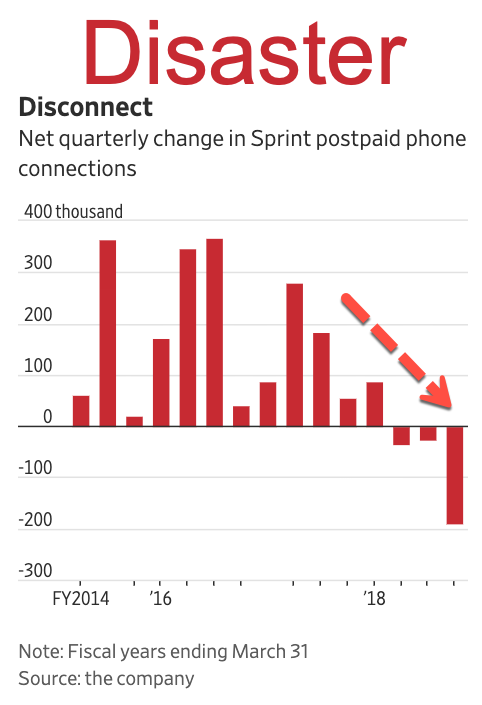 Struggling Sprint and T-Mobile have been waiting for regulatory approval to finalize their $26 billion merger. Combes told investors if the merger didn't go through, both companies would not be an effective nationwide telecom.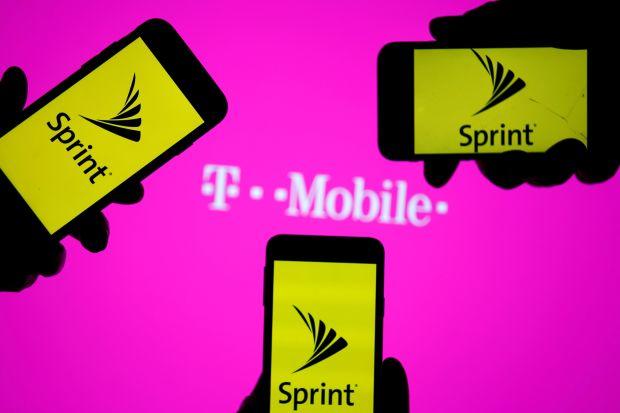 Sprint said in a regulatory filing Tuesday that it suffered a net loss of 189,000 connections during 1Q19 after adding 606,000 during the prior year.
The carrier warned investors: "Sprint is not on a sustainable competitive path."
Sprint's postpaid phone churn, a measure of its ability to keep customers, crept up to 1.82% during 1Q19, from 1.68% during the same period a year ago. Combes explained the YoY increase is due to promotional offers expiring for smartphones.
He said competition last quarter, plus limited promotional offers, was the driver of phone connection losses.
"We continue to see very aggressive device promotions from Verizon and AT&T, and their recent promotions have had much less restrictions than in the past," Combes said.
T-Mobile added 656,000 net new postpaid phone connections in 1Q19, while AT&T added 80,000 and Verizon lost 44,000.
In 1Q18, Sprint added 55,000 phone connections during the same period, compared with the monster loss last quarter.
As Sprint hemorrhages phone connections and the prospects of a no merger scenario mounting, bankruptcy could be the only option for the struggling carrier.
"If Sprint is left on their own, they can sell spectrum. But that would be tantamount to burning the furniture to keep the house warm. Absent a credible path for sustainable positive FCF [free cash flow], selling spectrum would delay, but not prevent, a longer-term reckoning," MoffettNathanson wrote in a note to investors.

"Of course, none of this is the DOJ's concern. Their job is to protect Sprint's customers, not Sprint's bondholders. With that in mind, the only question the DOJ need legally concern itself with is whether Sprint would be a viable competitor… AFTER a bankruptcy."
Sprint peaked in Feburary 2017 and has since fallen -38% in 116 weeks. Perhaps with all the bad news, a test of the 2016 lows is nearing…
---
This post has been republished with permission from a publicly-available RSS feed found on Zero Hedge. The views expressed by the original author(s) do not necessarily reflect the opinions or views of The Libertarian Hub, its owners or administrators. Any images included in the original article belong to and are the sole responsibility of the original author/website. The Libertarian Hub makes no claims of ownership of any imported photos/images and shall not be held liable for any unintended copyright infringement. Submit a DCMA takedown request.