Nomura Quant: "Any Market Rebound Should Be Faded"
One doesn't have to be a quant math PhD to realize that after what is shaping up as the worst week for US stocks in 2019, market sentiment is cooling off at an accelerating pace. And yet, that is precisely what the Nomura quant team has found, with the bank's Masanari Takada writing that sentiment has "quite clearly deteriorated in major markets around the globe most notably in mainland China's markets, where investors have become more risk-averse than at any time since late December."

Predictably, this sharp drop "has accelerated the cooldown in overall global equity market sentiment", and as a result, Nomura's composite measure of global market sentiment now reads just +0.8, which is the lowest reading in two months.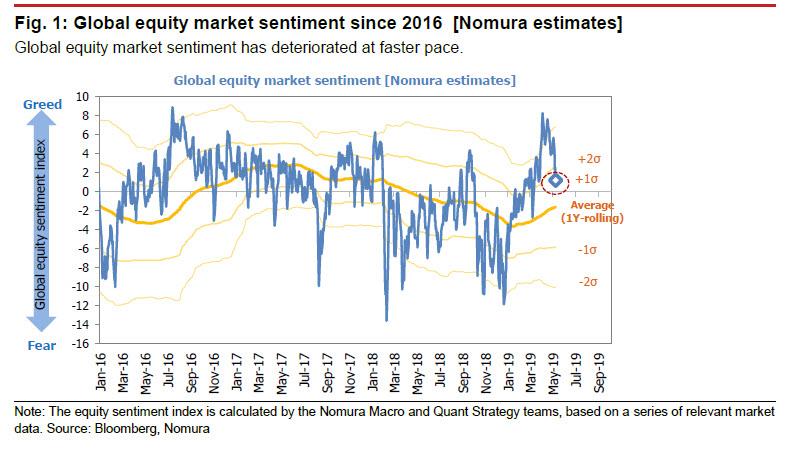 Adding to the negative sentiment is the observation we made recently, namely that CTAs and other trend-followers are increasingly eager to puke their positions, and are "inclined to sell stocks" according to Nomura, which cites not only a reading of the past data; but also supply-demand dynamics among hedge funds which also backs up the sentiment observations. In the US stock market, the Japanese bank notes that the sell-off has been accompanied by such contrarian actions as profit-taking on short positions by global macro HFs (buying back shares to close out positions) and a slight upward bump in the equity exposure of equity long-short funds. This is worth noting because such contrarian movements "could buoy the market temporarily."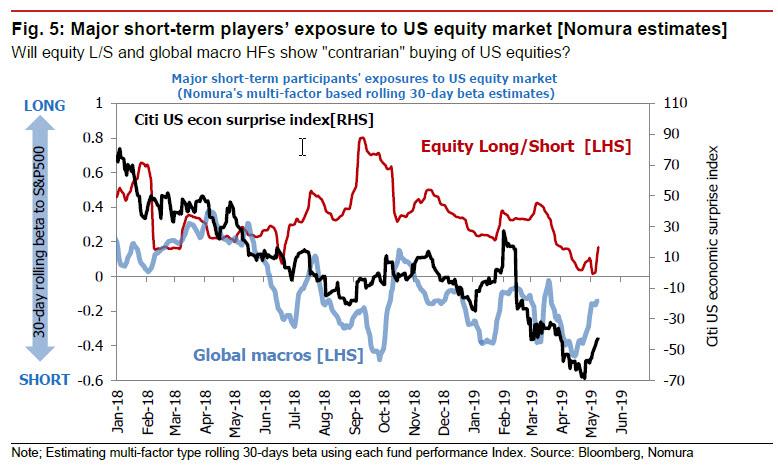 However, unlike macro HFs, trend-following players (CTAs, risk-parity funds) have continued to sell shares, a bias which Nomura believes will continue until the S&P 500 reclaims 2,915, until which time CTAs will continue selling shares back to the market, and the closing out of long positions will continue until the index has been brought down to 2,820 or even 2,800.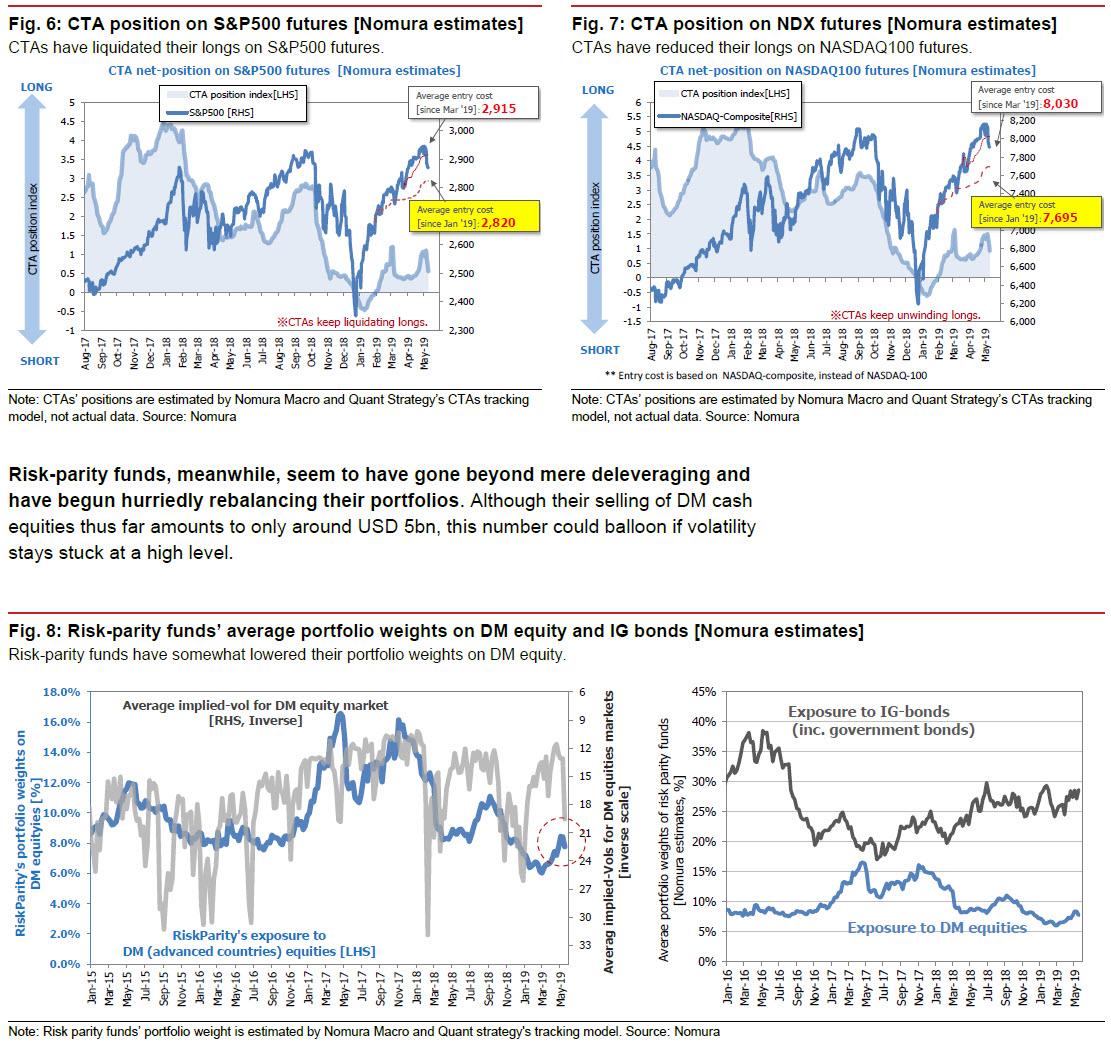 What do these technicals mean for stocks in the coming days? Here Nomura's take is quite simple: "a rally in global stocks at this point would be deceptive." It explains why as follows: 
What happens in global equity markets from here may depend largely on what transpires in the US-China talks, but the present sell-off can arguably be explained by the changes in supply-demand suggested by historical sentiment patterns. We think it is instructive here to look at past cases of the trajectory that global stocks (MSCI-ACWI) have followed after sentiment has entered euphoric territory (breaking above two standard deviations from the mean).

The first thing we see here is that the present decline in global equities is a little steeper than precedent would dictate. The second thing we note is that, while global stocks can be expected to stage a rebound soon as a sort of velocity adjustment, we would then expect another stock market retrenchment towards the end of the month.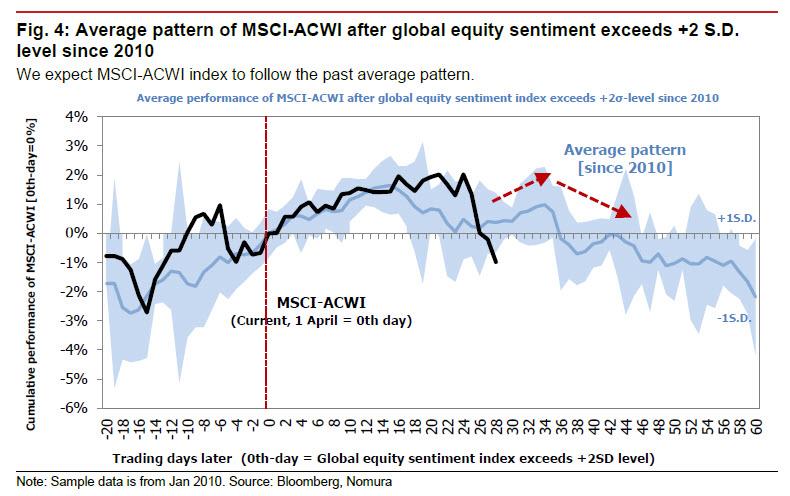 So at least according to one quant team, what happens next is anything but bullish: "We think any stock market rebound next week may well turn out to be a feint" which is Nomura's SAT word for head fake.
---
This post has been republished with permission from a publicly-available RSS feed found on Zero Hedge. The views expressed by the original author(s) do not necessarily reflect the opinions or views of The Libertarian Hub, its owners or administrators. Any images included in the original article belong to and are the sole responsibility of the original author/website. The Libertarian Hub makes no claims of ownership of any imported photos/images and shall not be held liable for any unintended copyright infringement. Submit a DCMA takedown request.