The president of Cyprus Nicos Anastasiades has slammed Turkey for its "unprecedented escalation of illegal action" which constitutes a "second invasion" in the eastern Mediterranean, blaming Ankara of illegally drilling inside its exclusive economic zone. 
Cyprus has this week raised the issue in an informal European Council meeting in Sibiu, Romania, with European Council President Donald Tusk planning to make official comments on the matter. EU leaders are also set to consider Cyprus' allegations during meetings at the end of May and in June, which Cypriots fear could merely be more European lip service on the matter.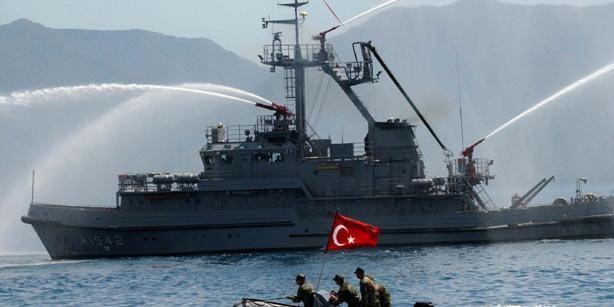 Also on Thursday UK Foreign Secretary Jeremy Hunt also expressed Britain is "concerned by Turkey's announcement to begin drilling in Cyprus Exclusive Economic Zone," according to Reuters. "This situation must be deescalated and all parties show restraint," he said. "Hydrocarbons development should benefit all Cypriots and support a settlement," the foreign secretary added. 
Both the internationally recognized Greek Cypriot government and Turkey – which occupies northern Cyprus – have overlapping claims of jurisdiction for offshore oil and gas research in the natural gas-rich eastern Mediterranean.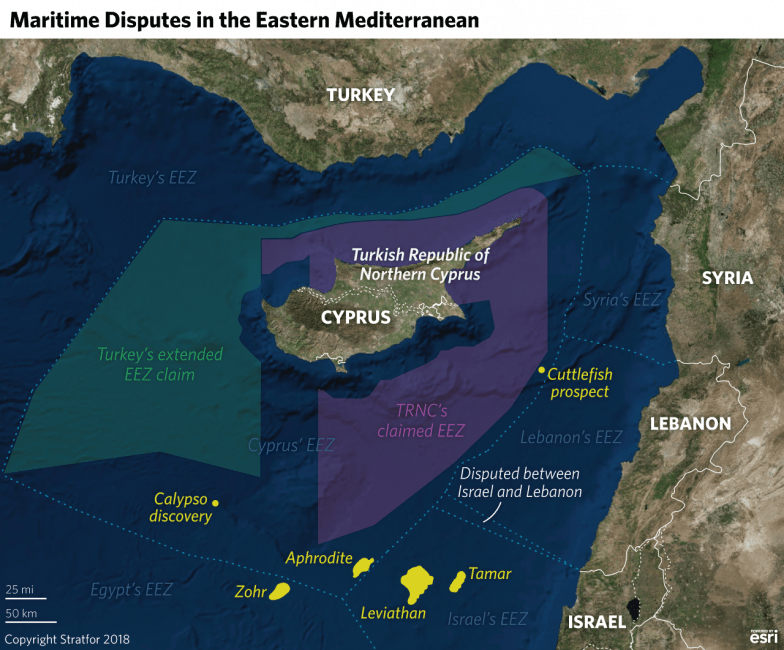 Turkey says it's adhering to international law, to which Cypriot government spokesman Prodromos Prodromou responded by calling out "Turkey's blatant and unprecedented violations" of Cyprus' exclusive zone.
Prodromou said that both Anastasiades' and European People's Party leadership "condemn the Turkish intervention (and) call on Turkey to abandon these illegal activities." Greek Prime Minister Alexis Tsipras added that the crisis was "a European issue and not just a Cypriot one," adding that "international law cannot be violated."
Turkish President Recep Tayyip Erdogan has recently been provocatively sending  warships near Cypriot waters in order to ward off foreign competition to oil and gas research, according to Cypriot officials, also seeking to bar Cypriot ships and planes from freely traversing its own European recognized waters. 
But Erdogan is also bumping up against other Mediterranean countries' plans in the region — at a moment he's engaged in multiple crises both domestic and related to the West — even as Turkey has long sought EU membership, per Haaretz:
[Turkey] threatens to upset all the plans Israel, Egypt and Cyprus have for exploiting the vast natural gas resources of the Eastern Mediterranean.

The latest installment of the gas crisis started last Friday when Turkey's foreign minister, Mevlut Cavusoglu, said the Turkish seismic research vessel Barbaros Hayrettin Pasa would be drilling for oil and gas "in areas of Turkey's continental shelf."
Turkey has in the past demanded that Cyprus formally recognize the breakaway Turkish Republic of Northern Cyprus (since 1974) and allow it to share revenues from Cypriot gas exploration. 
Furthermore Turkey has laid claim to a waters extending a whopping 200 miles from its coast, brazenly asserting ownership over a swathe of the Mediterranean that even cuts into Greece's exclusive economic zone. 
Cyprus has also tried to drill exploratory wells in what it and the rest of the world, except Turkey, says is its own maritime zone, but Turkish warships scared off its vessels the last time it tried to do so in February last year. — EU Observer
🇨🇾🇹🇷If true, this is an unacceptable violation of any international rule.
According to the Cyrpus Times, the TDK (the Turkish Navy sends warships with license to fire, to "protect" TPAO drillship executing illegal exploration activity in CY EEZ.
https://t.co/C2qpDlsVkY

— Marco Florian Balkans & EastMed 🇮🇹🇺🇸🇪🇺 (@MarcoFlorianMED) May 8, 2019
https://platform.twitter.com/widgets.js
Such claims have been condemned by the US, European Union, and Egypt, with NATO officials recently signalling to Turkey that it was out of line. This as Turkish Foreign Minister Mevlut Cavusoglu confirmed last week that "we are starting drilling" in the region.
Should the Turkish military attempt to enforce its drilling claims and run up against Cypriot and Greek vessels, it could spark a deadly encounter which would force the EU and NATO to finally weigh in more forcefully. 
Zero Hedge's mission is to widen the scope of financial, economic and political information available to the professional investing public, to skeptically examine and, where necessary, attack the flaccid institution that financial journalism has become, to liberate oppressed knowledge, to provide analysis uninhibited by political constraint and to facilitate information's unending quest for freedom. Visit https://www.zerohedge.com
---
This post has been republished with permission from a publicly-available RSS feed found on Zero Hedge. The views expressed by the original author(s) do not necessarily reflect the opinions or views of The Libertarian Hub, its owners or administrators. Any images included in the original article belong to and are the sole responsibility of the original author/website. The Libertarian Hub makes no claims of ownership of any imported photos/images and shall not be held liable for any unintended copyright infringement. Submit a DCMA takedown request.