Trump's New Tariff Will Cost Americans About $800 Per Household, By One Estimate 
The more President Trump intensifies the Sino-American trade war, the more American households will notice skyrocketing prices of their favorite groceries, electronics, and apparel at online and big-box retailers.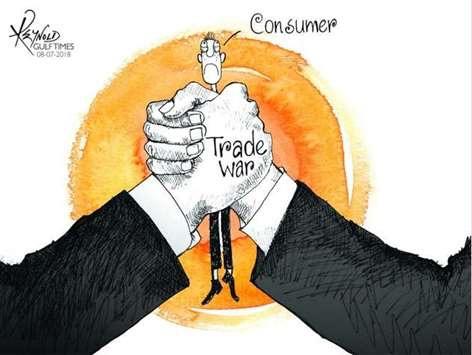 After much theatrics and 11th-hour negotiations, the US more than doubled tariffs to 25% on more than $200 billion in good imports from China just after midnight on Friday. Then in an unexpected Friday evening development (after market hours of course) – President Trump began the process of raising tariffs on all remaining imports from China, valued at approximately $300 billion.
President Trump on Friday morning unleashed a series of tweets claiming victory in an ongoing trade war with China, declaring that the latest escalation in the trade war will force Chinese exporters to pay "$100 billion" to the US Treasury.
Trump is confused about who pays custom duties, as the US imposes tariffs on imports of Chinese goods. The tax is levied at the time of import and is paid by the American importer of record, and then usually passed onto consumers.
A new report from Oxford Economics, first reported by CNBC, said tariffs on all remaining imports from China would cost American households roughly $800 by 2020.
The research firm said the 25% tariff rate on $200 billion in good imports from China would cost the economy $62 billion in economic output by next year, which translates to an equivalent loss of $490 per household.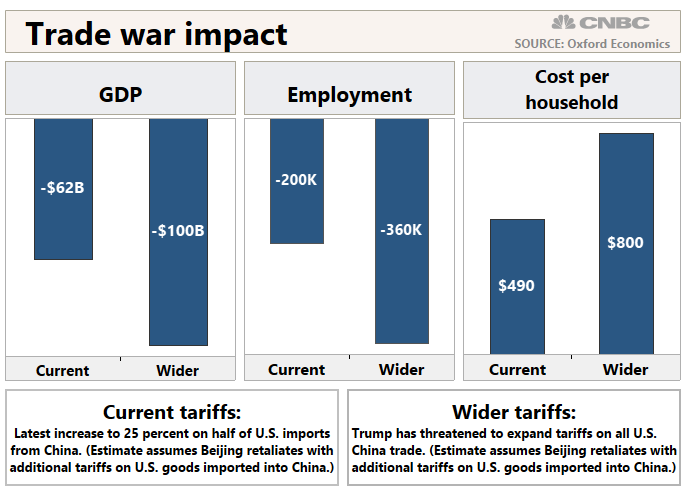 Oxford Economics estimates that a tariff on all imports from China would cost the economy about $100 billion by 2020, which translates to an equivalent loss of $800 per household.
"While negotiations are ongoing, and the possibility of a deal remains significant, a further escalation of trade tensions would have dire consequences for both protagonists and the rest of the world," Gregory Daco, Oxford Economics chief US economist, said in a note to clients Friday.
The announced tariffs have come at a somewhat inconvenient time for the economy.
Economic growth is rapidly decelerating, and the US faces continued headwinds from monetary policy tightening and actual fiscal drag in 2020.
With trade talks between China and the US collapsed, new developments of an escalation in the trade war could have officially debunked the 2H19 global growth rebound narrative. An increase in the trade war is the worst-case scenario for the equity market that could result in a 10-15% correction in major equity indices and a much slower economy.
On a broader view, the deepening trade war will likely result in world trade volumes falling even further, could result in the Federal Reserve implementing QE-4 and rate cuts on the next stock market correction. After all, President Trump knows exactly what he's doing: deepening trade will induce the Fed to pull the trigger on stimulus.
For our outlook in the week ahead, expect China to retaliate with some form of countermeasures (devaluation of the Yuan, increased tariff rates on US goods, continue to punish Trump states with no agriculture purchases, and or new rounds of tariffs.
For those keeping track, here is a timeline of the trade war via Rabobank:
---
This post has been republished with permission from a publicly-available RSS feed found on Zero Hedge. The views expressed by the original author(s) do not necessarily reflect the opinions or views of The Libertarian Hub, its owners or administrators. Any images included in the original article belong to and are the sole responsibility of the original author/website. The Libertarian Hub makes no claims of ownership of any imported photos/images and shall not be held liable for any unintended copyright infringement. Submit a DCMA takedown request.