The Pentagon has developed a secret missile specifically designed to kill terrorist leaders and minimize civilian casualties with no explosion. Instead, a modified Hellfire missile deploys over 100 pounds of metal and a "halo of six long blades that are stowed inside and then deploy through the skin of the missile seconds before impact" to shred anything in its way, according to the Wall Street Journal.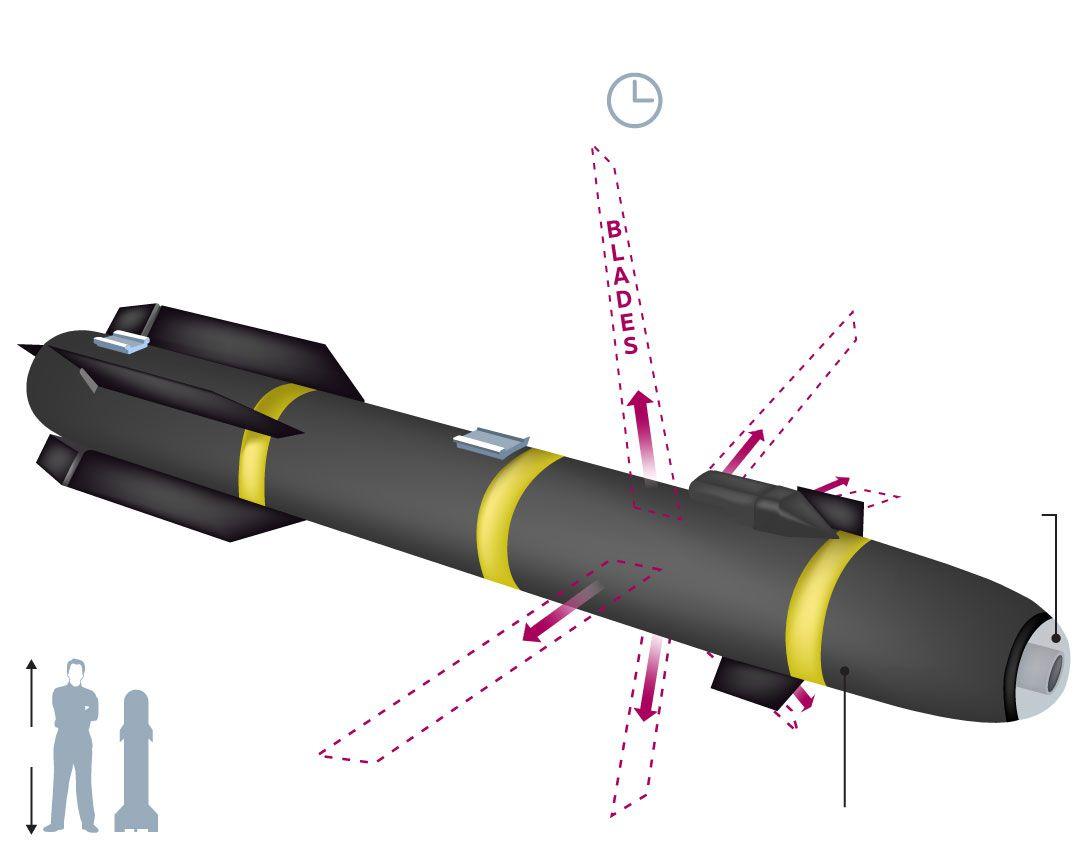 Both the Central Intelligence Agency and the Pentagon have used the weapon while closely guarding its existence. A modified version of the well-known Hellfire missile, the weapon carries an inert warhead. Instead of exploding, it is designed to plunge more than 100 pounds of metal through the tops of cars and buildings to kill its target without harming individuals and property close by.

To the targeted person, it is as if a speeding anvil fell from the sky, the officials said. But this variant of the Hellfire missile, designated as the R9X, also comes equipped with a different kind of payload: a halo of six long blades that are stowed inside and then deploy through the skin of the missile seconds before impact to ensure that it shreds anything in its tracks. –Wall Street Journal
The R9X's use was confirmed to the Journal by over a dozen current and former US officials. Insiders called it "the flying Ginsu" or "Ninja bomb" for its deadly blades which can slice through buildings and cars to neutralize targets. 
I remember puzzling over these cuts for ages trying to work out what had hit the car of Abu Khayr al-Masri, deputy leader of Al-Qaeda.

Turns out it was a Hellfire missle with fucking swords attached to it. pic.twitter.com/aJW524c1Ph

— Nick Waters (@N_Waters89) May 9, 2019
https://platform.twitter.com/widgets.js
Used infrequently, the missile is employed in specific circumstances – such as when a senior terrorist leader has been located but other weapons would risk civilian casualties. According to the Defense Department, it has only been used about half-a-dozen times, including in operations in Iraq, Libya, Syria, Yemen and Somalia. Two specific strikes were confirmed by the Journal – one by the Defense Department and the other by the CIA.  
In January 2019, Jamal al-Badawi, accused of being behind the bombing of the USS Cole in 2000 in a Yemeni port, killing 17 American sailors, was killed by an R9X fired by the Pentagon. The Pentagon has acknowledged the strike, which occurred in Yemen, though not the specific munition involved.

In February 2017, Ahmad Hasan Abu Khayr al-Masri, an Egyptian national who served as al Qaeda's No. 2, was killed in Syria's Idlib Province by an R9X fired by a U.S. aircraft operated by the CIA. The CIA doesn't acknowledge airstrikes it carries out. –Wall Street Journal
Both incidents stoked speculation about a possible new weapon among those who assessed the attack scenes. 
Hellfires typically leave a trail of scorched destruction; burned out cars and lots of debris over a large radius. According to the report, the R9X leaves no such signature. "Photographs of the aftermath of the strike on Mr. Masri show an oblong hole torn into the roof of the car in which he was riding. There are no burn marks suggesting an explosion. The windshield of the Kia sedan is cracked, but the car's windshield wipers are still in place," the Journal writes. 
One former U.S. official said the weapon addressed a longstanding "right seat, left seat" problem, suggesting it is theoretically possible to kill someone sitting in the passenger seat of a moving car, but not the driver. (Two militants reportedly were killed in the February 2017 strike.) –Wall Street Journal
Developed under the Obama administration as early as 2011, the modified Hellfire was designed for "humanitarian and legal considerations," according to the report, as terrorists fighters had been adapting to US airstrikes by taking shelter among groups of women and children. 
I remember this strike too — @SMARTNewsAgency had some video of the aftermath as well. https://t.co/DIN4UQTuo5

Feel like I remember either hearing about or seeing at least one other occasion where something similar happened in Syria, but can't remember where or when it was. pic.twitter.com/TZbEE8aXis

— Jake Godin (@JakeGodin) May 9, 2019
https://platform.twitter.com/widgets.js
The U.S. officials said extraordinarily accurate intelligence about a target's location and surroundings are needed to use the weapon. But there is also an intelligence and cost benefit, they said. Because the weapon minimizes the risk of civilian casualties, there are more opportunities to take a shot, reducing the number of hours the military has to keep surveillance and armed aircraft aloft. –Wall Street Journal
The Pentagon developed a similar weapon as a "Plan B" to kill al Qaeda leader Osama bin Laden in his Abbottabad, Pakistan compound, according to the Journal. Obama elected instead to send in a special forces team which, officially, confronted Bin laden, killed him, dumped his body in the ocean, and then suffered catastrophic losses in a 2011 helicopter attack in Afghanistan.  
In March, President Trump rescinded an Obama-era mandate that the number of civilian casualties from US airstrikes outside of conventional war zones be reported.  The president has also allowed the CIA broader authority to conduct drone strikes, which is less accountable than the US military. 
Zero Hedge's mission is to widen the scope of financial, economic and political information available to the professional investing public, to skeptically examine and, where necessary, attack the flaccid institution that financial journalism has become, to liberate oppressed knowledge, to provide analysis uninhibited by political constraint and to facilitate information's unending quest for freedom. Visit https://www.zerohedge.com
---
This post has been republished with permission from a publicly-available RSS feed found on Zero Hedge. The views expressed by the original author(s) do not necessarily reflect the opinions or views of The Libertarian Hub, its owners or administrators. Any images included in the original article belong to and are the sole responsibility of the original author/website. The Libertarian Hub makes no claims of ownership of any imported photos/images and shall not be held liable for any unintended copyright infringement. Submit a DCMA takedown request.