S&P Futures Tumble As Trade War Shows No Sign Of De-escalation
Following a weekend of escalating trade war bickering between the US and China, which showed no signs of any imminent de-escalation and contrary to Mnuchin's "constructive" assessment on Friday, hinted at what appears to be a lengthy trade war of attrition, S&P futures tumbled at the open of electronic trade on Sunday night, sliding as much as 1.1% before settling down around -0.9%, following the worst seek for stocks in 2019.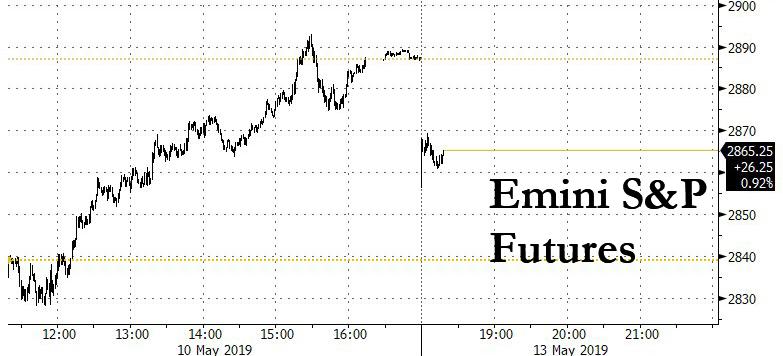 The ominous start to the new week of trading followed last week's 2.2% drop in U.S. stocks which was biggest drop to date in the best start for bulls in over three decades. Still, putting the "plunge" in context, what was until the start of May an 18% gain in the S&P has shrunk to "only" 15% with the index just over 3%, or 65 points below its April 30 all time high of 2,945.83. As Bloomberg notes, tech stocks bore the brunt, with the Nasdaq 100 Index falling 3.3% and the Philadelphia Semiconductor Index losing 5.9%.
Quoted by Bloomberg, Miller Tabak strategist Matt Maley said that "five to seven percent pull-backs are normal in any rally, but they become almost inevitable when 'new and negative news' is introduced to a market that is over-bought and whose valuations have become extended." He added that "investors should stop worrying about if the market will fall due to the trade war issue and figure out the (lower) levels at which they want buy more of their favorite names."
As we reported earlier, in the latest weekend developments, White House top economic adviser, Larry Kudlow, said higher tariffs assessed on Chinese goods would have minimal impact on U.S. jobs and growth, while admitting that "both sides will suffer" from the trade war. He also said that China has invited U.S. Trade Representative Robert Lighthizer and Treasury Secretary Steven Mnuchin back to Beijing, though no date has been set for new talks, and the most likely date for the next meeting between Trump and Xi would be the G-20 meeting in late June.
At roughly the same time, China's People's Daily the U.S. should take full responsibility for trade-talk setbacks because it raised tariffs on China's products, state television reported. China sought a mutually beneficial agreement but the U.S. went back on its word, state broadcaster CCTV reported on Sunday, citing a commentary that the paper will publish on Monday.
In short, it hardly looks like the trade war talks are "constructive". Quite the contrary in fact, as Mish Shedlock recently recapped:
Trump demands China put commitments into law.
China replied that "no one should expect China to swallow bitter fruit that harms its core interests".
Trump ordered Lighthizer to begin the process of imposing tariffs on all remaining imports from China This would impact an additional $300 billion worth of goods.
China said it would retaliate.
On Saturday, Trump warned China not to retaliate or it would face worse terms. Trump Tweeted "Love collecting BIG TARIFFS!"
Kudlow said on Sunday he expected retaliatory tariffs to kick in but that it had not happened yet.
China warned Trump on Sunday not to underestimate China's endurance and that China is not afraid to fight.
China posted its own set of demands for further talks including the removal of all extra tariffs.
---
This post has been republished with permission from a publicly-available RSS feed found on Zero Hedge. The views expressed by the original author(s) do not necessarily reflect the opinions or views of The Libertarian Hub, its owners or administrators. Any images included in the original article belong to and are the sole responsibility of the original author/website. The Libertarian Hub makes no claims of ownership of any imported photos/images and shall not be held liable for any unintended copyright infringement. Submit a DCMA takedown request.