Trump has denied a prior bombshell New York Times report which alleged the White House was planning to send up to 120,000 troops to the Middle East should conflict erupt between Iran and the United States. The president called the report "fake news" but still added that should war actually break out he would send "a hell of a lot more," according to Reuters. 
"I think it's fake news, OK?" Trump said of the Times report published late Monday. "Now would I do that? Absolutely. But I have not planned for that. If we did that, we'd send a hell of a lot more troops than that."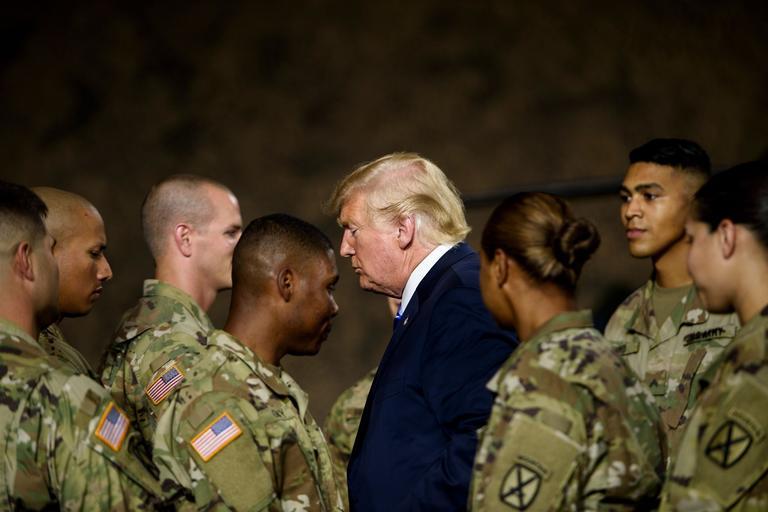 The NYT had cited details from what it said was a confidential military plan presented to top national security officials last week by Acting Defense Secretary Patrick Shanahan that envisioned sending the massive troop force to the Middle East should Iran attack American forces or start ramping up work on nuclear weapons.
The plan — which had been reportedly modified to incorporate suggestions from John Bolton — doesn't include plans for a land invasion. But according to the Times it did reflect "the influence of Mr. Bolton, one of the administration's most virulent Iran hawks, whose push for confrontation with Tehran was ignored more than a decade ago by President George W Bush."
Q: "Are you planning to send 120,000 troops to the Middle East in response to Iran?"

President Trump: "I think it's fake news. Okay? Now, would I do that? Absolutely. But, we have not planned for that. Hopefully we're not going to have to plan for that." pic.twitter.com/7lu0uX4U7O

— CSPAN (@cspan) May 14, 2019
https://platform.twitter.com/widgets.js
We earlier noted that it remained unclear of whether Trump himself had seen, or has been briefed on, the plan. Trump had initially stated in response to questions from reporters on the potential deployment, "we'll see what happens with Iran. If they do anything, it would be a very bad mistake."
Based on these latest remarks to a reporter on the White House lawn, it didn't appear the Pentagon contingency plan had yet to make it across Trump's desk, given the president ended with: 
Where was that story?…The New York Times?

Well the New York Times is fake news!"
And in an apparent attempt to clarify the flurry of recent contradictory media reports on the heels of a US military build-up in the Persian Gulf early this week suggesting Washington and Tehran are barreling toward direct confrontation, Secretary of State Mike Pompeo told reporters Tuesday in Sochi, Russia after meeting with Foreign Minister Sergey Lavrov: "the US position on Iran has been consistent." 
According to Pompeo's latest statement, that position has been that "the US fundamentally doesn't seek a war with Iran."
---
This post has been republished with implied permission from a publicly-available RSS feed found on Zero Hedge. The views expressed by the original author(s) do not necessarily reflect the opinions or views of The Libertarian Hub, its owners or administrators. Any images included in the original article belong to and are the sole responsibility of the original author/website. The Libertarian Hub makes no claims of ownership of any imported photos/images and shall not be held liable for any unintended copyright infringement. Submit a DCMA takedown request.