Fremont Police Report Contradicts Tesla's Restraining Order Against Company Critic
Several weeks ago we reported about Tesla being granted a temporary restraining order on a well-known critic of the company ahead of its "Autonomous Day" investor event. At the time, we were only given one side of the story: the allegations brought by Tesla in order to obtain the order. The accused kept quiet for the most part, while supporters helped him raise over $116,000 in a GoFundMe account for legal expenses and his lawyer prepared his defense.
Now, for the first time, we get a glimpse into the other side to the story from an objective source: a police report filed from one of the days called into question by Tesla's TRO application – and the story that it tells is in stark contrast to Tesla's allegations. 
Roughly a year after famously doxxing and threatening to sue short seller "Montana Skeptic", Tesla was granted a TRO against Randeep Hothi, who goes by the Twitter handle @skabooshka. The restraining order required Hothi to stay at least 100 yards away from Tesla's factory and employees. Hothi's behavior would cause "great or irreparable harm" without court intervention, Tesla argued in mid-April, just 2 days prior to its "Autonomy Day" event. 
Tesla alleged that Hothi "had a history of trespassing at its facilities, taking photos and video to post to his Twitter account, before he recently started menacing its employees."
In support of its application, Tesla claimed that in February, Hothi struck a security guard with his vehicle when he was approached in Tesla's Fremont parking lot. The incident was so devastating that it caused a "minor knee injury", according to Tesla. The company also said it had contacted Fremont police, but that officers were unable to deliver a no-trespassing order to Hothi at the time.
Now we know why. 
According to a police report posted online by Twitter user @TeslaCharts, Tesla's claims about Hothi's driving differ materially from what the police observed. The report states that Hothi was driving at a "slow rate of speed" and that after a review of security footage, police said "it did not appear to be an intentional act." Police also commented that security guard Tyler James "did not have any injuries". 
2/ I have obtained the police report from the incident in question. Here is the initial description of the incident by the police. $TSLAQ pic.twitter.com/xvczAggkU2

— TeslaCharts (@TeslaCharts) May 19, 2019
https://platform.twitter.com/widgets.js
This is at odds Tesla's version of the story, in which employee Christine Leslie initially claimed that Hothi had driven his car out of the lot "quickly and recklessly", in a statement signed under penalty of perjury.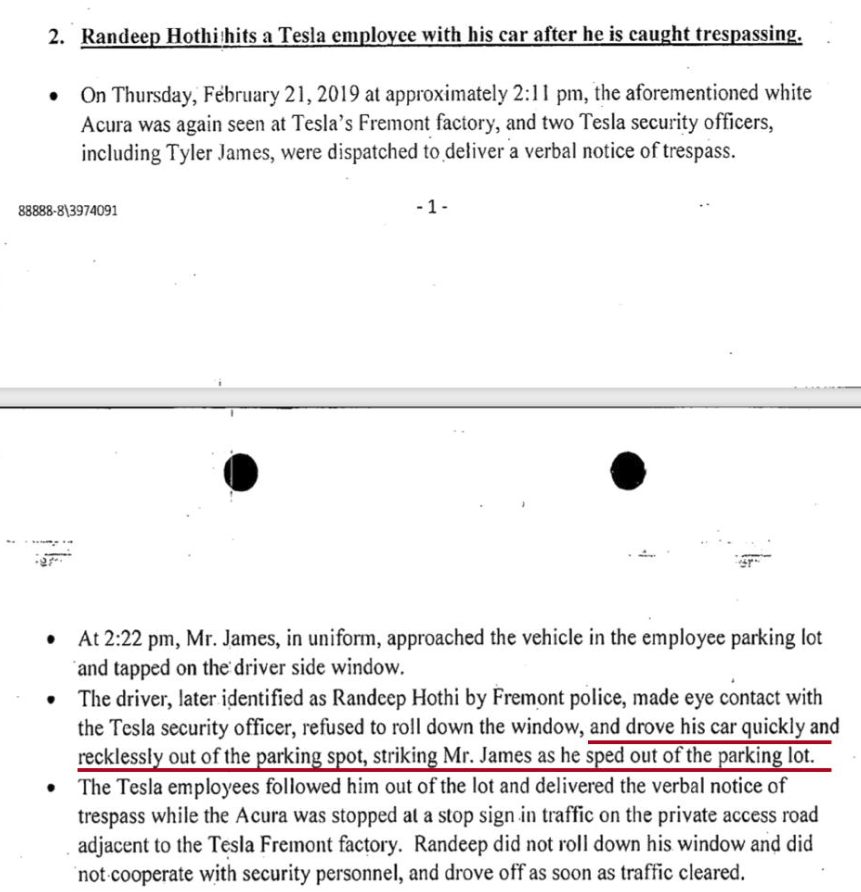 Hothi lives about 3 miles from Tesla's Fremont factory. As some Twitter users are starting to point out, Tesla appears to have purposefully omitted this police report in support of its application for the TRO, while only including the testimony from its employee.
Hey, this is a good question for $TSLA's lead counsel: why in your TRO application did you sponsor testimony from Christine Leslie that is 100% hearsay, but omit the police report? [email protected] https://t.co/kVZjgVKGU9

— Polixenes (@Polixenes13) May 20, 2019
https://platform.twitter.com/widgets.js
Without even considering Hothi's "official" defense, it's obvious that these two accounts contradict each other, and could very well help Hothi defend the allegations against him, while possibly even putting Tesla in an actionable position at the same time. More importantly, it seems that once again, reality has simply eluded Tesla.
Now, our focus turns to another question: what could Hothi have found out about Tesla's autonomous driving that would make the company so hell-bent on keeping him away during their investor event?
---
This post has been republished with permission from a publicly-available RSS feed found on Zero Hedge. The views expressed by the original author(s) do not necessarily reflect the opinions or views of The Libertarian Hub, its owners or administrators. Any images included in the original article belong to and are the sole responsibility of the original author/website. The Libertarian Hub makes no claims of ownership of any imported photos/images and shall not be held liable for any unintended copyright infringement. Submit a DCMA takedown request.