After Tesla shares plunged below $200 for the first time in years yesterday with Wedbush calling the company a "code red situation", another sell side analyst has taken the machete to his numbers this morning and is embracing the cold reality as long time bull Morgan Stanley slashed its bear case on the company to just $10 this morning from $97. This has caused shares to again slip under the Mendoza line in the pre-market session. The company printed a fresh 52 week low yesterday of $195.25. 
Morgan Stanley's Adam Jonas opened his note by reminding readers that the company's 5 year CDS is at 674 vs. Ford at 200, saying that Tesla "has among the widest ranges of outcomes and uncertainty of any major auto firm". With MS's bear case at $10 and other clinically insane optimistic analysts on the name predicting $4,000 per share, that's one assertion Jonas is clearly right about. 
Jonas slashed his price target for the company's bear case from $97 to just $10, "driven primarily by our concerns
around Chinese demand for Tesla products." But what about Tesla mobility?
First, Jonas asks if a collapse in the stock price could become a self-fulfilling prophecy among counterparties and employees. He also calls into question the year's "sharp deceleration in demand":
We have long held that Tesla's share price performance is driven by: demand for its products, ability to generate cash flow, and access to capital markets. This year's sharp deceleration in demand has led to a substantial curtailment of the company's ability to self-fund through free cash flow generation, at the margin potentially impacting the firm's access to capital. Tesla's recent $2.7bn equity and convertible debt raise may provide an extra year of liquidity to run a business of this size and cash consumption. However, Tesla may now find itself in a cycle where a lower share price may itself contribute to a potential deterioration of employee morale as well as potentially increased counterparty risk with both customers and business partners (suppliers,governments)… potentially further impacting fundamentals.
He then reminds the Musk collective of the importance of demand, or lack thereof, saying it is "at the heart of the problem" and adding that the company may have over-saturated the market outside of China:
We believe Tesla may have over-saturated the retail market for BEV sedans outside of China. Tapping into new demand could require aggressively expanding into: 1) the Chinese domestic market, 2) lower-priced SUVs, 3) and logistics/mobility fleets. Tesla is a large and highly vertically integrated company, capacitized to build between 500k and 1 million units annually. In our opinion, Tesla has grown too big relative to near-term demand, putting great strain on the fundamentals.
If that wasn't enough, Jonas also slams the "departure of key executives, price discounting, and extraordinary cost-cutting efforts add to the narrative of a company facing real potential stress."
The note also says MS doesn't anticipate meaningful Model 3 deliveries in China until 2020:
Finally, Jonas can't help but comment on the clear message that the bond market is sending out, which we pointed out yesterday. He says that Tesla's 2025 bonds have "sold off materially", now trading 82.769, sending a less than optimistic message about the debt market's outlook on the company. 
We noted yesterday these bonds were at a record high yield – riskier than Mexico, Russia, and Indonesia and almost as risky as Lebanon…
Finally, Jonas expects competition to continue to be robust, pressuring Tesla. Jonas says: "We give Tesla credit for tapping into the world's largest EV market for a number of years" in China. "We strongly suspect a host of national champions to emerge" in the country.
The note concludes: "Our revised bear case assumes Tesla misses our current Chinese volume forecast by roughly half to account for the highly volatile trade situation in the region, particularly around areas of technology, which we believe run a high and increasing risk of government/regulatory attention. We currently forecast Tesla to sell an average of 165k units annually in China from 2020 (56k units) through 2024 (254k units). At an average price of around $55k/unit we forecast Tesla has an average forward year exposure of around $9bn (165k units x $55k/unit). Our new bear case assumes Tesla loses $4.5bn of revenue at a decremental margin of 30%,20% tax and 15x PE multiple… resulting in lost value of $16.4bn which on a per share basis (188mm shares) is $87, bridging the gap between our old bear case of $97 and our new bear case of $10."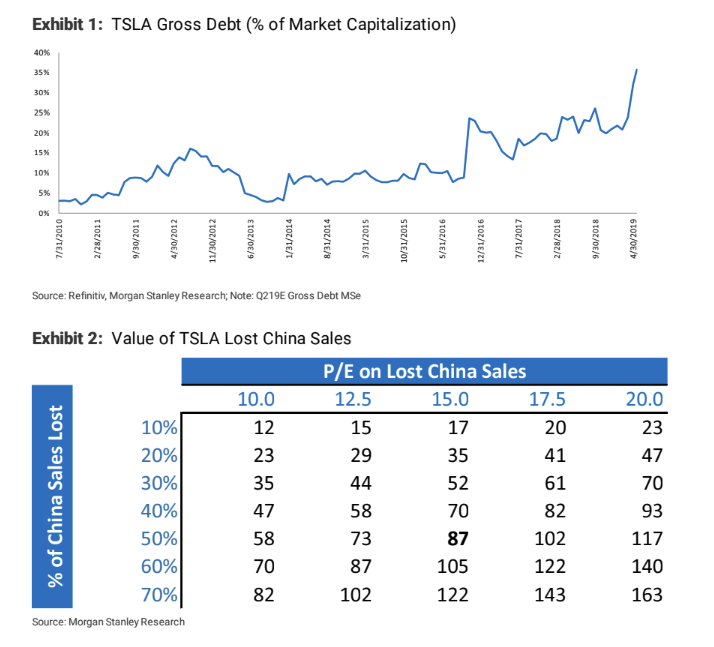 Adam Jonas is a longtime bull on the company, similar to Wedbush's Dan Ives, who has now come to the realization that the story could play out far differently than he had expected during his earlier, more optimistic days.
We expect that reality will continue to slap sell side analysts in the face and that the fall in shares will be, as Jonas says, a "self fulfilling prophecy" of reality checks among those who once were the most optimistic about Elon Musk and his "disruptive" company.
Zero Hedge's mission is to widen the scope of financial, economic and political information available to the professional investing public, to skeptically examine and, where necessary, attack the flaccid institution that financial journalism has become, to liberate oppressed knowledge, to provide analysis uninhibited by political constraint and to facilitate information's unending quest for freedom. Visit https://www.zerohedge.com
---
This post has been republished with permission from a publicly-available RSS feed found on Zero Hedge. The views expressed by the original author(s) do not necessarily reflect the opinions or views of The Libertarian Hub, its owners or administrators. Any images included in the original article belong to and are the sole responsibility of the original author/website. The Libertarian Hub makes no claims of ownership of any imported photos/images and shall not be held liable for any unintended copyright infringement. Submit a DCMA takedown request.