Morgan Stanley: The Idea That "Bad Is Now Good" Is Ludicrous
Authored by Andrew Sheets, global strategist at Morgan Stanley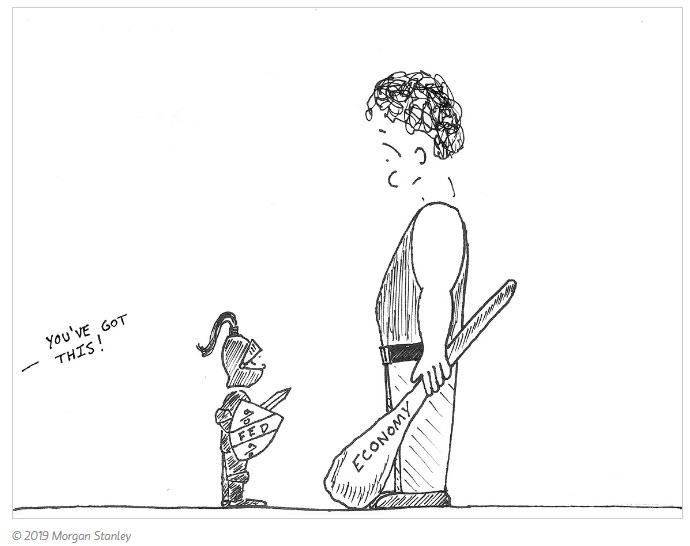 Last Friday the US economy produced significantly fewer jobs than expected. And the markets cheered. The S&P 500 jumped 1.1%, capping its best four-day run all year, credit spreads tightened,and bond prices rose. A distinct line of
reasoning drove these moves – the idea that "bad is now good", and that worse economic data make it more likely that the Federal Reserve will reduce interest rates. How much more likely? Bond markets now expect the Fed to cut rates by 86bp over the next 12 months.
We strongly disagree with this "bad is good" logic. The expectation that easing central bank policy can offset weaker data is at odds with both a broad swath of historical data and basic monetary theory. But since many in the market disagree, this feels like a good time to restate our case.
The first thing to note is that markets have faced a backdrop of weakening economic data and lower or easier central bank policy on quite a few occasions. That's no coincidence. Central banks usually cut interest rates when economic data are weakening, attempting to provide an offset. Therefore, the question of how often "bad is good" is testable.
There are many ways to define the periods when central bank easing faced off against weaker economic data. For simplicity's sake, we focus on instances where the central bank had reduced interest rates at some point over the prior three months, and the unemployment rate was either stagnant or worsening. We do this over the last 30 years, in both the US and the UK.
So how did things go? In the US, these "bad-data-but-easier-policy" periods saw the S&P 500 post above-average returns only 38% of the time – a win rate that, if it were for a baseball team, would put it near the bottom of the current major league standings. In the UK, the experience was similar, with the FTSE 100 underperforming 58% of the time when the BoE was cutting but unemployment was sideways or worse.
That's hardly a great track record for the "bad is good"argument. But we also think that there are theoretical reasons to be suspicious of this idea.
First, most economists agree that monetary policy works with a lag, perhaps as long as 12 months or more. If that's the case, lowering rates today might not have an impact on the economic data until mid-2020. By the same token, the Fed hike in December (seven months ago) may still be working its way through the system. And don't forget that the Fed's balance sheet is still set to shrink through September, another (modest) form of tightening.
Second, weaker economic data have a major impact on confidence, causing further softness as businesses and consumers pull back,and making investors less inclined to pay up for promises of future growth. No economist, at least none we've met, will tell you that central bank policy is intended to eliminate swings in the business cycle. Rather, it aims to dampen them. To this end, we'd note the sharp decline in the most recent readings of the Morgan Stanley Business Conditions Index,a proprietary diffusion index that our US economists compile based on how Morgan Stanley equity analysts view companies within their coverage universe.
What would qualify as good news and make us more positive? That's easy – better data. As strongly as we believe it's dangerous to root for weaker conditions to bring lower interest rates, we firmly believe that markets will ultimately prefer stronger global data, even if it means that interest rates go up. This remains our view and our operating  framework. And it also connects the periods where interest rate cuts were most helpful for markets, notably in 1995 and  1998, when the economy held up well as the Fed cut. Now it's just a question of what the data bring.
---
This post has been republished with permission from a publicly-available RSS feed found on Zero Hedge. The views expressed by the original author(s) do not necessarily reflect the opinions or views of The Libertarian Hub, its owners or administrators. Any images included in the original article belong to and are the sole responsibility of the original author/website. The Libertarian Hub makes no claims of ownership of any imported photos/images and shall not be held liable for any unintended copyright infringement. Submit a DCMA takedown request.