Bitcoin Soars Above $11k For First Time Since March 2018, Ether Tops $300
One day after we reported that Bitcoin futures traded above $10,000 as crypto derivatives markets "are gearing up towards another big weekend as bitcoin approaches $10k", not only did the spot price surge above $10,000 but just a few hours later – in a vivid replay of December 2017 – the cryptocurrency promptly took out $11,000 as well.
Volume spiked as Bitcoin surged past $10k…and accelerated above $11k – the highest since March 2018
Ethereum also spiked above $300…the highest since Aug 2018
In contrast with last year, Bloomberg notes that there are now signs of renewed mainstream interest in cryptocurrencies and the underlying blockchain technology, most prominently Facebook's Libra. The social-media giant is working with a broad group of partners from Visa to Uber to develop the system, which has already attracted attention and criticism from politicians raising privacy and security concerns.
"The bounce back of Bitcoin has been fairly extraordinary," said George McDonaugh, chief executive and co-founder of London-based blockchain and cryptocurrency investment firm KR1 Plc. "Money didn't leave the asset behind, it just sat on the sidelines waiting to get back in."
As we noted last week, the interest "is mostly institutions now."
While a substantial part of the increase in volumes in dollar terms reflects an increase in the market value of bitcoin and other crypto currencies, the volumes in bitcoin terms are also significantly above their previous peaks.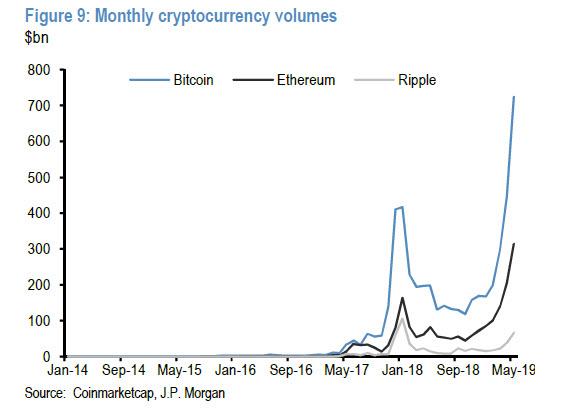 According to JPMorgan,
in the two years since bitcoin's last major spike in 2017 the "market structure has likely changed considerably… with a greater influence from institutional investors."
This also means that whereas bitcoin's historic surge to its all time high of $20,000 in December 2017 was largely retail driven, and thus extremely fickle as the subsequent crash showed, this time it is largely the result of institutional buying, which is far more stable and far less prone to sudden, painful shifts in sentiment and volatility.
In other words, "this time may be different" for bitcoin in a good way: because with institutions now piling into the crypto space, this is precisely the investor group that bitcoin bulls wanted from the beginning as it creates a far more stable price base for the future. Add to this the potential return of retail buying from east Asian (or even US) retail clients, and it is possible that what we predicted in early April, namely that the 3rd bitcoin bubble is starting…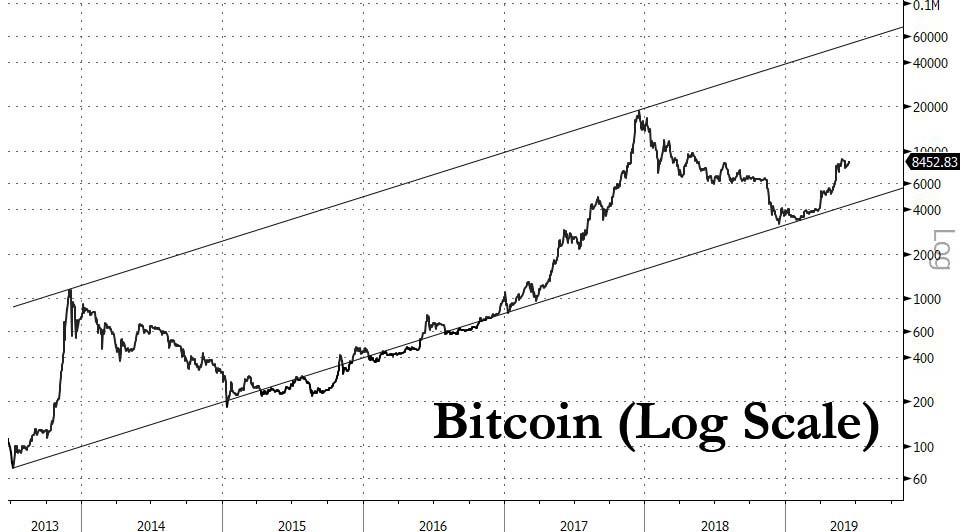 … may soon be confirmed, and that the next bitcoin bubble peak will be somewhere between $60,000 and $100,000.
---
This post has been republished with permission from a publicly-available RSS feed found on Zero Hedge. The views expressed by the original author(s) do not necessarily reflect the opinions or views of The Libertarian Hub, its owners or administrators. Any images included in the original article belong to and are the sole responsibility of the original author/website. The Libertarian Hub makes no claims of ownership of any imported photos/images and shall not be held liable for any unintended copyright infringement. Submit a DCMA takedown request.