Trump Demands India Reverse "Unacceptable" Tariffs On US Goods Ahead Of G20 Talks
President Trump ratcheted up tension between the United States and India in a Thursday Tweet before a planned meeting with Prime Minister Narendra Modi at this week's G20 summit in Japan.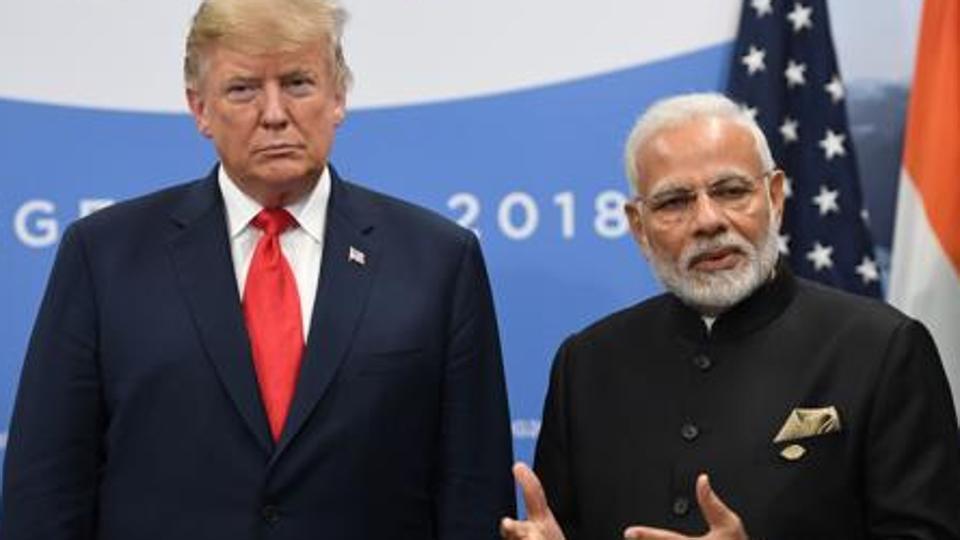 "India, for years having put very high Tariffs against the United States, just recently increased the Tariffs even further," Trump said in the Tweet – his first public response to a move by New Delhi to slap higher tariffs on 28 US products following Washington's June 1st move to end trade concessions o $6.3 billion of Indian goods. 
I look forward to speaking with Prime Minister Modi about the fact that India, for years having put very high Tariffs against the United States, just recently increased the Tariffs even further. This is unacceptable and the Tariffs must be withdrawn!

— Donald J. Trump (@realDonaldTrump) June 27, 2019
Trump's remarks come after India began imposing tariffs as high as 100% on certain US goods, including Harley-Davidson motorcycles, reports Bloomberg. 
https://platform.twitter.com/widgets.js
India levies an average tariff of 6.94% on imports, slightly higher than 6.01% in the U.S. and 6.06% in China, according to World Bank data as of 2017. But, what particularly riled Trump was New Delhi imposing tariffs as high as 100% on Harley-Davidson Inc. motorcycles — an issue he had flagged in a joint address to Congress in February 2017. –Bloomberg
The trade spat comes as the United States seeks Modi's help to counter China in the region, while Washington has demanded that India refrain from purchasing the Russian-made S-400 missile defense system, and oil from Iran. 
"Now you know why India recently imposed retaliatory tariffs that had been put off for a year," said Brookings Institution fellow Tanvi Madan. "Makes for a useful card in negotiations. Now India can use their withdrawal (as DJT wants) as a 'give'/concession." 
Trump is also due to hold a trilateral meeting with Modi and Japan Prime Minister Shinzo Abe on Friday, part of U.S. efforts to bring together countries wary of China's increasing economic and military might. Still, efforts at formal collaboration have largely stalled.

On a visit to New Delhi on Wednesday, Secretary of State Michael Pompeo stressed the strength of the U.S.-India relationship and called for them to embark on a "new age of ambition." They needed to overcome a "nagging misconception that our countries are not able to be full partners," he said, referring to India's Cold War alliance with the Soviet Union. –Bloomberg
On Wednesday US Secretary of State Mike Pompeo was in New Delhi ahead of the G-20 summit in order to discuss the heightened trade tensions between countries, walking away with a promise to focus on better ties – yet giving few specifics on how this might be accomplished. Washington, meanwhile, has also demanded that India cut oil imports from Iran and Venezuela, avoid doing business with Huawei Technologies for 5G networks, and cut ties with North Korea.
"Harmonizing our interests and our views, that's really the task of diplomacy," said India's External Affairs Minister Subrahmanyam Jaishankar, standing next to Pompeo. "I think Secretary Pompeo would agree with me today that we have earned our pay." 
---
This post has been republished with permission from a publicly-available RSS feed found on Zero Hedge. The views expressed by the original author(s) do not necessarily reflect the opinions or views of The Libertarian Hub, its owners or administrators. Any images included in the original article belong to and are the sole responsibility of the original author/website. The Libertarian Hub makes no claims of ownership of any imported photos/images and shall not be held liable for any unintended copyright infringement. Submit a DCMA takedown request.