A new report by Oxford Economics says accelerating technological advances in automation, engineering, energy storage, artificial intelligence, and machine learning have the potential to reshape the world in the 2020s through 2030. The collision of these forces could trigger economic disruption far greater than what was seen in the early 20th century.
Across the world, a new wave of investment in automation could displace 20 million manufacturing jobs by 2030. This coming period of change should be called the great transformation period where job losses due to automation will be on par to the automation of agriculture revolution ( the transition of farm workers into the industrial sector) from 1900 to 1940.
Robots have so far increased three-fold since the Dot Com bust. Momentum in trends suggests the global stock of robots will multiply even quicker through the 2020s, reaching as many as 20 million by 2030, with 14 million in China alone. The collision of automation in the economy will lead to more volatility and economic swings.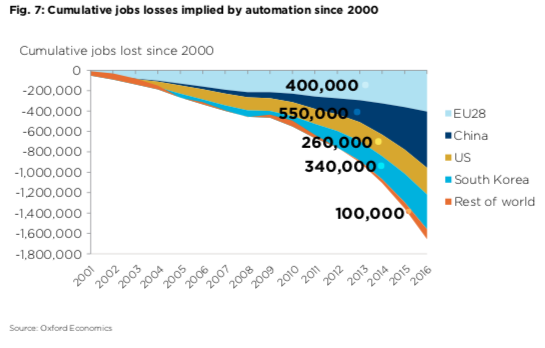 The adoption of new automation technologies can significantly boost income inequality and, by extension, wealth inequality. Many countries, including the US, are entering the 2020s with extreme inequalities, and automation will likely accelerate that trend. Oxford Economics estimates that 20 million manufacturing jobs across the world will be displaced by robots by 2030.
By 2030, most of the automation disruption in major manufacturing countries will be centered in China, the EU, and the US:
China: over 11 million

European Union: almost 2 million

United States: nearly 1.7 million

South Korea: nearly 800,000

The rest of the world: 3 million
Oxford Economics developed the Robot Vulnerability Index – where specific regions across the US are at the highest risk of labor disruption thanks to automation.
The crosscurrents of these macroeconomic force could dramatically reshape economies around the world. Nevertheless, displacing blue-collar manufacturing jobs with robots will continue to drive income/wealth inequality to such extreme levels that governments will be forced to become more interventionist, using higher taxes, regulation, and policy to control economic imbalances.
Zero Hedge's mission is to widen the scope of financial, economic and political information available to the professional investing public, to skeptically examine and, where necessary, attack the flaccid institution that financial journalism has become, to liberate oppressed knowledge, to provide analysis uninhibited by political constraint and to facilitate information's unending quest for freedom. Visit https://www.zerohedge.com
---
This post has been republished with permission from a publicly-available RSS feed found on Zero Hedge. The views expressed by the original author(s) do not necessarily reflect the opinions or views of The Libertarian Hub, its owners or administrators. Any images included in the original article belong to and are the sole responsibility of the original author/website. The Libertarian Hub makes no claims of ownership of any imported photos/images and shall not be held liable for any unintended copyright infringement. Submit a DCMA takedown request.