Pensions across the U.S. are falling deeper into a crisis, as the gap between their assets and liabilities widens at the same time that investment returns are falling, according to Bloomberg. 
Chief Investment Officer Ben Meng told the board of the California Public Employees' Retirement System last week: "For the next 10 years, our expected returns are 6.1%, not 7%."
And if you think you've seen panic now, just wait until he finds out that Calpers' target of 7% – lowered in 2016 – is still a pipe dream.
Put simply: the record, decade long bull market hasn't been enough to save pensions. The average U.S. plan has only 72.5% of its future obligations in 2018, compared to more than 100% in 2001. The Center for Retirement Research at Boston College attributes the deficit to "recessions, insufficient government contributions and generous benefit guarantees."
Jean-Pierre Aubry, associate director said: "The really bad plans went heavily out of equities after the financial crisis."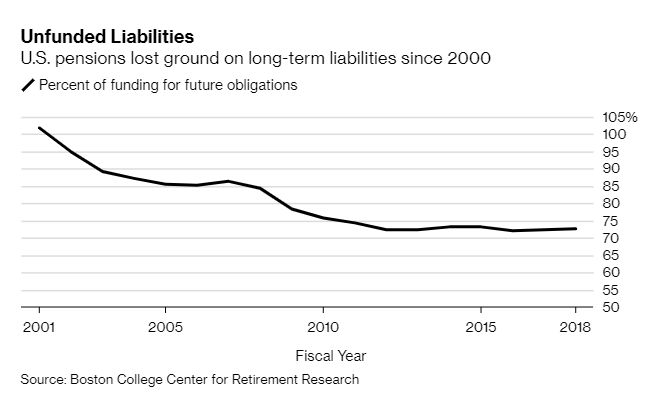 Pensions that aggressive bet on stock outperformed funds that moved money into alternative investment vehicles, like hedge funds. 
Andrew Junkin, president of Wilshire Consulting, said: "Sometimes diversification, while it's the right strategy, makes you look dumb."
And this success isn't a guarantee in the future, either. 
Phillip Nelson, asset-allocation director at pension advisory firm NEPC said: "The discussion we have internally is over the next ten years is do you see an equal amount of Fed support and profit margins increasing by another 50% from this level? Both seem really unlikely to us."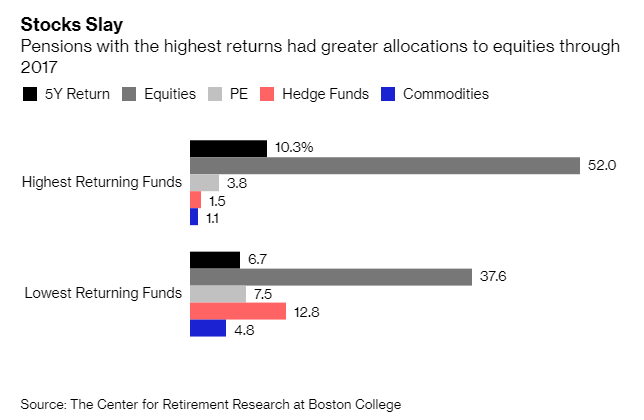 Zero Hedge's mission is to widen the scope of financial, economic and political information available to the professional investing public, to skeptically examine and, where necessary, attack the flaccid institution that financial journalism has become, to liberate oppressed knowledge, to provide analysis uninhibited by political constraint and to facilitate information's unending quest for freedom. Visit https://www.zerohedge.com
---
This post has been republished with permission from a publicly-available RSS feed found on Zero Hedge. The views expressed by the original author(s) do not necessarily reflect the opinions or views of The Libertarian Hub, its owners or administrators. Any images included in the original article belong to and are the sole responsibility of the original author/website. The Libertarian Hub makes no claims of ownership of any imported photos/images and shall not be held liable for any unintended copyright infringement. Submit a DCMA takedown request.