Former Vice President Joe Biden's sure-shot lead over his 2020 Democratic competitors just suffered a major blow, according to a new HuffPost/YouGov poll reported by the Huffington Post's Ariel Edwards-Levy.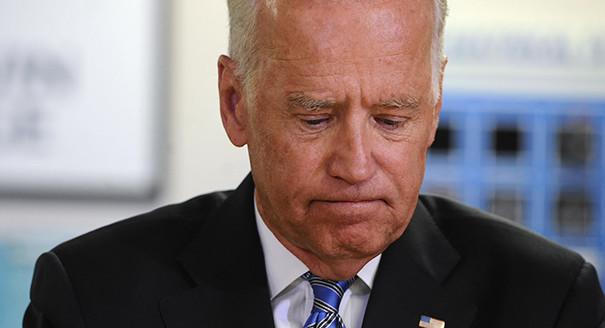 Make no mistake, Biden is still in the lead by double digits in most polls – although his popularity has clearly taken a big hit since early May, while candidates Bernie Sanders, Elizabeth Warren, and Kamala Harris saw healthy upticks following last week's debates.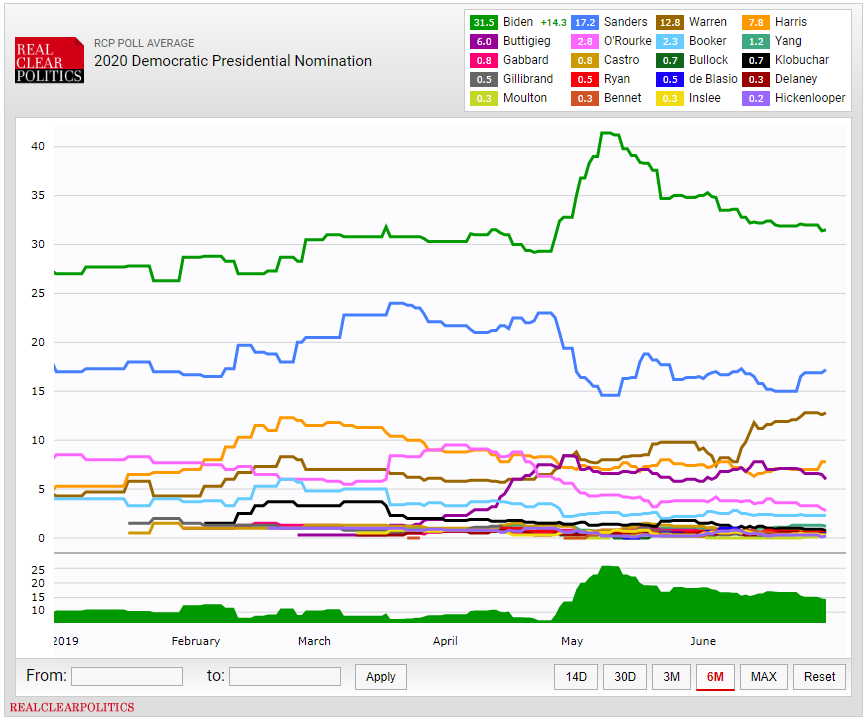 And according to the HuffPost/YouGov poll, Biden is now far less electable than he was in May, dropping from 70% to 57%. While this still places him above the pack, Warren and Harris appear to be within striking distance. 
Here's, I think, the major finding of this poll. Look how the field on electability has shifted since May from a clear Biden lead to a four-way top tier. (Note this is all Dem/Dem-leaning voters, not debate viewers.)https://t.co/CFj7w3TPdn pic.twitter.com/UsY6G2NmXb

— Ariel Edwards-Levy (@aedwardslevy) July 1, 2019
According to those polled, Warren was a sharp debater, while Harris was "very direct" in her vision for the country. One respondent said that Harris "smoked Biden like a cheap cigar."
Warren, who dominated the opening moments of the first debate, stood out because she "clearly articulated, explained, and defended her policy positions" wrote one Texas woman included in the poll. "She was focused, thoughtful, authoritative, and convincing. She seems to have improved her live performance skills and appeared unflappable. And very capable."

During the second debate, Harris sliced through her rivals' crosstalk and challenged Biden on his history with racial issues, such as busing. She was "[v]ery direct in her plans and outspoken," wrote another woman, who was polled shortly after that night. "To beat the aggressive president we have now the candidate will have to be just as aggressive." –HuffPo
Below you can see how Democratic voters' opinions changed for each candidate following the debates. 
Of course, there are a few caveats to polls such as this: 
In case people don't feel like reading screenshots of text, the major caution I have is that none of these are horserace questions — a strong performance in the very first debate isn't guaranteed to swing vote preference even temporarily, let alone for the actual election.

— Ariel Edwards-Levy (@aedwardslevy) July 1, 2019
And as Breitbart's John Nolte points out, none of this really matters until after August. 
I should add that no one is really paying attention now and won't until after August.

I think the Dem race is still up in the air. https://t.co/GYAlfG47Be

— John Ocasio-Nolte (@NolteNC) July 1, 2019
https://platform.twitter.com/widgets.jshttps://platform.twitter.com/widgets.jshttps://platform.twitter.com/widgets.js
Zero Hedge's mission is to widen the scope of financial, economic and political information available to the professional investing public, to skeptically examine and, where necessary, attack the flaccid institution that financial journalism has become, to liberate oppressed knowledge, to provide analysis uninhibited by political constraint and to facilitate information's unending quest for freedom. Visit https://www.zerohedge.com
---
This post has been republished with permission from a publicly-available RSS feed found on Zero Hedge. The views expressed by the original author(s) do not necessarily reflect the opinions or views of The Libertarian Hub, its owners or administrators. Any images included in the original article belong to and are the sole responsibility of the original author/website. The Libertarian Hub makes no claims of ownership of any imported photos/images and shall not be held liable for any unintended copyright infringement. Submit a DCMA takedown request.