After in early June a mysterious light shooting across the horizon with what onlookers described as a 'massive tail' was spotted in the sky, alarming residents across several central China provinces, Beijing has now belatedly suggested it was part of a successful test of its next-generation submarine-launched ballistic missile, the JL-3.
"The scientific research and tests conducted according to plan are normal," a Ministry of National Defense was cited in Chinese state sources as saying of the June 2 test in comments delivered late last week.
While the statements didn't precisely confirm it was the next generation JL-3, multiple international outlets are taking this as "confirmation" given the intense month-long speculation and the PLA's very visible non-denial. 
Throughout June media reports speculated whether it was a "UFO or missile test".
UFO or missile test? Trailing blaze of light goes viral in China. More here: https://t.co/Rrg5ys1wSr pic.twitter.com/MxxGegiRsi

— Reuters Top News (@Reuters) June 5, 2019
https://platform.twitter.com/widgets.js
Alarmingly, the JL-3 is capable of delivering a nuclear strike on the American mainland via hypersonic warhead; however, a People's Liberation Army (PLA) spokesman was quick to emphasize, "These tests are not targeted against any country or specific entity."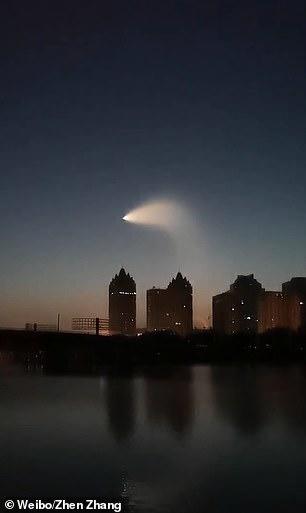 According to The Daily Mail, "American officials said the JL-3 was launched from a submarine test platform in the Bohai Sea and flew several thousand miles to a missile impact range in western China."
Prior reports out of Chinese media claimed the JL-3 possesses a full operational range of between 7,400 miles and approaching 9,000 miles – putting the US coast within easy strike distance. 
Videos showing a "mysterious light" went viral during early June on Chinese social media, fueling intense speculation over secretive military tests conducted by the PLA. China's Global Times said many residents expressed concern over "UFO sightings".
[youtube https://www.youtube.com/watch?v=juFeh9pkApo]
The PLA spokesman added further in his statements: "China has always followed a defense policy which is defensive in nature and an active defense military strategy. The development of weapons and equipment is to meet the basic needs of safeguarding China's national security."
However as the Washington Free Beacon pointed out in its report:
American defense officials disputed the Chinese claim that the test was not targeted at any country and said the missile firing on June 2 coincided with the visit to Asia by then-acting defense secretary Patrick Shanahan.
The intercontinental "Julang" series translates to 'big waves' – named for being specifically developed to outfit China's growing nuclear-powered submarine arsenal, something the Pentagon has been monitoring closely with increased alarm.
Zero Hedge's mission is to widen the scope of financial, economic and political information available to the professional investing public, to skeptically examine and, where necessary, attack the flaccid institution that financial journalism has become, to liberate oppressed knowledge, to provide analysis uninhibited by political constraint and to facilitate information's unending quest for freedom. Visit https://www.zerohedge.com
---
This post has been republished with permission from a publicly-available RSS feed found on Zero Hedge. The views expressed by the original author(s) do not necessarily reflect the opinions or views of The Libertarian Hub, its owners or administrators. Any images included in the original article belong to and are the sole responsibility of the original author/website. The Libertarian Hub makes no claims of ownership of any imported photos/images and shall not be held liable for any unintended copyright infringement. Submit a DCMA takedown request.