Dealmaking in the world of private equity is at its highest level since the lead up to the global financial crisis, according to FT. Additionally, there appears to be no end in sight to the ongoing "buyout boom", as PE firms rush to deploy dry powder to the tune of almost $2.5 trillion.
This cash pile is despite the fact that 2019 has been marked by several $10 billion plus megadeals, even amidst volatile financial markets and trade tensions.
The appetite for getting deals done at places like KKR and Blackstone has been stoked by the enormous amount of cash on the sidelines, which has been raised from pension and sovereign wealth funds. When combined with the fact that borrowing costs are still near record lows, the environment for financing takeovers remains ripe.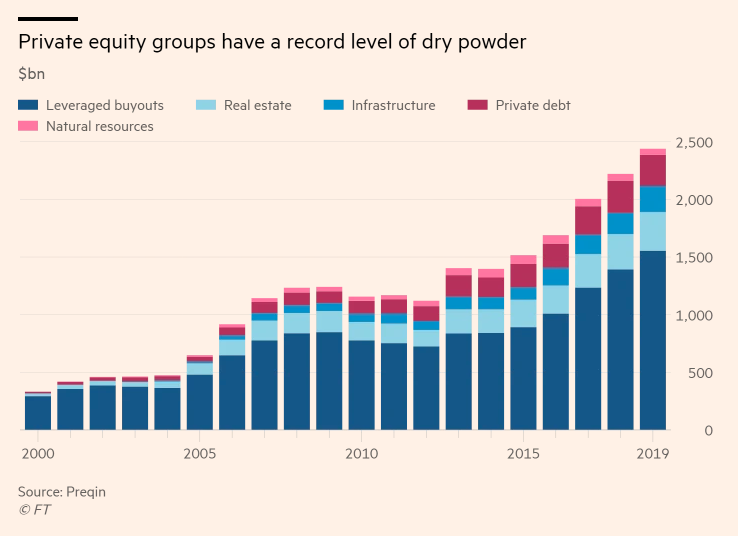 In addition to the nearly $2.5 trillion of dry powder on the sidelines, tens of billions of dollars are being raised for new funds, giving PE groups even more ammunition.
The value of leveraged buyouts was up to $256 billion in the first six months of 2019, marking the second largest first half on record. It even eclipsed the pace of 2006 when PE groups targeted household names like Harrah's and Clear Channel. PE dealmaking has accounted for 13% of global acquisition activity this year, the highest since 2013.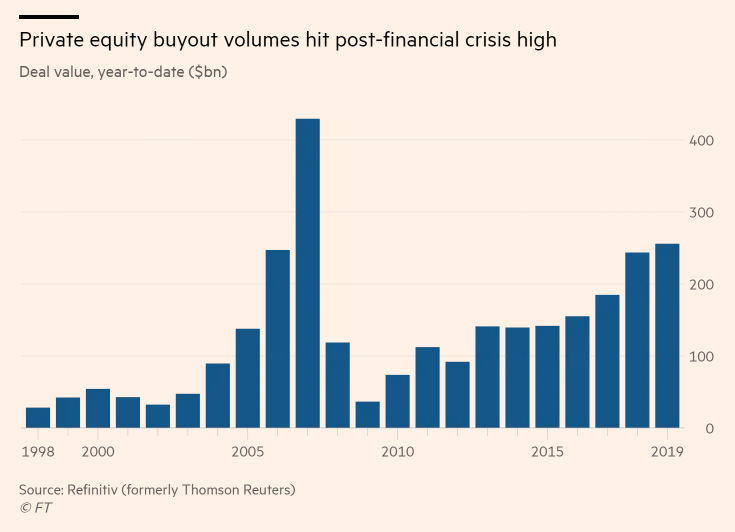 Simona Maellare, the global head of financial sponsors at UBS said:
 "Deal volume in private equity has been very good. A number of transactions have kept the machine going. I expect the second half of the year will follow the same pace of the first half. Deals can be financed, competition for assets is vivid, everyone has a lot of money."
And so, those running leveraged buyout shops are getting more aggressive in their takeover efforts. At the same time, leverage levels are rising as a result of a relaxed attitude from US regulators and takeover sizes growing.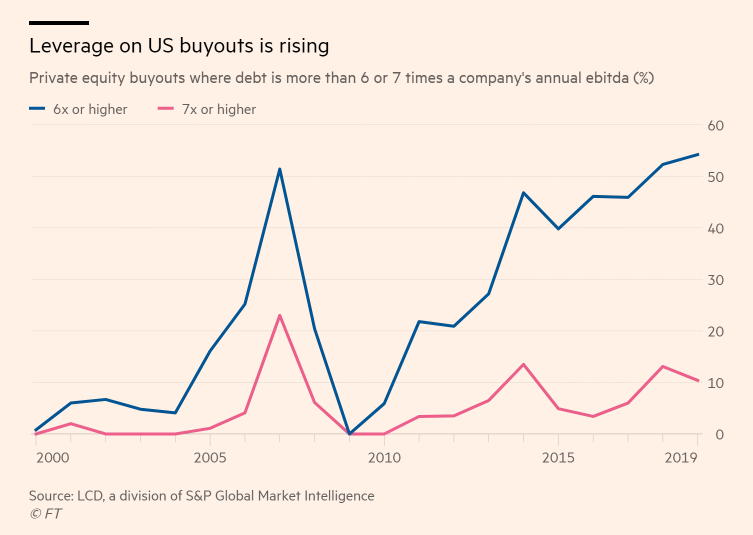 FT notes several deals that have passed $10 billion in size this year:
Those giant transactions include Blackstone's record $18.7bn takeover of the US warehouses portfolio of Singapore-based GLP, the biggest private real estate deal in history, as well as EQT's $10.1bn purchase of Nestle's skincare unit and the $14.3bn sale of fibre optic cable owner Zayo Group to Digital Colony Partners and EQT.

The buyouts come as private equity groups across the globe amass ever-greater firepower in new multibillion-dollar funds. London-based Cinven recently raised €10bn for its latest flagship fund and Boston-based Advent International collected $17.5bn from investors. Luxembourg-based CVC is seeking to raise more than €18bn for what would be Europe's largest ever private equity fund at launch next year. Its rival EQT is looking to raise about €14bn by 2020.
Rob Pulford, Goldman Sachs' head of financial and strategic investors group for Europe, the Middle East and Africa commented: "There has been a significant amount of fundraising among the big private equity groups in the past two years. Several have deployed their new funds quickly and are now getting ready to come back to market again, there is no let-up in the pace of fundraising."
Zero Hedge's mission is to widen the scope of financial, economic and political information available to the professional investing public, to skeptically examine and, where necessary, attack the flaccid institution that financial journalism has become, to liberate oppressed knowledge, to provide analysis uninhibited by political constraint and to facilitate information's unending quest for freedom. Visit https://www.zerohedge.com
---
This post has been republished with permission from a publicly-available RSS feed found on Zero Hedge. The views expressed by the original author(s) do not necessarily reflect the opinions or views of The Libertarian Hub, its owners or administrators. Any images included in the original article belong to and are the sole responsibility of the original author/website. The Libertarian Hub makes no claims of ownership of any imported photos/images and shall not be held liable for any unintended copyright infringement. Submit a DCMA takedown request.