Submitted by Michael Every of Rabobank
Yesterday's 1 July handover day celebrations in Hong Kong did not go as smoothly at all. After rain had forced the flag-raising ceremony indoors for the first time, early clashes between police and protestors were a harbinger of what was to follow. While hundreds of thousands peacefully marched, thousands of very young protesters literally tore their way through to occupy and graffiti the Legislative Council (LegCo): they blacked out the Hong Kong symbol above Chief Executive Carrie Lam's chair; briefly lay the British colonial flag on her desk; insisted Lam resign and the Extradition Bill be scrapped, not paused; and left a banner demanding full democracy.
This raises the stakes in all manner of ways. Lam is refusing to move on any front; the silent majority might be sympathetic to the goal but are far from happy with the recent disorder; Beijing is no doubt furious; pro-China protests and groups are already emerging on the streets too, suggesting clashes may occur at some point; and journalists who spoke with the teenagers in LegCo report many profess to be desperate enough to die for their cause. In short, the situation is far from good – for Hong Kong, for markets,…and perhaps for the HKD if one looks further out(?) Don't forget that the US will be watching closely what happens in terms of HK's autonomy and its legal recognition of the territory.
At the same time, Iran announced, and the IEAE confirmed, it had exceeded the 300kg uranium-enriching limit set in the 2015 nuclear deal. While Tehran can still step back from this, they are demanding Europe act on circumventing US sanctions on it forthwith to do so. That action will almost certainly trigger a sharp US reaction. The military option is obviously there but is not one US President Trump favours. Yet the razor-sharp tools of tariffs and sanctions and SWIFT and the USD are all available and already being used: would the US really fire them at the EU? (It is already threatening USD4bn more tariffs over the Airbus case.)
Not coincidentally, the head of Mossad gave a rare public speech in which he stated "I say to you, with certainty, based on the best sources of both Israeli and Western espionage, that Iran is behind these attacks. They were approved by Iranian leadership and carried out, in large part, by the Islamic Revolutionary Guard Corps and its proxies….There is nothing innocent in Iran's actions in general and in its nuclear project in particular. All claims that the enriched uranium is for research or power are a total lie." US Secretary of State Pompeo likewise tweeted: "Iran's regime has taken new steps to advance its nuclear ambitions. Once again, the regime uses its nuclear program to extort the international community and threaten regional security. The world's top sponsor of terrorism can never be allowed to enrich uranium at any level." Moreover, the White House has made clear that maximum pressure tactics will continue, and that it no longer believes Iran should have the ability to enrich any uranium at all. In short, the situation is far from good.
For its part, Europe is still tied up in k/nots over who gets what key job and nobody can agree on anything, it seems. France's President summed up the situation rather brutally: "We have to review all the consequences of such a failure. Our credibility is profoundly stained with meetings that are too long that yield nothing. We give an image of a Europe that is not serious." Well, quite. If only the EU had serious leadership like Boris Johnson and his "I can confirm he owns more than one pair of socks" official statement; or Jeremy Hunt, who miraculously has billions of pounds to spend if he becomes PM – or not, says his soon-to-be ex-Chancellor Hammond. In short, the situation is far from good.
Meanwhile, against this backdrop this is now the longest US economic expansion in its entire history; the S&P is at a record high; and the Dow just had the best June since 1938.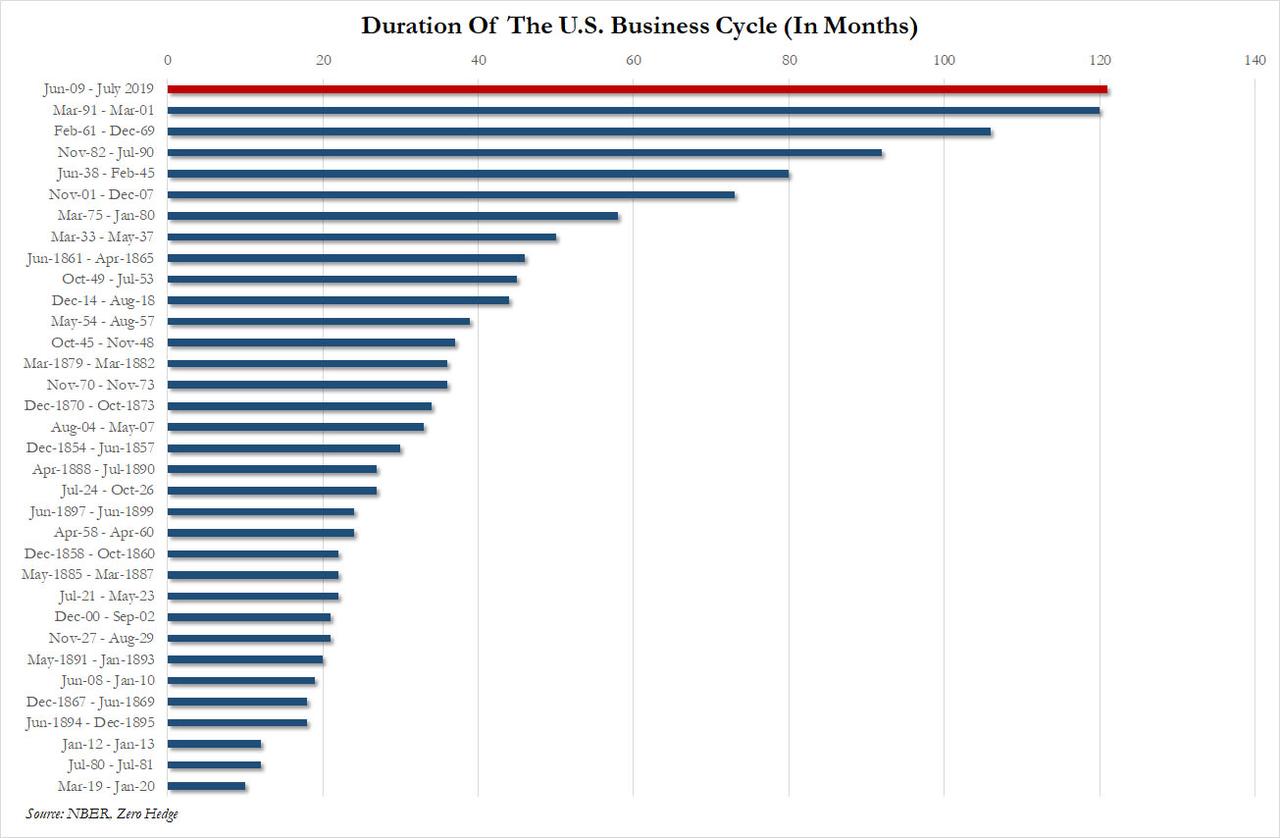 All I can say is that there are lots of other comparisons one can make with the late 1930s at the moment, and none of them are flattering. None of them suggest a Risk On stance is the right way to go either.
Zero Hedge's mission is to widen the scope of financial, economic and political information available to the professional investing public, to skeptically examine and, where necessary, attack the flaccid institution that financial journalism has become, to liberate oppressed knowledge, to provide analysis uninhibited by political constraint and to facilitate information's unending quest for freedom. Visit https://www.zerohedge.com
---
This post has been republished with permission from a publicly-available RSS feed found on Zero Hedge. The views expressed by the original author(s) do not necessarily reflect the opinions or views of The Libertarian Hub, its owners or administrators. Any images included in the original article belong to and are the sole responsibility of the original author/website. The Libertarian Hub makes no claims of ownership of any imported photos/images and shall not be held liable for any unintended copyright infringement. Submit a DCMA takedown request.