As a result of Boeing grounding its 737 Max narrow body jet, Emirates Airlines has been forced to divert its massive Airbus A380 super jumbo jets onto short 40 minute trips to replace lost capacity, according to Bloomberg.
Emirates is using the double-decker jets for short flights, like those from Dubai to Oman, which is only 211 miles and is the shortest flight performed by the model. They're doing it in response to FlyDubai reducing services following the idling of its fleet of fourteen 737 Max planes.
These flights are good indicator of how fallout from the grounding is rippling across the airline industry. Airlines across the globe are being forced to redeploy or lease planes while delaying the retirement of older ones as Boeing works on a fix for the 737 Max.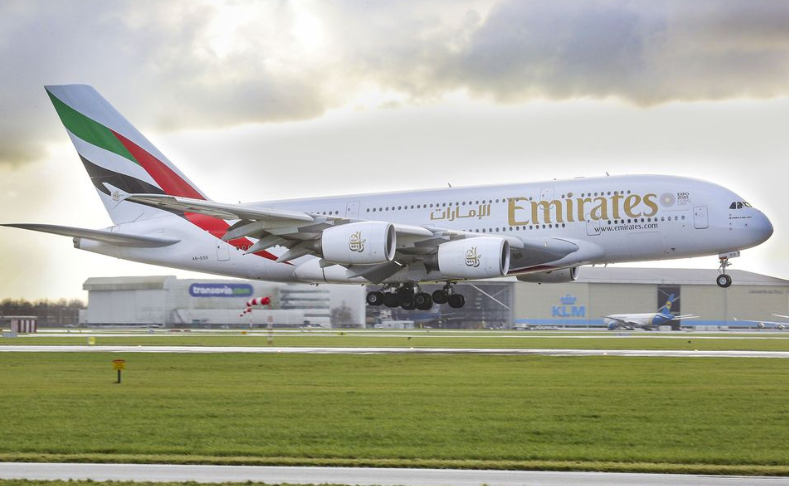 Emirates said that the A380 flights last only five minutes longer than it takes to clean the jet's interior in between trips. Online flight data shows that the carrier is managing to fit in other services around the short hops, with some planes being deployed to places like Madrid the same day that they make the short trek.
Muscat was one of the main destinations hit as FlyDubai cut 17% of its services in response to the grounding. Frequencies of flights have been moved down to three times a day, from five times a day, now using Boeing 737–800 planes.
Emirates sells tickets for FlyDubai jets and is operating two of its own flights daily with A380s that carry 519 people. That is 159 more people per trip than the Boeing 777–300s it previously used.
Demand on the route to Muscat is high because the city has acted as a transfer hub for people traveling between the Untied Arab Emirates and Qatar for the last two years after a Saudi boycott of the nation led to a moratorium on direct flights.
Emirates and FlyDubai have become more integrated recently to the extent where they have worked together on routes to avoid duplication. Emirates is still working on deployment plans for its A380 fleet as it continues to try and establish the optimum route schedules for the next 5 to 10 years.
Zero Hedge's mission is to widen the scope of financial, economic and political information available to the professional investing public, to skeptically examine and, where necessary, attack the flaccid institution that financial journalism has become, to liberate oppressed knowledge, to provide analysis uninhibited by political constraint and to facilitate information's unending quest for freedom. Visit https://www.zerohedge.com
---
This post has been republished with permission from a publicly-available RSS feed found on Zero Hedge. The views expressed by the original author(s) do not necessarily reflect the opinions or views of The Libertarian Hub, its owners or administrators. Any images included in the original article belong to and are the sole responsibility of the original author/website. The Libertarian Hub makes no claims of ownership of any imported photos/images and shall not be held liable for any unintended copyright infringement. Submit a DCMA takedown request.