Just as Californians were out celebrating July 4th with parades and firing up grills for barbecues, the largest earthquake in three decades rocked the southern part of the state, registered at 6.4 magnitude. 
The quake lasted for about 30 seconds centered in the San Bernadino area's Searles Valley, but also could be felt in Los Angeles, about 100 miles away, and as far away as Las Vegas. According to the LA Times: 
The 10:33 a.m. quake was centered in the Searles Valley, a remote area of San Bernardino County about 100 miles from Los Angeles.

The quake was the largest in Southern California since the 1994 6.6 Northridge quake, which killed dozens and caused billions of dollars in damage. But the Northridge quake hit in the center of a populated area, while Thursday's quake was located far from the metropolitan Los Angeles area.
Local reports from the L.A. area suggest it was "slow and steady" and reports of home damage and emergency medical situations have emerged nearer to the epicenter, as well as evacuations of towns near the vicinity of the earthquake's center.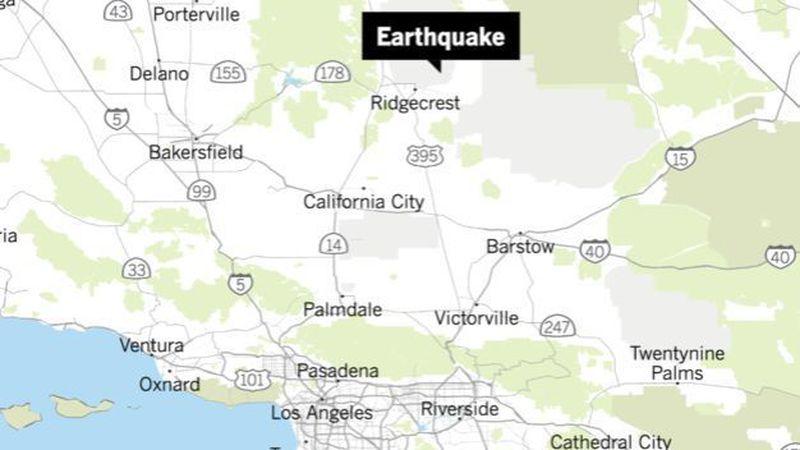 The aftershocks which reached the LA metropolitan area were felt by people for an extended time but were not reported as violent or causing severe damage to buildings or infrastructure there.
WHOAAAAA THATS THE BIGGEST LA EARTHQUAKE IN A WHILE!!! pic.twitter.com/i5CDwT5nEm

— Kevín (@KevOnStage) July 4, 2019
However, the emergency lines were flooded. "We are very much aware of the significant earthquake that just occurred in Southern California. Please DO NOT call 9-1-1 unless there are injuries or other dangerous conditions. Don't call for questions please," the LAPD said in a statement.
Earthquake in Los Angeles.. about 20 seconds of continuous shaking in Studio City. #Didyoufeelit #EarthQuake #LA pic.twitter.com/UujjDf21md

— Gadi Schwartz (@GadiNBC) July 4, 2019
Local reports say over 30 aftershocks were felt across southern California in the aftermath. 
#Update: Just in – Incredible video alleged from the #earthquake in a liquor store in #Ridgecrest in #California, just a few miles from the epicentre… pic.twitter.com/gQvqd5J5Bl

— Sotiri Dimpinoudis (@sotiridi) July 4, 2019
According to CBS Los Angeles: 
The earthquake was followed by multiple aftershocks in the Ridgecrest and Searles Valley areas, measuring anywhere from magnitude 2.9 to 4.2.

The quake was felt all across the Southland, as far south as Orange County, according to USGS.

According to earthquake expert Dr. Lucy Jones, CalTech received a 48 second warning that the quake was coming, she said at a news conference in Pasadena.
this is over by Trona pic.twitter.com/6SXodtcQ8z

— t.s. idiot (@THEjoeydavis) July 4, 2019
* * *
Live Feed:
developing…
Zero Hedge's mission is to widen the scope of financial, economic and political information available to the professional investing public, to skeptically examine and, where necessary, attack the flaccid institution that financial journalism has become, to liberate oppressed knowledge, to provide analysis uninhibited by political constraint and to facilitate information's unending quest for freedom. Visit https://www.zerohedge.com
---
This post has been republished with permission from a publicly-available RSS feed found on Zero Hedge. The views expressed by the original author(s) do not necessarily reflect the opinions or views of The Libertarian Hub, its owners or administrators. Any images included in the original article belong to and are the sole responsibility of the original author/website. The Libertarian Hub makes no claims of ownership of any imported photos/images and shall not be held liable for any unintended copyright infringement. Submit a DCMA takedown request.