Update: That was quick.
President Trump has apparently taken a quick break from preparing for today's festivities to take one last swing at Amash on his way out the door. In a tweet, Trump called him "the dumbest & most disloyal [man] in Congress". Trump insisted Amash "knew he couldn't get the nomination to run again in the Great State of Michigan" – something that we mentioned earlier as a possible motivating factor for Amash's decision to quit the Republican Party.
By adding the quotes around quitting, Trump also suggests  – as we did earlier – that Amash was effectively pushed out over his impeachment comments.
Great news for the Republican Party as one of the dumbest & most disloyal men in Congress is "quitting" the Party. No Collusion, No Obstruction! Knew he couldn't get the nomination to run again in the Great State of Michigan. Already being challenged for his seat. A total loser!

— Donald J. Trump (@realDonaldTrump) July 4, 2019
https://platform.twitter.com/widgets.js
Trump wasn't the only person on Twitter to seize the opportunity to 'bash the Amash'.
Just another example of the Amash refusing to adapt to modern times. https://t.co/riHLWg4bao

— Lord Single Malt (@Singlemaltfiend) July 4, 2019
https://platform.twitter.com/widgets.js
We imagine this just made Amash's holiday.
* * *
With most Americans away from their desks and enjoying a long weekend with the family, Michigan Congressman Justin Amash – you might remember him as the one and only Republican Congressman who has publicly expressed support for impeaching President Trump – just announced that he's resigning from the Republican Party, presumably to start a #NeverTrump party of one.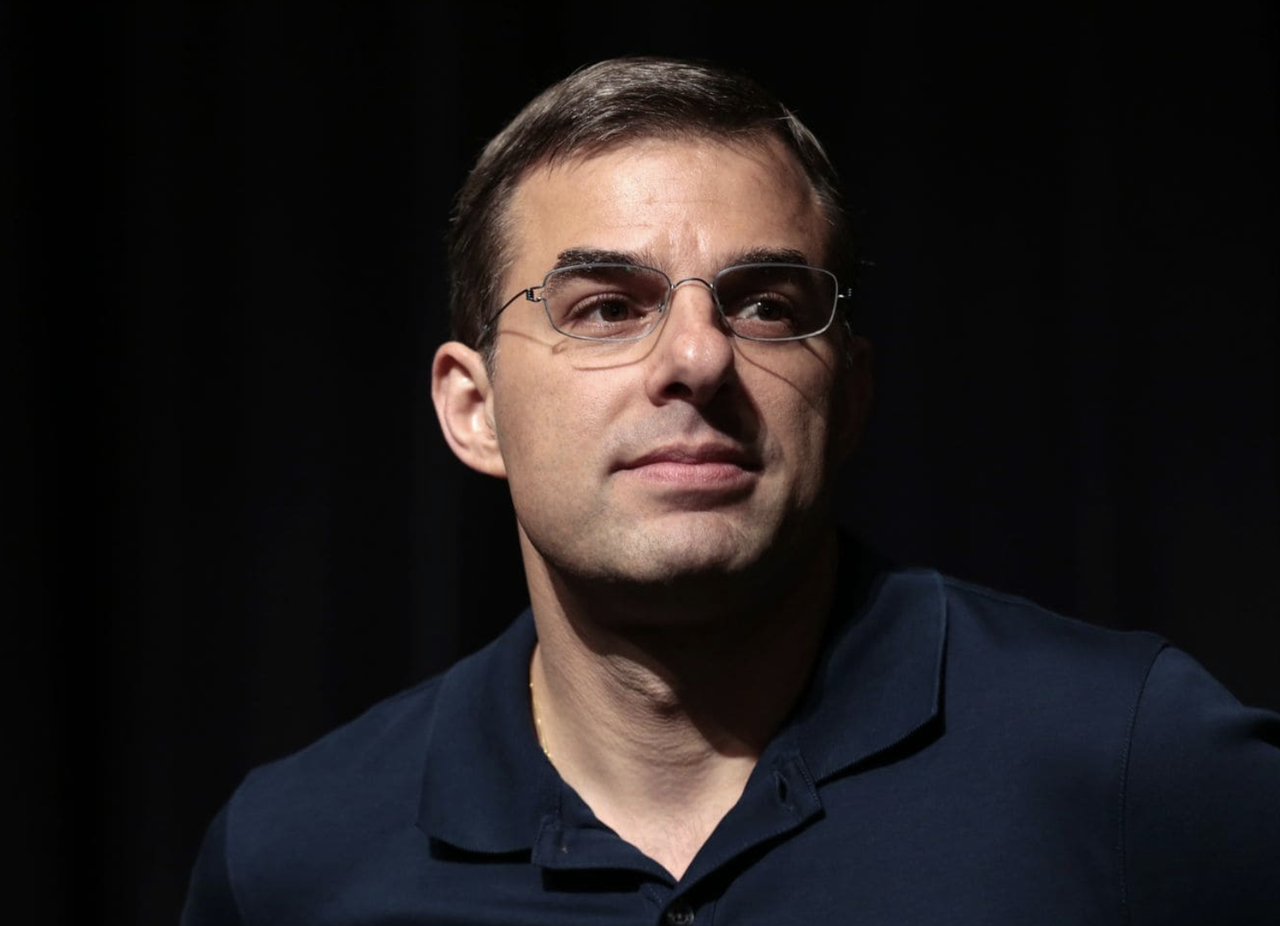 In an op-ed for the Washington Post, Amash claimed that he had become  "disenchanted" with the Republican Party. Instead of  putting the interest of 'the people' first, Amash said the party has become mostly self-serving for itself and its corporate backers. He also claimed that this political agenda had thrown the system of checks and balances in the federal government hopelessly out of whack (an interesting claim, considering how district courts have struck down most of the administration's big immigration initiative, and the House is presently mulling over whether to try and impeach the president).
True to Washington's fears, Americans have allowed government officials, under assertions of expediency and party unity, to ignore the most basic tenets of our constitutional order: separation of powers, federalism and the rule of law. The result has been the consolidation of political power and the near disintegration of representative democracy.

These are consequences of a mind-set among the political class that loyalty to party is more important than serving the American people or protecting our governing institutions. The parties value winning for its own sake, and at whatever cost. Instead of acting as an independent branch of government and serving as a check on the executive branch, congressional leaders of both parties expect the House and Senate to act in obedience or opposition to the president and their colleagues on a partisan basis.

In this hyperpartisan environment, congressional leaders use every tool to compel party members to stick with the team, dangling chairmanships, committee assignments, bill sponsorships, endorsements and campaign resources. As donors recognize the growing power of party leaders, they supply these officials with ever-increasing funds, which, in turn, further tightens their grip on power.

The founders envisioned Congress as a deliberative body in which outcomes are discovered. We are fast approaching the point, however, where Congress exists as little more than a formality to legitimize outcomes dictated by the president, the speaker of the House and the Senate majority leader.
Even with modern politics in a "death spiral", as Amash described it, he does see a way out: More Americans need to participate in the political system by voting, particularly those who are less interested in politics, since they tend to be less partisan. Rejecting both the modern Republican and Democratic parties in favor of independent candidates is, as Amash sees it, the only way to preserve American liberty. In other words, Amash is making the specious Rachel Maddow argument that Trump is a power-hungry demagogue who threatens to 'break' the American political system, something that has little, if any, basis in fact.
He also used this lengthy quote from George Washington's famous farewell address, where he purportedly warned about the dangers of partisanship.
"The disorders and miseries which result gradually incline the minds of men to seek security and repose in the absolute power of an individual; and sooner or later the chief of some prevailing faction, more able or more fortunate than his competitors, turns this disposition to the purposes of his own elevation, on the ruins of public liberty."

"It serves always to distract the public councils and enfeeble the public administration. It agitates the community with ill-founded jealousies and false alarms, kindles the animosity of one part against another, foments occasionally riot and insurrection. It opens the door to foreign influence and corruption, which finds a facilitated access to the government itself through the channels of party passions. Thus the policy and the will of one country are subjected to the policy and will of another."
Finally, the Congressman started the column by recounting his father's journey to the US as a Palestinian refugee.
It's already suspicious that Amash & WaPo decided to publish this op-ed on the Fourth of July, when it would almost certainly get drowned out by coverage of a hot-dog eating contest in Coney Island and, of course, President Trump's 'Inauguration 2.0' Washington rally, which the president says will feature tanks and – more controversially – 'advanced aircraft' (note: DoD officials have insisted that aircraft not be used).
People are coming from far and wide to join us today and tonight for what is turning out to be one of the biggest celebrations in the history of our Country, SALUTE TO AMERICA, an all day event at the Lincoln Memorial, culminating with large scale flyovers of the most modern…..

— Donald J. Trump (@realDonaldTrump) July 4, 2019
https://platform.twitter.com/widgets.js
….and advanced aircraft anywhere in the World. Perhaps even Air Force One will do a low & loud sprint over the crowd. That will start at 6:00P.M., but be there early. Then, at 9:00 P.M., a great (to put it mildly) fireworks display. I will speak on behalf of our great Country!

— Donald J. Trump (@realDonaldTrump) July 4, 2019
https://platform.twitter.com/widgets.js
So much so, that we're inclined to believe that the timing was deliberate – that he released it on a day when everybody else is distracted, hoping that it would get lost in the never-ending accumulation of political headlines. Is the Washington Post widely read in Amash's Republican-leaning district in Michigan? We very much doubt it.
Amash's decision to quit the party will almost certainly cost him his committee appointments, including his spot on the Oversight Committee.
And remember, President Trump still retains a 90%+ approval rating among Republican voters.
It's a sign that this very well might be one of those 'you can't fire me because I quit'-type situations after his fellow lawmakers made it known that his attacks on Trump and, more importantly, his support for impeachment had made him persona non grata within the House Republican caucus, just like it did the House Freedom Caucus, which he also 'quit' a few weeks ago.
Though it's also worth noting that Amash is facing a number of primary challengers in his next election. Maybe his decision to leave the party is just a step toward a third-party run to rule out the possibility of him losing a primary?
Zero Hedge's mission is to widen the scope of financial, economic and political information available to the professional investing public, to skeptically examine and, where necessary, attack the flaccid institution that financial journalism has become, to liberate oppressed knowledge, to provide analysis uninhibited by political constraint and to facilitate information's unending quest for freedom. Visit https://www.zerohedge.com
---
This post has been republished with permission from a publicly-available RSS feed found on Zero Hedge. The views expressed by the original author(s) do not necessarily reflect the opinions or views of The Libertarian Hub, its owners or administrators. Any images included in the original article belong to and are the sole responsibility of the original author/website. The Libertarian Hub makes no claims of ownership of any imported photos/images and shall not be held liable for any unintended copyright infringement. Submit a DCMA takedown request.