Just as glimmers of hope were starting to emerge that Turkey may finally crawl its way out of the deep hole it dug for itself last summer… and Erdogan happens.
* * *
The world sure can be an ironic place: just one week after the Bank of International Settlements highlighted Turkey as the case study of all the bad things and political costs resulting from political meddling and intervention in a central bank's affairs when BIS General Manager Agustin Carstens said "you see the government undermining the autonomy of the central bank and at the same time you see the negative consequences," adding that looking at Turkey, other countries can "see what happens when the government tinkers with the autonomy", president Erdogan had just one message: "hold my bear."
That's right: two weeks after Erdogan appeared to finally throw in the towel on aggressively authoritarian practices when he conceded the loss of the Istanbul election revote to his ruling party's primary challenger  in a surprisingly subdued reaction, the "executive president" reminded everyone just why Turkey remains a consummate basket case, when on Saturday morning, Erdogan unexpectedly fired Murat Cetinkaya as central bank governor, after he reportedly refused an informal request to resign, according to Bloomberg which also correctly notes that the decision to terminate the centrist central banker risks a furious market backlash just as foreign money started returning to Turkey and central bankers were expected to start interest-rate cuts.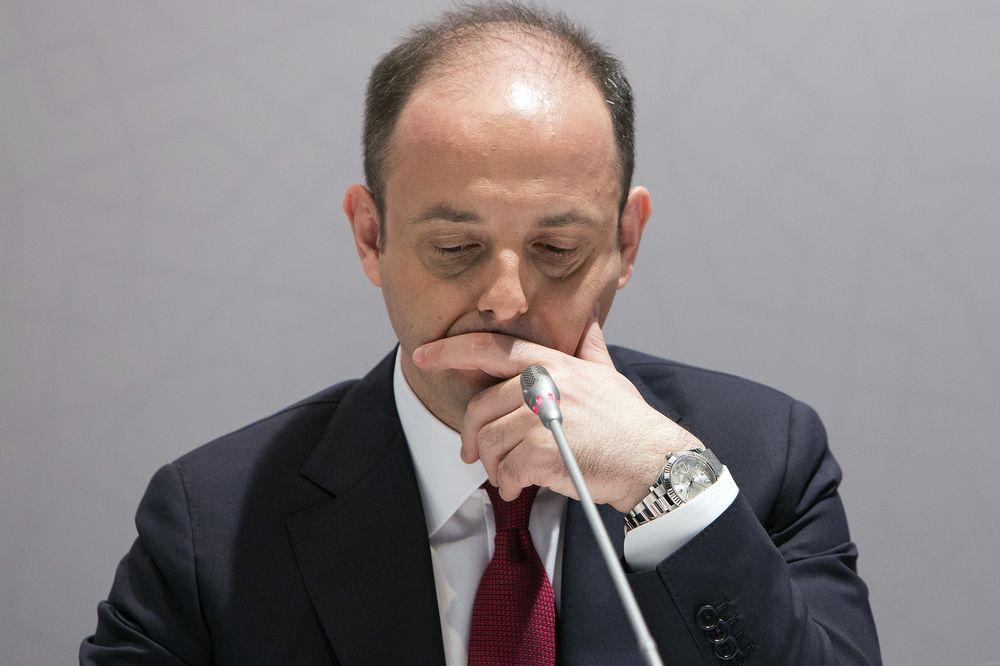 To single-handedly fire the central bank head – and remind the world just who is Turkey's boss – Erdogan used the powers gained from last year's general election, which transformed the political system into an executive presidency, effectively making Erdogan into an "unchecked", quasi-dictator. And, as a reminder, the first batch of presidential decrees issued under the new rules last July included a change that allowed Erdogan to name central bank governors – an appointment that previously required the support of the cabinet.
The rising tensions between the now ousted central banker, whose four-year term was due to end in 2020, and the government hit a breaking point after a monetary authority meeting on June 12, when he kept borrowing costs unchanged over Erdogan's long-running demands for a rate cut, according to Bloomberg sources. The now terminated governor was appointed in April 2016, and was often criticized for acting too slowly to tighten monetary policy during a currency rout in August. He then showed resolve in the face of market turmoil, increasing the benchmark interest rate by 625 basis points in September and holding it ever since; however by doing so he infuriated Erdogan which ultimately cost him his job.
In addition to sparking Erdogan's anger, Cetinkaya also came under fire by the international community for his lack of transparency over recent volatility in the bank's reserves, prompting concerns that the central bank was using its assets to prop up the lira before municipal elections earlier this year.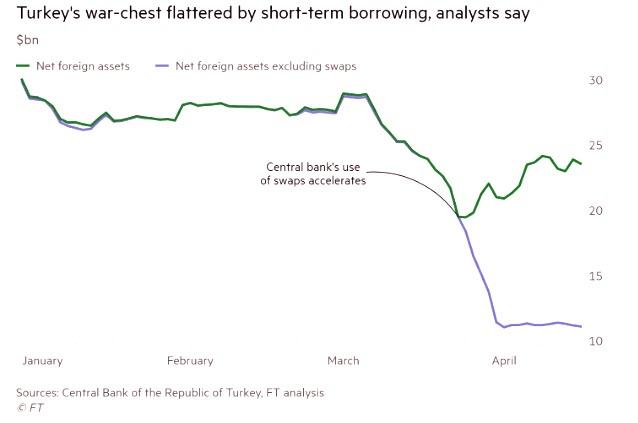 He also sparked outrage in late March when in order to crush lira shorts, he sent the overnight lira swap rate as huigh as 1,400%, a move Turkey borrowed from the PBOC, and in the process crippled foreign investors' faith in the country.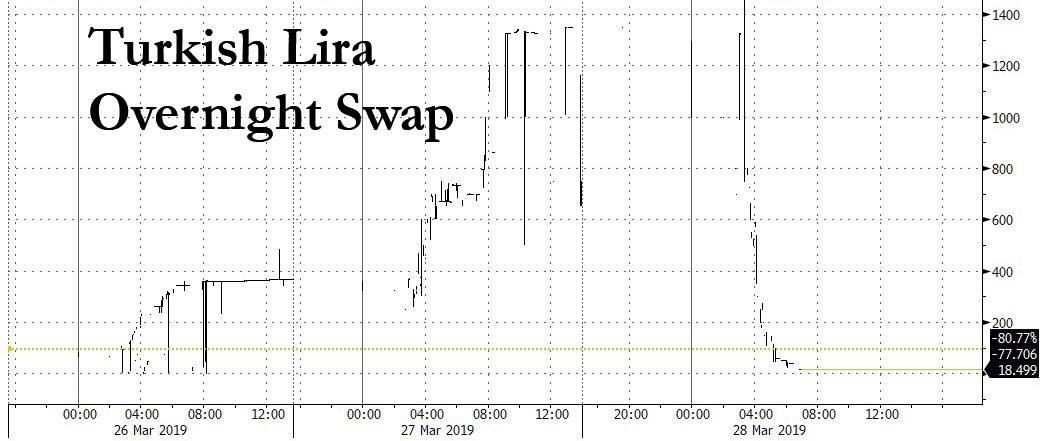 Cetinkaya's replacement is said to be the bank's Deputy Governor Murat Uysal, according to a presidential decree in Saturday's Official Gazette, and while his policy style is unknown something tells us he will be glad to cut rates all the way back to zero even if it means a collapse in what had recently become the world's favorite carry currency due to its shockingly high 24% rate.
The "shock ouster", as Bloomberg called it, is set to reignite investors' concern about the central bank's independence, and may derail a ridiculous rally in the lira that started at the beginning of May, driven largely by Mrs Watanabe, whose penchant for chasing momentum is about to blow up in her face again.
Cetinkaya's termination also came just a few days after Turkey's real rate – a number which is even more manipulated than Turkey's "official" reserve data, or any economic data out of China, printed at 8.3%, which while the highest in the world  was below expectations, giving policy makers room to start an easing cycle.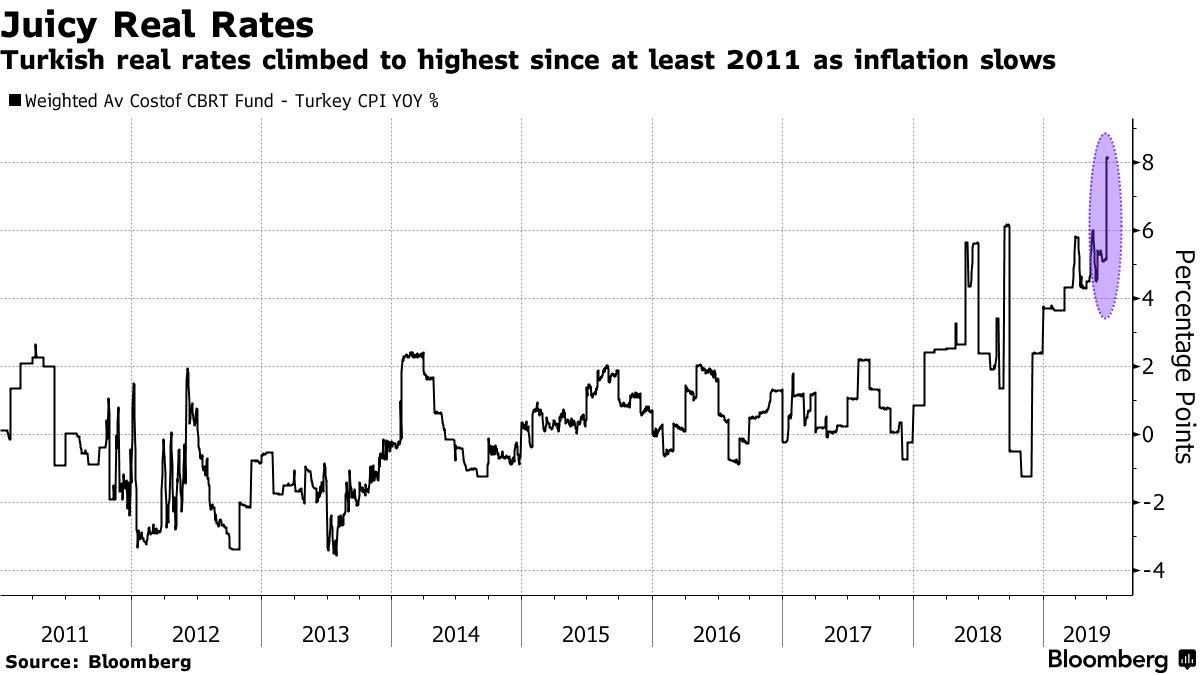 And with the next policy decision is scheduled for July 25, FX investors can shift their obsession from the Fed, which is no longer set to cut by 50bps just a few days later, but to Turkey, where the only question is how many percent will Uysal cut the repo rate by to make sure he isn't fire just weeks after he was appointed.
"By abruptly dismissing Cetinkaya, Erdogan reminded everyone who is in charge of monetary policy," said Rabobank's Piotr Matys, a longtime skeptic that Turkey has any chance of normalization as long as Erdogan is in charge. "The decision is set to undermine credibility of the central bank, which may start unwinding the emergency rate hike announced in September much faster than previously anticipated."
To be sure, the move is set to reverse the Lira's recent appreciation, and will likely result in a plunge when trading resumes late on Sunday that could see the TRY plummet back under 6.00 vs the USD.
Bloomberg's mideast economist Ziad Daoud, wrote that "If Erdogan's aim was to get lower interest rates, then the decision to replace the governor could backfire. Now there's an additional credibility constraint, with financial markets certain to scrutinize the motivation and magnitude of any easing. Investors will question whether it was really warranted by economic data, or if it was delivered under pressure from the government."
Just like Trump, Erdogan has frequently criticized the central bank for keeping borrowing costs elevated, and just last month, he complained that while the U.S. Federal Reserve is moving closer to lowering interest rates, "the policy rate in my country is 24%, this is unacceptable."
Of course, Trump may beg to differ.
Then there is also the question of just what is the true level of CBRT's net reserves, and whether the central bank used up most of its reserve "dry powder" to prevent the lira from crashing below 6.00, with the currency now set for a far worse collapse with the central bank now unable to do anything to prevent a plunge to new record lows.
Furthermore, in cracking down on the central bank, many are asking if this sets the stage for Trump to pursue a similar course of action with the Federal Reserve, whose head Trump has repeatedly lashed out against in recent weeks; in fact just on Friday, Trump said the Fed is "our most difficult problem" and that the Fed doesn't have a clue
….As well as we are doing from the day after the great Election, when the Market shot right up, it could have been even better – massive additional wealth would have been created, & used very well. Our most difficult problem is not our competitors, it is the Federal Reserve!

— Donald J. Trump (@realDonaldTrump) July 6, 2019
https://platform.twitter.com/widgets.js
Amusingly, the new head of the CBRT, Uysal, deputy governor since June 2016, said he would continue to implement monetary policy independently, in line with his mandate and authority. Spoiler alert: he won't.
And now we patiently wait until Trump gets wind of what just happened in Turkey, and tweets his praise for Erdogan's show of power over the central bank, or – just to show the world that he has more executive power than the Turkish president – goes for the kill and informs Powell – via Twitter – that his serves are no longer necessary, and he will be replaced by Neel Kaskhari.
Zero Hedge's mission is to widen the scope of financial, economic and political information available to the professional investing public, to skeptically examine and, where necessary, attack the flaccid institution that financial journalism has become, to liberate oppressed knowledge, to provide analysis uninhibited by political constraint and to facilitate information's unending quest for freedom. Visit https://www.zerohedge.com
---
This post has been republished with permission from a publicly-available RSS feed found on Zero Hedge. The views expressed by the original author(s) do not necessarily reflect the opinions or views of The Libertarian Hub, its owners or administrators. Any images included in the original article belong to and are the sole responsibility of the original author/website. The Libertarian Hub makes no claims of ownership of any imported photos/images and shall not be held liable for any unintended copyright infringement. Submit a DCMA takedown request.