According to The Economic Times, Apple's continuing slowdown in India has translated into a 42% decline in iPhone shipments in 1Q19 from a year before. During the first quarter, Apple shipped 220,000 iPhones in India, followed by an improvement in April thanks to carrier discounts. In May and June, however, iPhone sales plunged again.
Neil Shah, research director at Hong Kong-based Counterpoint Technology Market Research, said the full-year estimate for iPhone shipments in India is 1.5 million to 1.6 million, a 10-17% drop from 2018 and as much as 53% collapse from the peak shipment of 3.2 million in 2017.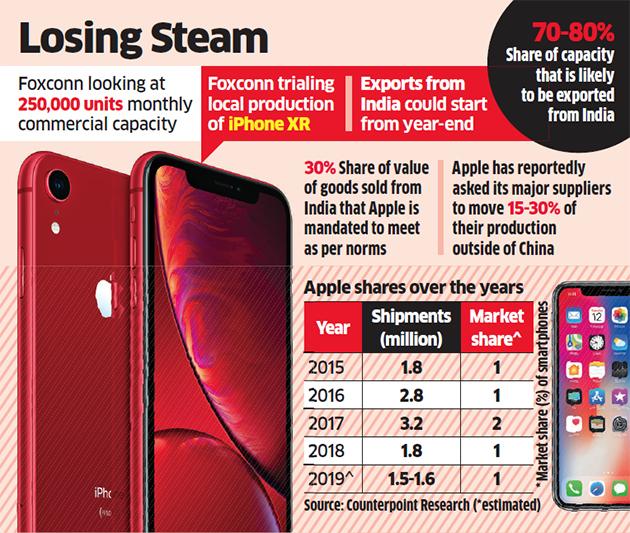 Apple could start manufacturing its iPhones in India through Foxconn, with an initial monthly capacity of 250,000. About 75% of the iPhones may be exported as Apple figures out how to rework its supply chains outside of China.
"Apple had a disappointing run in 2018 and the outlook for 2019 looks weaker, with shipments having fallen further compared to last year, with the exception of April, thanks to price correction that month," said Shah.
The Times said Apple is preparing to transform India into a major production hub than a top producing market, and intends to scale up local manufacturing amid US-China trade tensions.
Apple has instructed its key suppliers — Foxconn, Pegatron, and Wistron to move 15-30% of their production facilities outside of China to avoid US tariffs.
"Companies like Apple already have some of their global partner manufacturers in India and with the right environment and possibly incentives, can create a large-scale global hub for making in India and a deep ecosystem for component manufacturers," said Pankaj Mohindroo, chairman of the Indian Cellular and Electronics Association.

"We are sitting on an opportunity which needs to be lapped up without losing a minute, else we run the risk of these investments going to other countries like Vietnam."
Foxconn and Wistron have already constructed factories in India and industry experts told The Times that manufacturing volumes are increasing.
"Commercial production of iPhone XR and the models above that should begin by the year-end at Foxconn and exports will be part of the plan from day one," said an anonymous industry insider.
India is also planning on relaxing its requirements on companies sourcing at least 30% of goods locally, but those requirements have been major hurdles for technology companies to meet. As a result, foreign direct investment dropped 13% in India in 2018. However, the relaxation of local sourcing regulations will allow more companies who are reworking supply chains out of China to find a possible home in India.
Zero Hedge's mission is to widen the scope of financial, economic and political information available to the professional investing public, to skeptically examine and, where necessary, attack the flaccid institution that financial journalism has become, to liberate oppressed knowledge, to provide analysis uninhibited by political constraint and to facilitate information's unending quest for freedom. Visit https://www.zerohedge.com
---
This post has been republished with permission from a publicly-available RSS feed found on Zero Hedge. The views expressed by the original author(s) do not necessarily reflect the opinions or views of The Libertarian Hub, its owners or administrators. Any images included in the original article belong to and are the sole responsibility of the original author/website. The Libertarian Hub makes no claims of ownership of any imported photos/images and shall not be held liable for any unintended copyright infringement. Submit a DCMA takedown request.