In delayed response to Friday's stellar June payrolls report which saw rate cut odds slashed across the board, with a 50bps cut by the FOMC in three weeks no longer a possibility, global shares slumped on Monday, with Asian shares tumbling the most in two months, European stocks broadly lower and US equity index futures well in the red.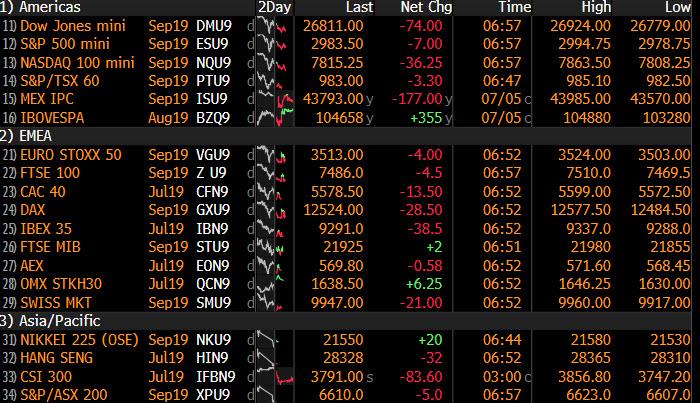 The overnight weakness in equity markets can be explained simply: since the start of 2019, global equities have been bolstered by expectations that central banks will keep interest rates at or near record lows to boost economic growth. Those expectations were hammered Friday's payrolls report which showed that nonfarm payrolls jumped 224,000 in June, beating forecasts for 160,000, in a sign the world's largest economy still had some fire. Given the strength shown in that data, investors now expect U.S. Federal Reserve Chairman Jerome Powell to go slow on rate cuts this year.
"The re-adjustment in expectations did push the dollar higher and had a negative effect on Asia but Europe has been supported by investors saying 'whatever the Fed does, the ECB [European Central Bank] will still cut'," said Andrew Milligan, head of global strategy at Aberdeen Standard Investments.
Sentiment was also hit by Morgan Stanley's decision – first reported here – to cut its exposure to global equities to "Underweight" due to growing doubt about the ability of policy easing to offset weaker economic data. "We are lowering our exposure to global equities to the range we consider 'underweight'," Morgan Stanley's London-based strategist Andrew Sheets said in a note. The previous range was 'neutral'.
Expensive valuations and pressure on earnings were among the reasons for the downgrade, Sheets said, while the bank increased its exposure to emerging markets sovereign credit and safe haven Japanese government bonds.
The session started on the back foot when Asian stocks suffered their biggest slide in two months, led by health care and communications firms as MSCI's index of Asia-Pacific shares outside Japan tumbled 1.4%. Markets in China, South Korea and India led declines in the region. Strong U.S. payroll data weakened expectations for aggressive rate cuts, sending Japan's Topix index 0.9% lower, with pharmaceutical companies among the biggest drags after news that the U.S. was devising a "favored nations" plan to buy drugs based on the lowest prices paid by other countries.
China's Shanghai Composite Index slumped 2.6%,  pulling back further away from 3,000, and its biggest drop since May 6, as traders fear a flood of new listings will overload the market and drain demand for existing stocks. Heavyweights China Shenhua Energy and Ping An Insurance helped drag the benchmark down. The S&P BSE Sensex Index fell as much as 2%, heading for its biggest loss in seven months, as disappointment over a lack of broad stimulus in India's budget weighed on equities for a second day. In South Korea, the benchmark index was dragged lower by Samsung Electronics and SK Hynix as concerns mount over political tensions with Japan. The Kospi extended its loss in afternoon trading and closed 2.2% lower.
The drop in European stocks was more muted but still widespread as bonds were little changed; the Euro Stoxx 50 dropped -0.1%, tracking the 0.2% drop in the e-mini S&P futures. Deutsche Bank shares initially surged, rising to their highest level since early May as investors welcomed the bank's move to cut 18,000 jobs around the world as part of a restructuring plan that will cost 7.4 billion euros; the surge helped lift shares in other European investment banks UBS, Credit Suisse and Societe Generale were up more than 1%, while Barclays is up 0.3% and HSBC is down around 1%. The fact that the latest Sentix investor confidence print hit a 5 year low did not have much of an impact on already downbeat sentiment.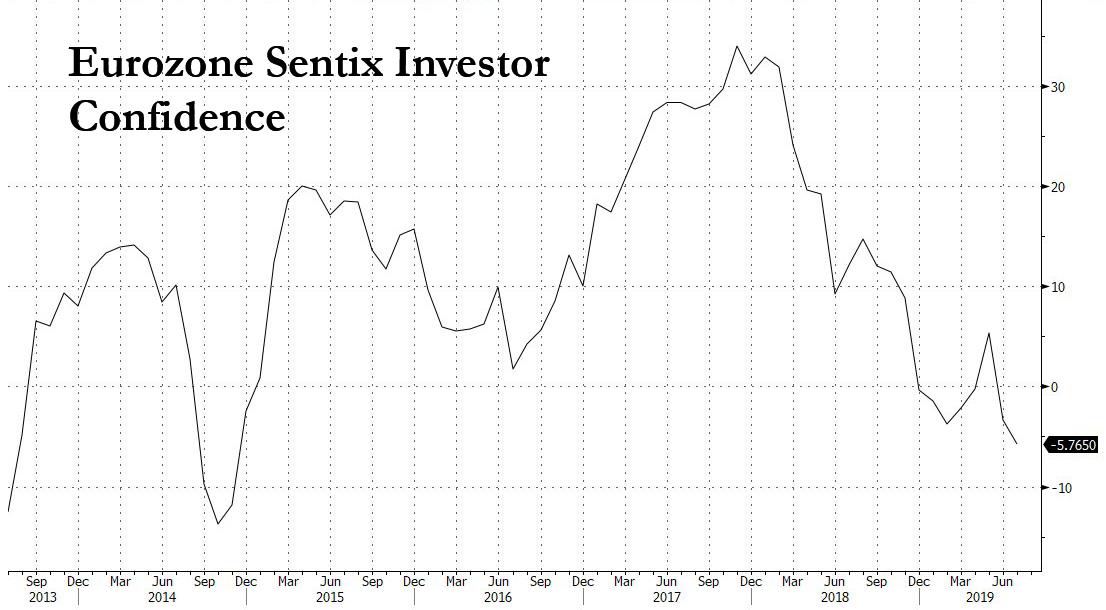 However, it didn't take long for traders to realize that amid the massive cuts, DBK will have problems boosting profits as it slashes revenue, and the shares quickly reversed their gain, sliding as much as 1.7% shortly after the open.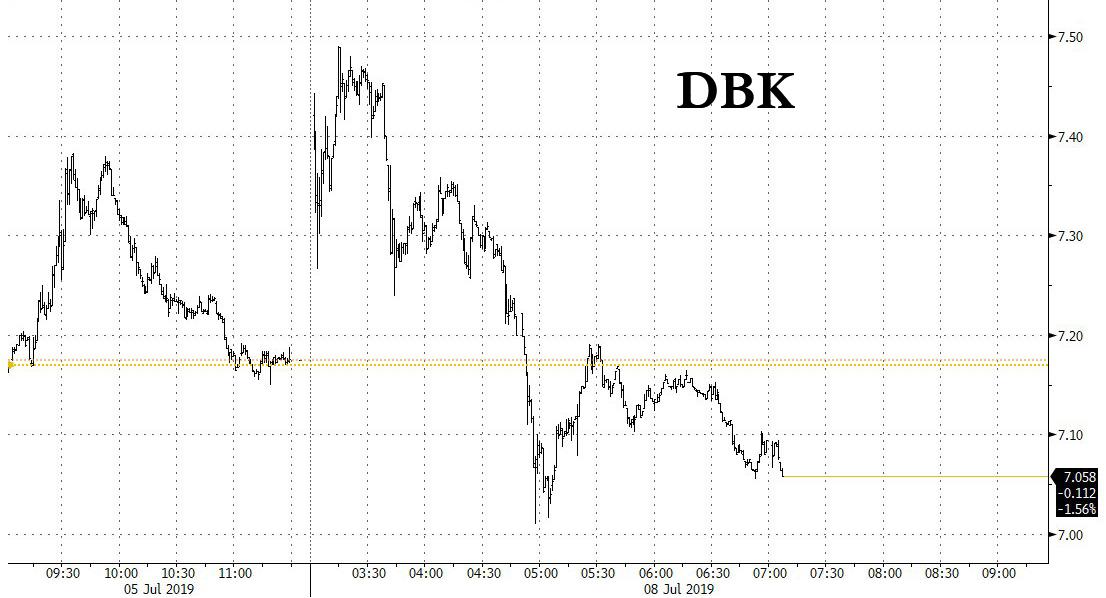 The big outlier in what has otherwise been a relatively quiet session was Turkey, where the lira, stocks and government dollar bonds all tumbled after President Erdogan dismissed the central bank governor, a move that fueled worries about monetary policy independence. Erdogan sacked Cetinkaya for refusing the government's repeated demands for rate cuts, laying bare differences between them over the timing of interest rate cuts to revive the recession-hit economy.  The turkish lira traded down 1.7% versus the dollar, off weakest levels in the session.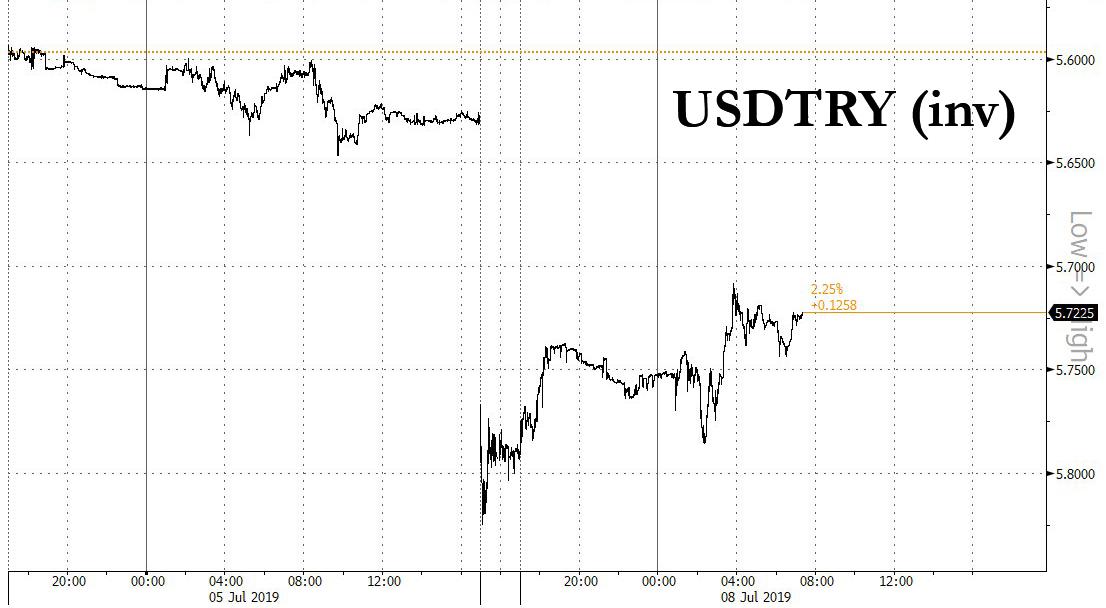 Not too far away, the Greek stock index rallied at first before erasing gains and slipping 1.2% after Greece's opposition conservatives returned to power with a landslide victory in snap elections on Sunday.
European bonds mostly trade steady to 2bps lower, with 10-yr Greek yield -4bps to 2.11% after center-right party won election at the weekend. 10-yr BTP/bund spread 1bp wider at 212bps. UST yields 1bp lower in the 2-yr through 10-yr tenors. Greek 10-year bond yields fell by 14 basis points in early trade to hit new all-time lows of 2.016%, reversing the 12 basis point yield rise on Friday.
There was some positive news on the protracted China-U.S. trade war, with White House Economic adviser Larry Kudlow confirming that top representatives from the United States and China will meet in the coming week for trade talks.
"Whether the negotiators can find a solution to the difficult structural issues that remain between the two sides is another matter, and Kudlow cautioned there was 'no timeline' to reach an agreement," National Australia Bank strategist Rodrigo Catril said.
In FX, the dollar index stood at 97.229 in early London trading, below the near three-week high of 97.443 it hit on Friday after last week's strong U.S. jobs data lowered expectations for a sharp Federal Reserve interest rate cut. The euro, which dropped to $1.1208 EUR=EBS on Friday, traded at $1.1225, unchanged on the day. After hitting a six-month low to the dollar on Friday as a result of poor economic data and a rise in expectations that the Bank of England will cut interest rates, the British pound was last quoted at $1.2513 down 0.2% on the day.
Geopolitics will also be in focus this week following news on Sunday that Iran will boost its uranium enrichment, in breach of a cap set by a landmark 2015 nuclear deal. "So far U.S.-Iran tensions have not had a material impact on markets, but if tensions escalate it could be a different story," said NAB's Catril.
In commodity markets, oil prices rose with Brent crude futures LCOc1 up 8 cents at $64.31. U.S. West Texas Intermediate was up 6 cents at $57.57 a barrel.
In other geopol news, President Trump said the Fed does not have a clue and that the most difficult problem for the US is the Fed and not the nation's competitors, while he separately commented that the Fed would lower rates if it knew what it was doing. Furthermore, Trump said that China is devaluing its currency and that the UK Ambassador to the US has not served the UK well.
Iran announced that it has surpassed the 3.67% uranium enrichment cap, according to a Iran Nuclear Energy Spokesman; additionally, enriching uranium above 20% has been discussed at the Supreme National Security Council but no decision has been taken as of yet; Iran's 3rd step in reducing commitments under the 2015 nuclear deal will be stronger. Follows earlier reports that Iran is to lift uranium enrichment to over 3.67%, while an Iranian official confirmed they will scale back commitment to the 2015 nuclear deal and will keep reducing its commitments every 60 days unless signatories move to protect it from US sanctions and signal room for diplomacy
Trading is expected to be subdued ahead of Powell's semi-annual testimony to the U.S. Congress on Wednesday, which will provide further clues on the near-term outlook for monetary policy. The only economic data on the calendar is the latest Consumer Credit report at 3pm ET.
Market Snapshot
S&P 500 futures down 0.2% to 2,985.25
STOXX Europe 600 up 0.09% to 390.48
MXAP down 1.2% to 159.82
MXAPJ down 1.4% to 523.74
Nikkei down 1% to 21,534.35
Topix down 0.9% to 1,578.40
Hang Seng Index down 1.5% to 28,331.69
Shanghai Composite down 2.6% to 2,933.36
Sensex down 1.9% to 38,746.13
Australia S&P/ASX 200 down 1.2% to 6,672.20
Kospi down 2.2% to 2,064.17
German 10Y yield fell 0.9 bps to -0.372%
Euro up 0.06% to $1.1232
Italian 10Y yield rose 6.8 bps to 1.39%
Spanish 10Y yield rose 6.1 bps to 0.384%
Brent futures up 0.6% to $64.60/bbl
Gold spot up 0.4% to $1,405.53
U.S. Dollar Index down 0.1% to 97.18
Top Overnight News from Bloomberg
The Turkish lira declined by the most since March after President Recep Tayyip Erdogan dismissed central bank governor Murat Cetinkaya, undermining the institution's independence weeks before it's scheduled to decide on policy and fueling concerns that borrowing costs will be lowered faster than expected
Deutsche Bank announced a radical overhaul of its business — it is cutting a fifth of its 91,000-person work force and closing it's equity trading. Analysts said that while the restructuring was broader than expected, the newly announced targets will be tough to achieve
Kyriakos Mitsotakis will have to move swiftly to tackle a raft of lingering economic problems when he's sworn in as Greek prime minister on Monday. Investors expect the 51-year-old New Democracy leader, whose conservatives secured a healthy parliamentary majority in Sunday's election, to prove his business-friendly reputation is deserved
British Conservatives plotting to thwart a no-deal Brexit will make another attempt this week to stop the next prime minister from forcing a chaotic break with the European Union without Parliament's consent. BOE has a forecast problem in market's bets on Brexit rate cuts
President Donald Trump wrapped up the weekend as he started it, jawboning the Federal Reserve to lower interest rates at a time when he may be sizing up his two latest picks for Fed governor as successors to Chairman Jerome Powell.
The European Central Bank has the determination and capacity to act as needed to support the euro-area economy, Bank of France Governor Francois Villeroy de Galhau said
Bank of Japan Governor Haruhiko Kuroda says extremely low interest rates will be kept in place until at least around next spring while the bank will keep an eye on risks for price momentum.
China's foreign-currency holdings rose for a second month amid potential capital inflows and positive valuation effects to the highest level in more than a year
Oil edged higher as rising tension in the Middle East kept investors wary, while expectations the U.S. and China can make a quick breakthrough following the resumption of trade talks are low
German industrial production saw a slight pick-up in May — a rare sign of resilience as manufacturers in Europe's largest economy struggle with global trade tensions and subdued demand. Output gained 0.3% on the month, just short of economists' estimates for a 0.4% gain. While the increase is welcome, it claws back only a fraction of the 2% drop recorded in April
The U.K. plans to fine British Airways 183.4 million pounds ($230 million) over computer attacks that exposed customer data, marking the first major application of far-reaching European Union rules requiring companies to tighten anti-hacking measures
Asian equity markets began the week with firm losses as the region reacted to the weakness last Friday on Wall St. ASX 200 (-1.1%) and Nikkei 225 (-1.0%) were lower in which the commodity-related sectors led the broad declines in Australia, especially gold miners after the precious metal slipped below the USD 1400/oz level as a function of a stronger USD and tempered rate cut calls, while Tokyo sentiment was also downbeat as participants digested data releases including a contraction in Machinery Orders. Hang Seng (-1.5%) and Shanghai Comp. (-2.6%) were the laggards after continued PBoC liquidity inaction and further clashes between police and protesters who have now targeted tourist areas in Kowloon. In addition, there were suggestions the US-China trade truce at the G20 has done little to bring the sides closer to an actual trade agreement and it is also expected that China could use its plan to name foreign companies a national security risk, as a bargaining chip in trade discussions. Finally, 10yr JGBs were lower as they tracked the decline in T-notes and rebound in yields in the aftermath of the strong US jobs data, with the absence of the BoJ in the market also contributing to the lack of demand for bonds.
Top Asian News
China's June FX Reserves Rise to Highest Since April 2018
SocGen's Long Lira-Rand Call Proves Short-Lived on Erdogan Risk
Kuroda: To Keep Rates Very Low Until at Least Around Spring 2020
Anta Drops Most Since May as Second Short Seller Targets Firm
Investors Dump Korean Chip Makers Amid Japan's Export Curbs
Major European indices are little changed this morning [Euro Stoxx 50 -0.1%] though bourses have been somewhat choppy. Deutsche Bank (-0.1%) have announced a major restructuring programme (full details available in the EU Equity Opening News) which includes 18k job cuts by 2022 and the creation of a net capital release unit representing EUR 74bln of risk-weighted assets. In addition, no dividend is to be paid for the next two years and they anticipate a Q2 net loss of EUR 2.8bln. The bank opened firmer this morning by around 3.5%, as markets initially had positive expectations for the Co's plan; notably the FT highlight that UBS's share prices roughly doubled in the 3 years after they announced a very similar plan in 2012. However, Co. shares have since given up these gains as further comments have been released by the Co for instance that they see significant uncertainty in their forecast to at least break even in 2020. Unsurprisingly, the banking sector has moved largely in sympathy the German bank this morning, currently lower by around 0.2%. Elsewhere, Pirelli (+4.0%) reside at the top of the FTSE MIB after being upgraded to overweight from neutral at JP Morgan. Finally, Sodexo (-4.1%) are in the red this morning post-earnings, where the Co. indicated that FY19 operating profit is to towards the lower end of the previously announced range.
Top European News
ECB Plan to Modernize Bond Sales Gets Cool Reception From Banks
New Democracy Meets Old Greek Problems After Mitsotakis Win
Tories Plotting to Thwart No-Deal Brexit Prepare New Attack
Philipp Who? Julius Baer Stuns Market With Insider Pick for CEO
Spanish Bulls Shrug Off Doubters as Economy Keeps on Booming
In FX, vastly contrasting starts to the new week for the Kiwi and Lira, as Nzd/Usd rebounds firmly from post-NFP lows to probe above 0.6650, but Usd/Try extends gains to just over 5.7930 at one stage on the back of further Government intervention aimed at forcing the Turkish CB to cut rates. In short, President Erdogan sacked CBRT chief Cetinkaya over the weekend by decree and put Deputy Governor Uysal in charge and it seems that the failure to cut rates at the June policy meeting and/or not signalling sufficiently aggressive easing for this month prompted the decree and change of leadership.
USD – The Dollar has eased back from Friday's headline payrolls peaks across the board, not just against the Kiwi as noted above, with the DXY unable to sustain momentum or breach 97.500 to expose the next upside technical objective. Another verbal lashing from US President Trump about the Fed not helping the economy, along the lines of his Turkish counterpart may be weighing on the index and Greenback generally, as markets brace for Powell's semi-annual testimony to gauge whether easing is on the cards for the July FOMC, and more importantly if there is more than merely an insurance cut in the offing. On that note, markets are 97.5% certain that Funds will be lowered by 25 bp vs just 2.5% still looking for -50 bp.
AUD – The next best major, but capped ahead of 0.7000 as the Aud/Nzd cross drifts back down to 1.0500 from rebound highs posted in wake of last week's RBA rate cut and tweak in guidance to signal a pause after 2 in a row.
GBP/JPY/CAD/EUR/CHF – All narrowly mixed against the Usd as Cable consolidates in a narrow range north of 1.2500 and the Yen pares some losses between 108.58-29 amidst weaker than forecast Japanese data (machinery orders) and with decent option expiry interest sitting just below (1.2 bn from 108.25-15 and 1 bn from 108.05-00). Meanwhile, the Loonie has also found its footing after underperforming on Friday when Canadian jobs data revealed an unexpected decline, but the breakdown was not as bleak, with Usd/Cad meandering in a 1.3062-83 range, and the single currency has shrugged off a surprise deterioration in Sentix sentiment to hold above 1.1200 in a 1.1219-34 band. Note, expiries could keep Eur/Usd in check given 2.5 bn sitting at 1.1250-55 and 1.1260-65, while the Franc is midway between 0.9900-19 and straddling 1.1125 vs the Euro in lacklustre mood overall.
In commodities, WTI and Brent have had a jittery start to the week and are trading within a relatively narrow USD 0.50/bbl range, with the complex continuing to garner some support from Friday's price action where WTI reclaimed the USD 57.00/bbl level on Friday and is approaching the USD 58.00/bbl level; session high of USD 57.91. Recent commentary for the complex has been relatively light, Iranian Oil Minister Zanganeh said he is hopeful that Iran's oil exports will improve and the main concern is Iran's ability to export oil not the price of oil. Elsewhere, Ineos' Forties Pipeline System's (575k BPD) oil flows are to be continually reduced as a processing unit is in need of maintenance; flows are expected to be reduced to 150mln BPD until Tuesday. Separately, Goldman Sachs have reiterated their stance that they continue to see WTI between USD 50-60/bbl and Brent between USD 55-65/bbl. Looking ahead, this week we have the three main monthly oil market reports beginning with the EIA's STE tomorrow at 17:00 BST which includes their expanded forecast discussion. Gold (+0.5%) is firmer this morning as the metal has once again surpassed the USD 1400/oz level to the upside after losing the handle last week post US jobs report. Of note for the yellow metal, PBoC added 0.33mln ounces of gold to their reserve stockpile in June, to a total of 61.94mln ounces; the PBoC's seventh consecutive months of gold buying. Separately, copper has been largely resilient to the downside seen in Asia overnight, with the red metal firmer by jut shy of 1.0% this morning; though does trade within a narrow range on the day thus far.
US Event Calendar:
3pm: Consumer Credit, est. $17.0b, prior $17.5b
DB's Jim Reid concludes the overnight wrap
Welcome to a new week where the main highlight for markets will likely be Fed Chair Powell's testimony before the House Financial Services Committee (Wednesday) and the Senate (Thursday) on monetary policy and the state of the US economy. Friday's strong payrolls report has thrown the cat amongst the pigeons to some degree with regards July's rate cut options(0, 25bps or 50bps?) with 2yr yields up 10bps on Friday and markets moving from pricing in low 30bps of rate cuts earlier on Friday to around 27.5bps now. We'll also see the last FOMC meeting minutes on Wednesday for a little extra detail on how that dovish get together played out. In addition it's a very busy week for Fedspeak as tomorrow Bostic and Bullard address a conference in St Louis while Quarles will make a keynote address on stress testing with Powell due to make introductory remarks. On Wednesday we're due to hear from Bullard again while on Thursday we're expecting comments from Williams, Bostic, Barkin, Kashkari and Quarles. So plenty of potential for market moving headlines.
As for data, global inflation reports are the highlights. The June CPI report will be out in the US on Thursday followed by the June PPI report on Friday. The consensus for the former is a 0.0% mom headline reading and +0.2% core reading which should be enough to hold the annual rate at +2.0% yoy. We'll also get June CPI and PPI data in China on Wednesday while in Europe we get final June CPI revisions for Germany and France on Thursday. In Europe the other key data are probably the May industrial production prints in Germany on Monday, the UK on Wednesday and the Euro Area on Friday. In the UK we also get May GDP on Wednesday which given the alarm over the recent deterioration in data will be closely watched. The rest of the day by day week ahead is at the end as usual.
Asian markets have started the week on a weaker footing after Friday's strong US payroll report reduced expectations for the scale of imminent Fed rate cuts. The Nikkei (-0.98%), Hang Seng (-1.64%), Shanghai Comp (-2.46%) and Kospi (-1.84%) are all lower. Meanwhile, the Turkish lira is down c. -2.2% this morning as over the weekend Turkish President Erdogan removed the central bank chief Murat Cetinkaya and made it clear that he expects both the successor and the rest of the establishment to toe the government's line on monetary policy. Deputy Governor Murat Uysalwas has been named as a replacement. Elsewhere, futures on the S&P 500 are down -0.21%.
In other weekend news, Greece's centre-right New Democracy party led by Kyriakos Mitsotakis has regained power in the country after a sweeping general election victory with the party securing 40% of the vote and a comfortable majority of 158 seats in the 300-seat Parliament. Mr. Tsipras's party, Syriza, got around 31% of the vote. Elsewhere, President Trump continued with his criticism of the Fed by saying if the Fed "knew what it was doing" it would cut rates and added that the Fed's policy is putting the US at a disadvantage versus Europe and suppressing gains in the stock market.
Now recapping Friday's and last week's main news and market moves. The strong US jobs report was the main story on Friday, with nonfarm payrolls in June +224k (vs +160k expected), a big rebound from May's revised +72k figure. There was only a small downward revision of -11k in the previous two months, leaving the 3-month average at 171k. The unemployment rate ticked up a tenth to 3.7% (vs 3.6% expected), although looking at the number to two decimal places showed it only rose from 3.62% to 3.67%. Average hourly earnings remained at 3.1% (vs 3.2% expected), while average weekly hours remained at 34.4 (vs 34.4 expected). Treasuries sold off as investors reassessed the likelihood of a rate cut at the Fed's July meeting, with 2-year Treasuries up +10.0 bps on Friday to end the week up +10.4bps, its biggest one-day increase in 6 months, while the 10-year rose +8.4bps on Friday to end the week +2.9bps resulting in a big flattening on the week to 16.8bp.
Equities fell back in the US and Europe following the jobs report as investors reacted to the reduced prospect of monetary easing, although the S&P 500 pared back earlier sharper losses to close –0.18% on Friday, leaving its gains for the week at +1.65% as the index reached consecutive new highs. For context, Friday's closing level of 2990.41 leaves it just a 0.32% gain away from a record 3,000 level, a long way away from the lows of 2009, when the index closed at a low of 676.53 on 9th March that year. The dollar advanced following the report to end the week +1.16% (+0.50% Friday) while gold fell back to close -0.72% for the week (-1.17% Friday).
Here in Europe, the STOXX 600 also fell back -0.72% on Friday, ending a run of six successive moves upwards, although the index was still up +1.36% for the week as the reaction from the previous weekend's G20 meeting and the prospect of easier monetary policy following the nomination of Christine Lagarde as ECB President supported European equities higher.
Fixed income in Europe followed the US on Friday, with ten-year bunds up +3.6bps, although they still ended the week -3.6bps overall. The striking move was in BTPs though, which fell -35.6bps last week (+7.0bps Friday), as the avoidance of an Excessive Deficit Procedure and the Lagarde news led to a large fall in yields. Italian banks were also beneficiaries, helping the STOXX Banks to end the week +4.42% (+0.38% Friday), a seven-week high, with the top 5 performers in the STOXX Banks last week all Italian institutions.
In terms of other data on Friday, German factory orders in May came in at -2.2% mom (vs -0.2% expected). The print brings the yoy change down to -8.6%, the biggest decline since September 2009.
Zero Hedge's mission is to widen the scope of financial, economic and political information available to the professional investing public, to skeptically examine and, where necessary, attack the flaccid institution that financial journalism has become, to liberate oppressed knowledge, to provide analysis uninhibited by political constraint and to facilitate information's unending quest for freedom. Visit https://www.zerohedge.com
---
This post has been republished with permission from a publicly-available RSS feed found on Zero Hedge. The views expressed by the original author(s) do not necessarily reflect the opinions or views of The Libertarian Hub, its owners or administrators. Any images included in the original article belong to and are the sole responsibility of the original author/website. The Libertarian Hub makes no claims of ownership of any imported photos/images and shall not be held liable for any unintended copyright infringement. Submit a DCMA takedown request.