Via Bloomberg Taking Stock
Europe's largest economy is attracting bad news as companies are entering the earnings season. While Germany's DAX Index has managed to shrug off bad economic indicators and trade worries that had hit shares in May, yesterday's profit warning from BASF was harder to ignore. And dividend futures indicate traders are pricing in payout cuts at companies such as BASF, Bayer and Lufthansa.
The DAX's performance has broken away from macro fundamentals this year. Within the main European economies, Germany is the bottom country when it comes to manufacturing PMI, with data indicating a contraction since January. Yet, the equity benchmark has climbed near a one-year high and has entered a bull market again.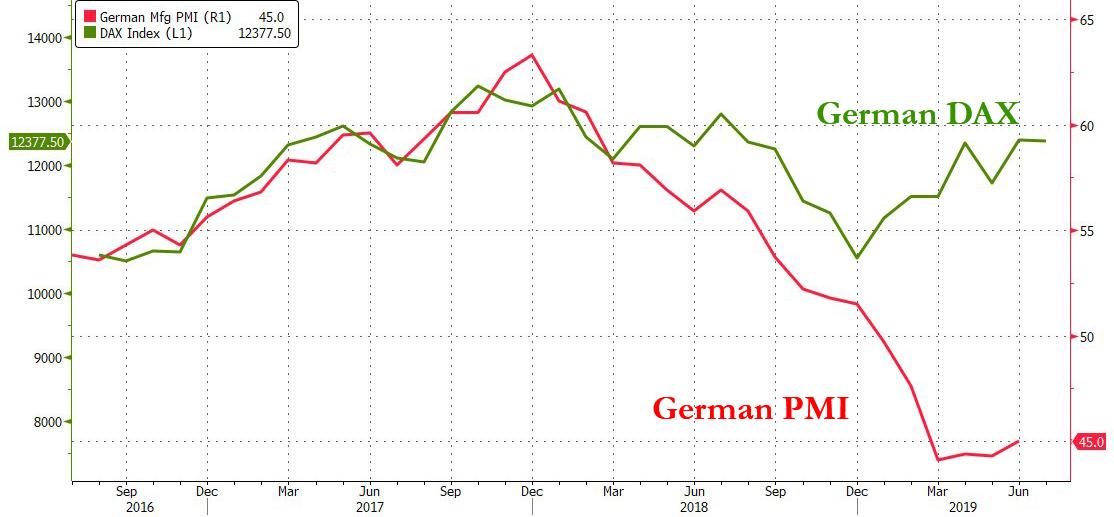 Although trade tensions have faded for now amid bets of looser monetary policy, no resolution has been reached between the U.S. and China. Given the German gauge is a manufacturing-heavy index, and suffered more than peers as tariff worries grew last year, any new developments will be keenly watched.
While the DAX is a total return index, looking at its performance minus the dividend effect shows it's actually underperforming most of the main European indexes this year, with the exception of U.K. and Spanish benchmarks.
Carmakers BMW and Daimler have already warned about their outlook earlier this year and underwhelming results from Geely yesterday did not bode well for the auto sector. BASF's profit warning surprised analysts with its magnitude and rippled through the sector. Unfortunately for the DAX, autos and chemicals account for more than a quarter of the index.
Since dividend levels are very relevant to the benchmark, they should be closely monitored as warnings accumulate for high dividend yield shares. Deutsche Bank already said it will omit a payout next year after restructuring, while swaps show Lufthansa's dividend could be at risk as its outlook is darkening. More bad news could end up weighing on the DAX's performance. The dividend swap market has started to price a potential cut for BASF, while Covestro could also be impacted. The table below shows the difference between dividend swaps and estimated dividends.
Zero Hedge's mission is to widen the scope of financial, economic and political information available to the professional investing public, to skeptically examine and, where necessary, attack the flaccid institution that financial journalism has become, to liberate oppressed knowledge, to provide analysis uninhibited by political constraint and to facilitate information's unending quest for freedom. Visit https://www.zerohedge.com
---
This post has been republished with permission from a publicly-available RSS feed found on Zero Hedge. The views expressed by the original author(s) do not necessarily reflect the opinions or views of The Libertarian Hub, its owners or administrators. Any images included in the original article belong to and are the sole responsibility of the original author/website. The Libertarian Hub makes no claims of ownership of any imported photos/images and shall not be held liable for any unintended copyright infringement. Submit a DCMA takedown request.