There is just one word to describe the just concluded sale of $16 billion in 30-Year Treasury bonds: disastrous.
From top to bottom, today's auction was a shitshow, starting with the high yield of 2.644%, which was not only higher than last month's 2.607%, but it was a whopping 2.6bps tail to the 2.618% When Issued, one of the biggest rails on record.
The bid to cover was also dismal, tumbling from the already low 2.316 to just 2.129, far below the 2.25% 6-auctiona average, and the lowest since November.
Finally the internals were borderline "failed", with Indirects (foreigners) clearly sitting out today auction, and taking down just 50% of the final allotment, far below last month's 60.8%, and the recent average of 58.9%, and more importantly the lowest since February 2015. And with Directs taking down 16.8%, or above the 14.6% recent average, it left Dealers taking down 33.2%, the most since last November.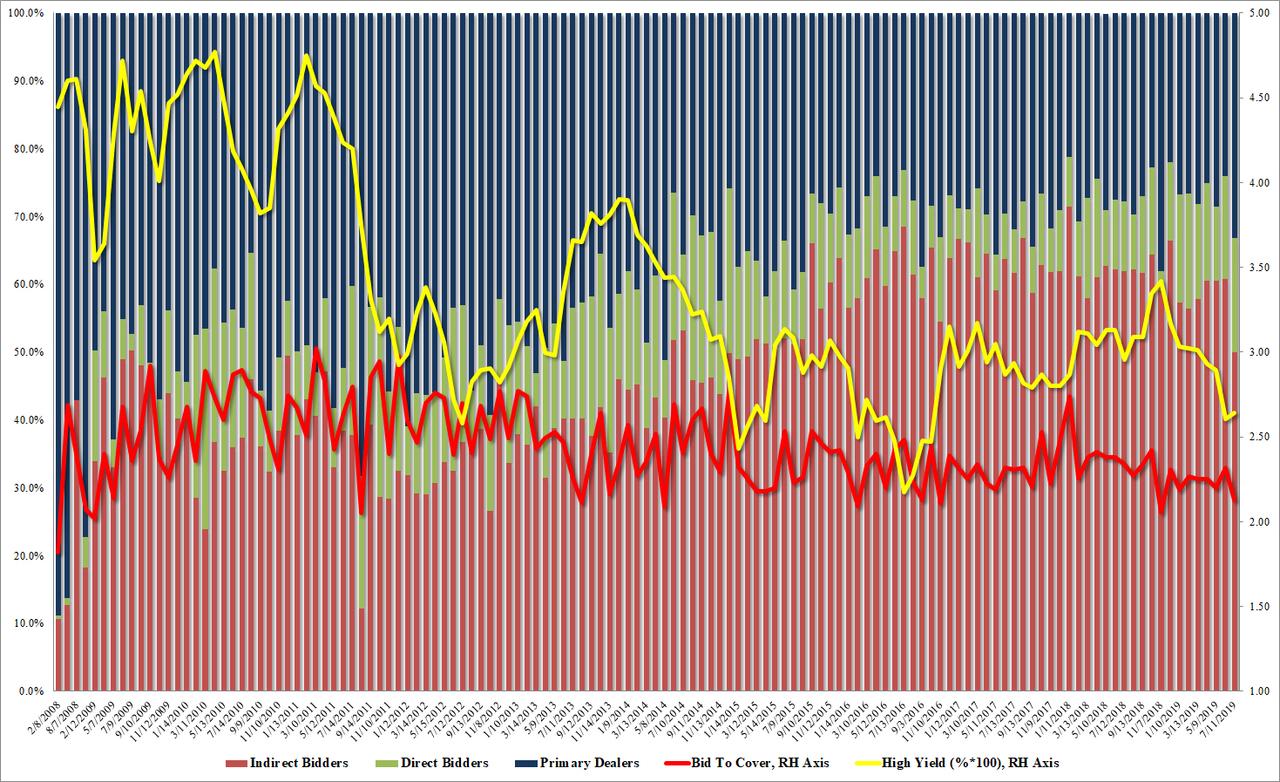 Overall, this was as close to a failed 30Y auction as we have seen in years, and the response was instant, sending the entire curve spiralling higher, and the 10Y spiking by 2bps in a manner of milliseconds.
Zero Hedge's mission is to widen the scope of financial, economic and political information available to the professional investing public, to skeptically examine and, where necessary, attack the flaccid institution that financial journalism has become, to liberate oppressed knowledge, to provide analysis uninhibited by political constraint and to facilitate information's unending quest for freedom. Visit https://www.zerohedge.com
---
This post has been republished with permission from a publicly-available RSS feed found on Zero Hedge. The views expressed by the original author(s) do not necessarily reflect the opinions or views of The Libertarian Hub, its owners or administrators. Any images included in the original article belong to and are the sole responsibility of the original author/website. The Libertarian Hub makes no claims of ownership of any imported photos/images and shall not be held liable for any unintended copyright infringement. Submit a DCMA takedown request.