Something strange is happening in China: Beijing appears to be steadily losing control of the economy, which by definition is impossible for a centrally-planned, command economy such as China's, and yet the latest signals are clear and ominous.
Consider the following: on Friday, just after Beijing reported the latest disappointing trade data for the month of June which saw exports falling 1.3% in June from a year ago – as exports to the US tumbled by 7.8% – and imports shrank a more-than-expected 7.3% …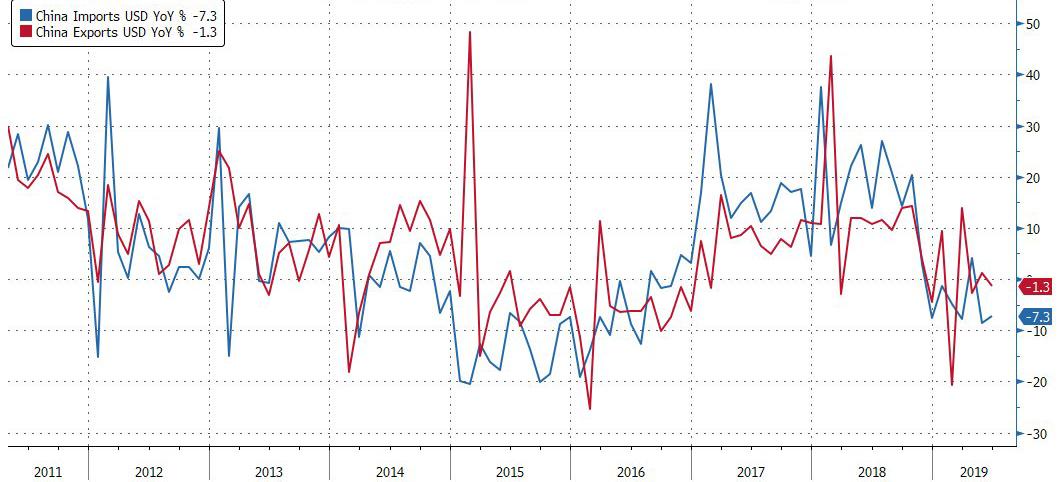 … the PBOC published the latest monthly credit stats, which showed that after several months of subdued credit growth, in June Total Social Financing – the broadest credit aggregate – rose by a significant 2260BN yuan in June, easily beating the consensus print of 1900BN.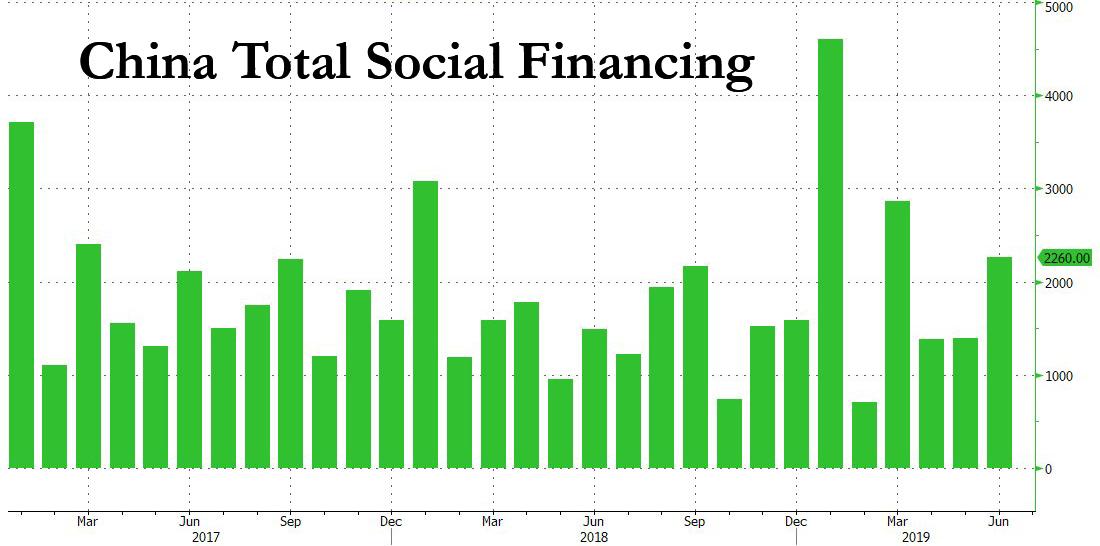 This took place even as new CNY loans of RMB1,660 billion came slightly below consensus at RMB1,700 billion, while China's Shadow banking deleveraging continued for a third consecutive month and 14 of the last 16.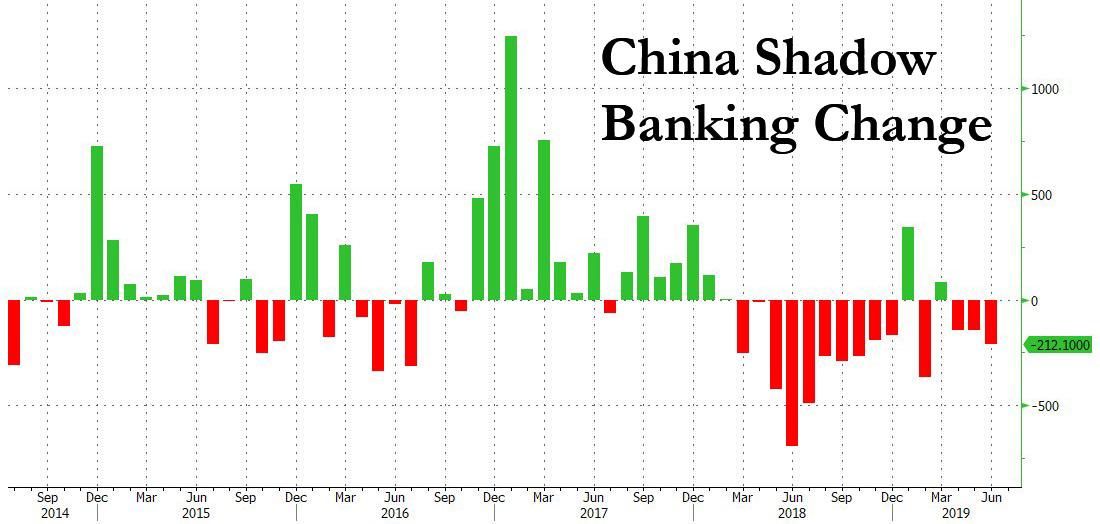 And while China's M2 missed (8.5% YoY vs exp. 8.6%, skirting just above the all time low of 8.0% which it hit one year ago, which is to be expected considering China's record debt load requires ever more new debt to make an upward impression)…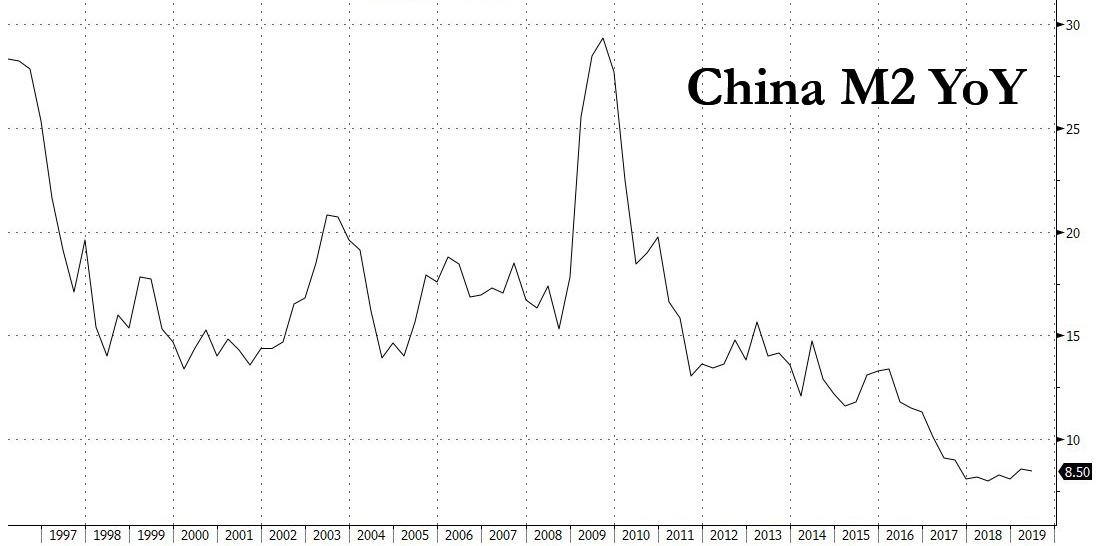 … the better-than-expected TSF print was mainly a reflection of policy intentions: as a reminder, the government tried to loosen policy in June, for the second time this year, as after "taking the foot off the accelerator" in April and May, the economy started to slow meaningfully after 1Q and inflationary pressures were not as large as expected, the trade dispute posed a much bigger challenge than expected and there were rising level of anxieties among market participants following the Baoshang Bank takeover. As a result the government pushed for a reacceleration of government bond issuance, and, partially because of this and due to the lock up in the repo and Negotiable Certificates of Deposit markets, sharply lowered the level of interbank rates (overnight SHIBOR) despite normal seasonality pressures to the upside, pushing the rate to the lowest level since the financial crisis.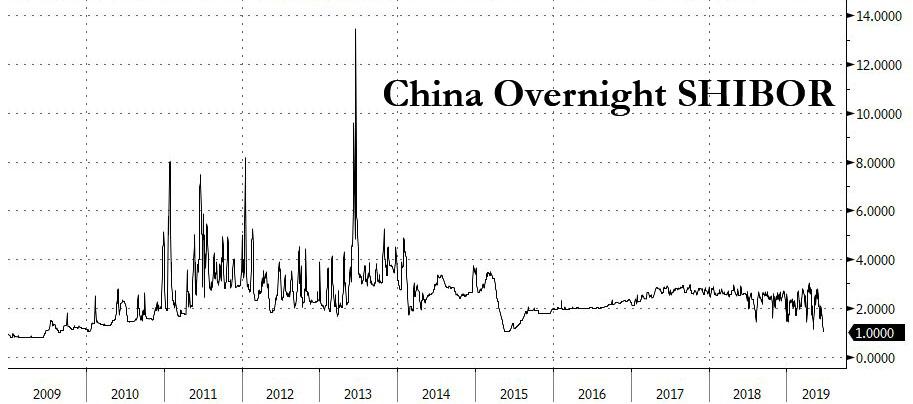 On the other hand, and in light of the gargantuan January TSF injection, knowing the amount of government bond issuance was particularly large, and given there is no intention to be quite as aggressive with policy loosening, the PBOC apparently did not push for a very large amount of bank lending, which explains the modest miss in the bank loan increase. Meanwhile, Goldman notes that apart from fiscal and monetary policy measures, the government likely also took administrative measures to accelerate the pace of construction investment projects.
And yet, despite all these actions, the effects on the economy "remain unclear" according to Goldman; in reality, the effects have bee negligible, and economic growth has continued to shrink, prompting many to ask if Beijing isn't losing control of the situation and a dreaded "hard-landing" is imminent? And while it is true that Beijing could – at least in theory do more – there is also the question if it isn't approaching the limit of its interventionist powers?
Consider that Chinese local bond issuance – the most readily available instrument at the province level to fine tune growth – has been scorching in recent years, resulting in strong credit dynamics…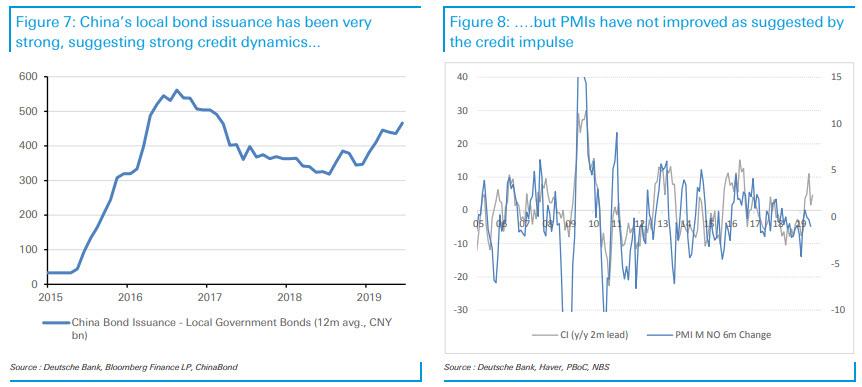 … and even so the latest Chinese manufacturing PMIs both slumped into contraction.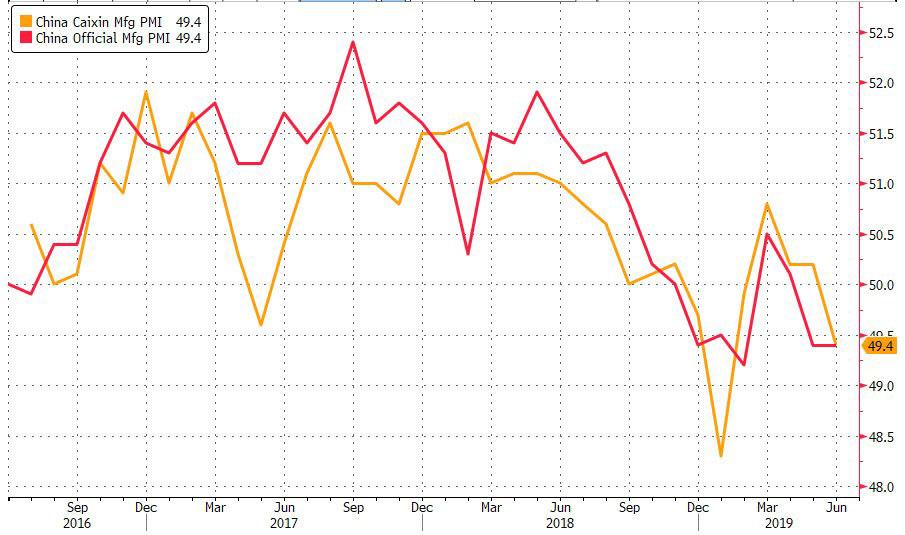 It's not just soft surveys that continue to grind lower: June data released so far including PMIs, trade, and inflation – in particular PPI which is closely related to short-term demand growth…
… have not been encouraging, and as Bloomberg notes, "China is grappling with a slowdown that will see output growth slide to the weakest pace in almost three decades this year", as factors far beyond the trade war with the U.S. weigh on the world's second-largest economy. And speaking of the trade war, it is becoming increasingly clear that Beijing desperately needs it to continue just to allow president Xi to use it as a convenient scapegoat for all that is wrong with China.
Of which there is lots: GDP is forecast to grow at 6.2% in the second quarter, the slowest since at least 1992, with data due for release on Monday set to show whether the downward forces from external demand, deflationary factory prices and contracting manufacturing can be offset by stabilizing investment, brighter consumer sentiment and a rebounding property sector. In short, whether the government has lost control of the economy.
Meanwhile, what little green shoots have taken hold in China will depend on how well the government's targeted stimulus policies can lift local production and counteract the trade war's effects, which as recent credit data shows, are so far lacking.
"China's economy will slow further in the second half as external demand remains the biggest drag, and it'll likely stabilize from there under policy support," said UBS' China chief economist Wang Tao. "The annual growth rate will stay above 6%."
Setting the immediate catalysts aside for a moment, there's far more pain down the line.
First, there's what back in January we called a tectonic shift in China's economy, as China's current account surplus (trade balance plus investment, profit and dividend flows) has collapsed from $300 BN in 2015 and is expected to be in deficit by $20BN this year, for the first time in modern Chinese history. This means that not only the US, but also China will soon be dependent on the capital generosity of foreigners to fund China's current account deficit, which in turn will require Beijing to further open up its capital markets. But can it do that without sparking another capital flight panic as local deposits flee, resulting in a sharp drop in China's reserves and yuan? The answer: nobody knows.
Then, there's demographics: as China's population ages and the economy transitions from the double-digit growth rates of the mid-2000s, policy makers are attempting to manage the path down, while curbing debt and fending off mass industrial unemployment. Those efforts according to Bloomberg can be seen in three key sectors: infrastructure, retail sales and and property.
On the topic of infrastructure, how strongly fixed-asset investment growth can pick up is key as infrastructure investment will have to do the heavy lifting, as manufacturers continue to be pressured by the tariff threats and are hesitant about new investment. As a result, economists from UBS, Australia & New Zealand Banking Group and Morgan Stanley expect infrastructure investment growth to continue to gradually accelerate this year.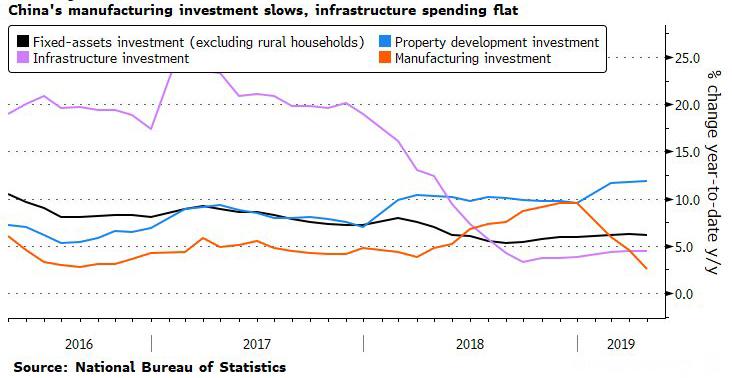 In an attempt to control the fallout, at the start of the year, Beijing introduced a fiscal stimulus plan consisting of two trillion yuan ($291 billion) of tax cuts which is (too) slowly feeding through into the economy. The government has stepped up efforts recently, easing the rules for using government debt in some infrastructure projects and pledging to renovate hundreds of thousands of old buildings. The relaxation of the use of government debt can increase investment by 800 billion yuan to 1 trillion yuan, UBS's Wang said according to Bloomberg.
Here, ANZ analysts pointed to a leading indicator of infrastructure investment – excavator sales – which declined again in June, but at a slowed pace, suggesting a gradual recovery in investment activity.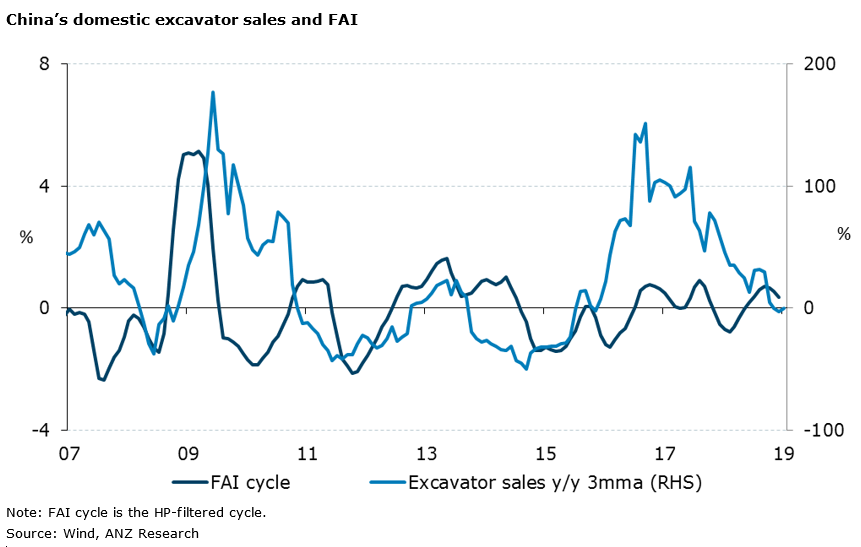 An even more important signal is local retail sales, as China – which is urgently transitioning from a trade to a consumption driven economy – needs its masses of middle-class consumers "to help drag it out of a trade-induced slump." There is a problem though: this year auto sales and property-related consumption such as home appliances have been among the main drags on weak retail sales, and there aren't clear signs of recovery yet in those sectors.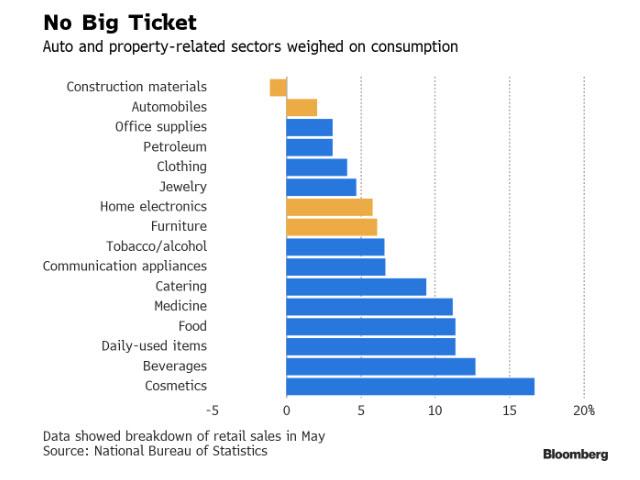 As we reported last week, Chinese [assenger-car sales posted the first increase in June in more than a year, but only after dealers offered huge discounts, crippling profits and sending Chinese automaker stocks sharply lower. Meanwhile, economists remain skeptical: ING Bank's Iris Pang said the auto industry will continue to face challenges from both "technological disruption from the ride hailing apps" such as Didi as well as cyclically slowing growth.
The final pillar of China's growth, real estate, has so far been relatively stable, but here too storm clouds are gathering. As Bloomberg notes, policy makers are trying to keep a tight lid on the property sector, always a candidate for "bubbly" asset prices. Property development investment has stayed stable this year, and regulatory curbs mean that growth will stay within bounds.
However, amid fears of a slowdown and overexpansion, the country's banking regulator has asked trust companies with fast-growing businesses in the real estate sector to control the pace of expansion and manage risks better, Xinhua News Agency reported. The People's Bank of China has also requested banks to not lower mortgage rates further, despite easier monetary conditions. As a result, the amount of land area purchased by developers has tumbled on a Y/Y basis to a level not seen since China's devaluation and subsequent crisis.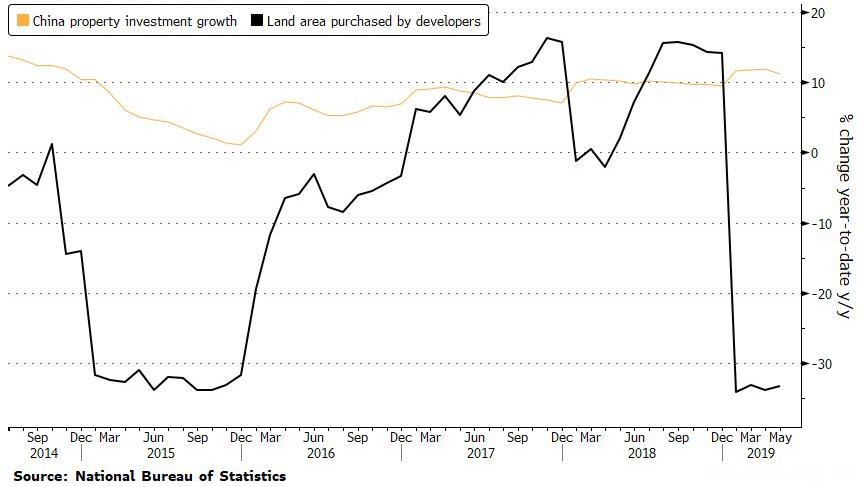 And so, as Beijing's grip on the economy appears to be easing one finger at a time, what is the worst case possible outcome?
According to Nomura's Lu Ting, in a scenario where the trade war negotiations fall apart and tariffs on all of China's exports again appear on the horizon, the property and auto sectors will be where policy makers try to buffer the economy: "Beijing will likely roll out more real stimulus measures such as cutting purchase tax for passenger cars and forcing major cities to ease auto license quotes," he said while adding that property markets can be goosed eased again:
Since late 2018, Beijing has shifted its stance on the property sectors of large cities from a broad-based tightening to "one policy for one city" and "city-specific polices based on local situations", which essentially gives local governments more discretion on formulating their own property policies. However, with rebounding home prices amid the recovery of property markets in large cities in Q1, Beijing in April again began expressing concerns about the risk of re-inflating the property bubble and reinstated some tightening measures. If China's export growth severely drops in coming quarters due to an escalation of US/China trade war, we expect Beijing to once again ease tightening measures in property markets.
What is more troubling for Beijing is that the fate of its economy now largely in the hands of Donald Trump, and in a full-scale trade war scenario, Nomura estimates that, in the year following the imposition of the additional tariff on the remaining $300Bn list, "China would directly lose 0.4% of GDP due to falling exports and another 1% on lower manufacturing investment due to the disruption of supply chains." As a result, "despite Beijing's more aggressive stimulus measures and Fed rate cuts, we would expect quarterly real GDP growth to drop to 6.0% in H2 and then to below 6.0% in 2020 and 2021."
That would be a "hard-landing" scenario.
There is, of course, an optimistic outcome – the "deal" trade scenario, under which, Nomura expects quarterly GDP growth of 6.2% and 6.3% in Q3 and Q4 2019, respectively, reaching 6.2% in 2020 and 5.8% in 2021. Also under this scenario, Beijing would maintain its easing stance but not significantly step up stimulus measures, while credit growth would tick up only slightly. However, in this scenario Beijing would also lose the ability to blame China's slowing economy, which is doing so for structural, not just trade-specific reasons, on the White House.
Meanwhile, even as it continues to lose its grip on the centrally-planned economy, Beijing still appears to have an intention to do the minimum required, as pushing the economy and market to a very strong level would incur costs in terms of leverage and increase the risk of overheating. The latter is a particular concern the government will aim to avoid, as the bursting of China's financial bubble now would have an even more adverse effect than the Global Financial Crisis.
Finally, just as China's worst case outcome is in the hands of the US, namely Donald Trump, so Trump may also be China's saviour. Because, for all Trump's demands that Powell cut rates, it would also hand China more room to make its own monetary policy easier, just when it needs it most. Which brings us to the biggest irony: with Trump clearly winning the trade war with China – as China is losing control over its economy – Trump's demand for more easing, and pushing the US stock market to new all time highs, may be just the loophole that allows Beijing to avoid total defeat in the trade war, even if the tradeoff is 4 more years of Trump.
Zero Hedge's mission is to widen the scope of financial, economic and political information available to the professional investing public, to skeptically examine and, where necessary, attack the flaccid institution that financial journalism has become, to liberate oppressed knowledge, to provide analysis uninhibited by political constraint and to facilitate information's unending quest for freedom. Visit https://www.zerohedge.com
---
This post has been republished with permission from a publicly-available RSS feed found on Zero Hedge. The views expressed by the original author(s) do not necessarily reflect the opinions or views of The Libertarian Hub, its owners or administrators. Any images included in the original article belong to and are the sole responsibility of the original author/website. The Libertarian Hub makes no claims of ownership of any imported photos/images and shall not be held liable for any unintended copyright infringement. Submit a DCMA takedown request.