At this point, the trade war-inspired manufacturing exodus out of mainland China as companies like Apple (and, more importantly, suppliers like Foxconn), Nintendo, HP, Dell and others "diversify" their supply chains has been well documented.
And with President Trump once again threatening to slap tariffs on the $320 billion+ Chinese goods, Nikkei Asian Review brings us the latest development in this trend: Apple is about to start trial production of its AirPods wireless headphones in Vietnam as it accelerates its diversification plans (it's also reportedly planning to start manufacturing some iPhones outside of China, including at suppliers' factories in India).
GoerTek, a Chinese firm that is one of Apple's key contract manufacturers, will start testing the resilience of its manufacturing processes for the new generation of AirPods at one of its factories in northern Vietnam. This will mark the first production of wireless earbuds outside of China.
To help Goertek, Apple has asked its other suppliers to "support" Goertek's efforts (by not hiking prices on components during this trial stage until Goertek can improve its economies of scale).
Apple has written to components suppliers to ask them to support Goertek's efforts despite initially very small volumes, according to a communication seen by the Nikkei Asian Review. "Suppliers are requested to keep the pricing unchanged for the trial production stage, but this can be reviewed once volumes are increased," said one of the sources with direct knowledge of the communication.

"The initial output will be limited, but it is easy to increase capacity once all the manufacturing procedures are running smoothly," the person said.

Apple has long sourced its traditional EarPods – connected to the iPhone with wires – in Vietnam. However, until now, AirPods have been made in China by suppliers Inventec, Luxshare-ICT, and GoerTek. Apple refused to comment on production plans for AirPods.
The decision to shift AirPod production to Vietnam comes as Apple works to move 15% to 30% of production outside of China, where rising labor costs (a byproduct of the country's accelerating development) and the trade-war tariffs have made depending completely on the mainland untenable.
Interestingly, just because Apple is ramping up production in Vietnam doesn't mean it's going to dramatically scale back its production in China – at least, not yet. Instead, the company will rely on what one analyst calls the "China Plus One" strategy.
"It's very likely that Apple will adopt the "China plus one" strategy when it comes to diversification efforts," said Chiu Shih-fang, a supply chain analyst at Taiwan Institute of Economic Research. That meant the company would increase production in countries outside China without reducing Chinese volume significantly at the start. "Reducing significant volumes of inside China is too sensitive now for Apple, as well as for its suppliers," said Chiu. Moreover, initial diversification would involve "shipping some half-finished goods to the new destination and then assembling all these together. It will not build all the things from the beginning to the end," Chiu added.

Apple is sensitive to any perception that it might not be as committed to the country which has been a pillar of its success over recent decades. China has strongly backed Apple's manufacturing base, offering generous support for factories, infrastructure and energy and manpower costs. Over the last two decades the company's presence has helped to create a high quality and deeply connected supply chain that is capable of mobilizing hundreds of thousands of skilled workers and components at short notice.
Vietnam boasts a number of advantages that make it an ideal alternative to China. Geographically, its nearby, which makes coordinating transnational supply chains easier. Labor is also cheaper. Though, with a population of just 95 million people, one-fifteenth of China's, its workforce is constrained and the flood of new manufacturing activity could rapidly push wages higher.
"Many tech players are relocating or increasing production [in Vietnam] to avoid tariffs, given that it is close to China, and has a relatively complete supply chain compared with other Southeast Asian countries," said Karen Ma, an analyst specializing in emerging markets at Hsinchu-based Industrial Technology Research Institute. "However, everyone is now worried that Vietnam could become overheated and might soon suffer labor shortages, as well as increased production costs."
Still, over time, as companies build out new factories and shutter old ones, the balances on this chart might begin to shift.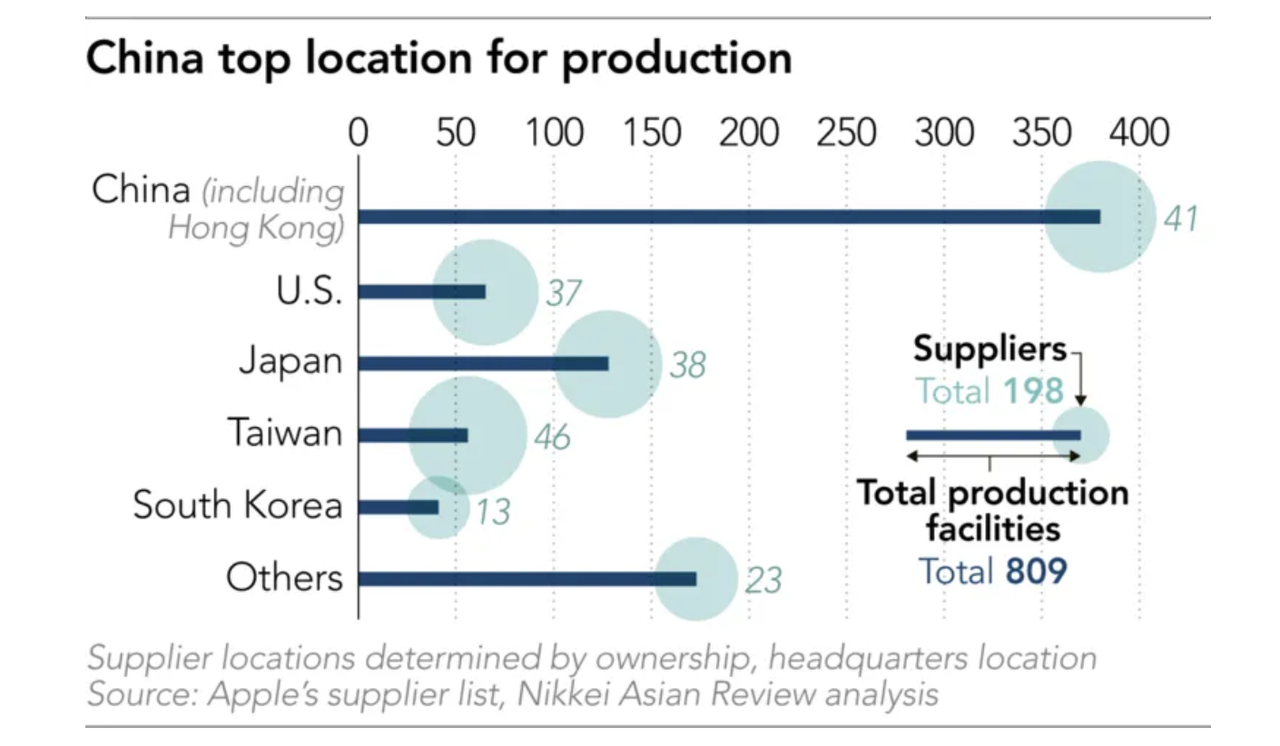 So, where will companies go when Vietnam becomes too expensive? Maybe President Trump is right about the possibility that North Korea's economy will take off like "a rocket ship" if Kim Jong Un would only surrender his nukes.
Zero Hedge's mission is to widen the scope of financial, economic and political information available to the professional investing public, to skeptically examine and, where necessary, attack the flaccid institution that financial journalism has become, to liberate oppressed knowledge, to provide analysis uninhibited by political constraint and to facilitate information's unending quest for freedom. Visit https://www.zerohedge.com
---
This post has been republished with permission from a publicly-available RSS feed found on Zero Hedge. The views expressed by the original author(s) do not necessarily reflect the opinions or views of The Libertarian Hub, its owners or administrators. Any images included in the original article belong to and are the sole responsibility of the original author/website. The Libertarian Hub makes no claims of ownership of any imported photos/images and shall not be held liable for any unintended copyright infringement. Submit a DCMA takedown request.