Back in June, following the April downgrade in the Fed 's  assessment of the US economy, the Fed's Beige Book signaled a "slight improvement" in the economy, describing economic activity expanding at a "modest pace overall" from April through mid-May, and dropping the "slight" classifier.
Now, one month later, the economy appears to be expanding on its recent recovery as economic activity "continued to expand at a modest pace overall" from mid-May through early July, with little change from the prior reporting period, according to the latest, just released Beige Book.
Among the various indicators suggesting a solid, stable, expanding economy, the Beige Book notes that:
In most Districts, sales of retail goods increased slightly overall,
Activity in the nonfinancial services sector rose further
Tourism activity was broadly solid, with Atlanta and Richmond recording robust growth in this sector,
Some Districts continued to report healthy expansion in the transportation sector.
Home sales picked up somewhat, but residential construction activity was flat.
Nonresidential construction activity increased or remained strong in most re-porting Districts, and commercial rents rose
A modest pickup in manufacturing activity since the last reporting period was observed in a few Districts
Increased demand for loans was broad-based, with all but two Districts noting some growth in financing activity
Employment grew at a modest pace, as labor markets remained tight; contacts across the country experiencing difficulties filling open positions.

The reports noted continued worker shortages across most sectors, especially in construction, information technology, and health care.

Compensation grew at a modest-to-moderate pace, similar to the last reporting period, although some contacts emphasized significant increases in entry-level wages.
Rate of price inflation was stable to down slightly from the prior reporting period. Districts generally saw some increases in input costs, stemming from higher tariffs and rising labor costs.
Reduced supply boosted prices for some agricultural goods; some Districts noted increased upward transportation pricing pressures, while others highlighted price declines due to reduced demand for shipping services.
So with all those things going for the US economy, the Fed is surely set to keep hiking right? Why of course not – after all the S&P may just suffer a shocking 0.1% drop one day in the not too distant future. To prevent that, ideally in perpetuity, as even the shoeshine boy knows by now the big debate on July 31 is whether the Fed cuts 25 bps or 50bps. And that's in a time when literally nothing is broken with the economy; one can't wait to see just how negative the Fed will push rates if and when the US economy does finally slide into contraction.
Or perhaps the summary assessment provided by the report's authors was a little on the overly rosy side, because a quick summary of the number of instances of "tariff" and "slow" saw a remarkable increase relative to the June beige book, which surged from 37 to 49 and from 26 to 58, respectively.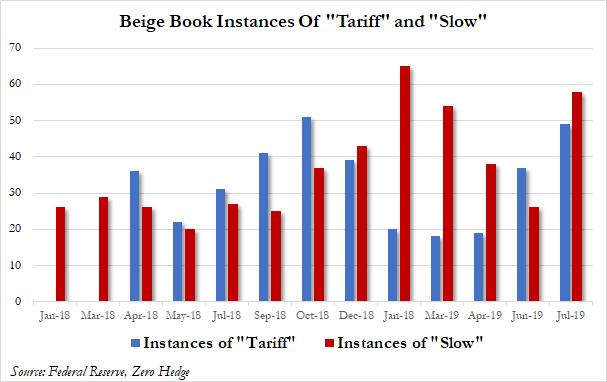 Meanwhile, as Reuters' Jeoff Hall points out, the root word "strong" appeared 34 times in today's Beige Book, down from 58 in the June 5 version. But incidence of the word "weak" fell to 17 today from 25 six weeks ago. IFR Markets Beige Book Diffusion Index now stands at -44.0, a 4.5-point deterioration from previous.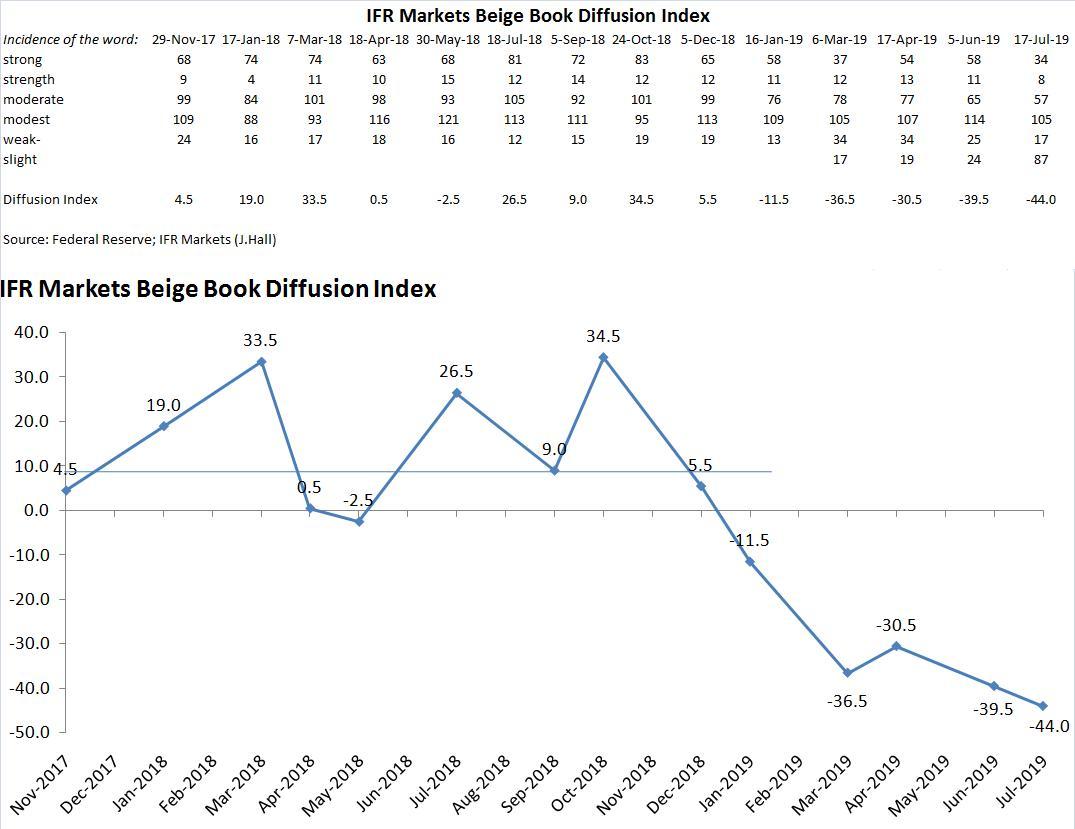 Whatever the answer, it doesn't matter – as the Fed has demonstrated, it is only "data dependent" when the data is moving in the pre-determined direction that justifies the Fed's existing policy thinking. As such, all positive economic news will be summarily ignored until the fed funds rate is somewhere in the mid-1% range, and/or Trump stops tweeting @ Jerome Powell.
Finally, and as always most entertaining, here are the most amusing economic anecdotes compiled from the various regional feds.
Boston: A manufacturer of electronic components said it had laid people off as a result of the tariffs, with headcount declining by about 10 percent
New York: Home purchase markets in upstate New York have strengthened further, and low inventories of unsold homes have continued to boost prices, with more homes selling for above asking price. In New York City, in contrast, the inventory of unsold homes has climbed to a 7-year high, though not to levels considered problematic
Philadelphia: A shore contact noted that the tight labor market nationwide led to greater demand for H-2B visas — widely used by seasonal vacation spots
Cleveland: Falling steel prices exerted deflationary pressure on regional manufacturers
Richmond: A North Carolina furniture manufacturer was unable to pass tariff- related cost increases on to customers, and a West Virginia rubber manufacturer attributed a drop in business from Chinese customers to the trade wars
Atlanta: Gulf Coast refiners indicated that crude refining capacity continued to grow and investment in pipeline infrastructure to transport oil and gas products to district refiners remained at elevated levels
Chicago: More wet weather in late May and June caused further delays in planting and even poorer growing conditions. One contact in Indiana said, 'I have been farming for 48 years now and this is the worst spring/summer planting season we have experienced'
St. Louis: Commercial and industrial lending continued to expand, but growth slowed significantly to 5 percent year-over-year from 9 percent in the previous quarter
Minneapolis: Despite strong hiring demand and tight labor, nearly 70 percent of respondents to the ad hoc poll of greater Minnesota businesses said wages rose less than 3 percent over the past 12 months, and a notable share said they rose less than 1 percent
Kansas City: Factory production fell slightly due to a decline in activity at durable goods plants, notably those producing computers, electronic products and transportation equipment
Dallas: Rail shipments fell during the reporting period impacted by bad weather, tariffs, and trade issues
San Francisco: To fill vacancies in construction positions, some employers in Idaho discussed whether to relax certain hiring standards related to drug testing
Zero Hedge's mission is to widen the scope of financial, economic and political information available to the professional investing public, to skeptically examine and, where necessary, attack the flaccid institution that financial journalism has become, to liberate oppressed knowledge, to provide analysis uninhibited by political constraint and to facilitate information's unending quest for freedom. Visit https://www.zerohedge.com
---
This post has been republished with permission from a publicly-available RSS feed found on Zero Hedge. The views expressed by the original author(s) do not necessarily reflect the opinions or views of The Libertarian Hub, its owners or administrators. Any images included in the original article belong to and are the sole responsibility of the original author/website. The Libertarian Hub makes no claims of ownership of any imported photos/images and shall not be held liable for any unintended copyright infringement. Submit a DCMA takedown request.