Jeffrey Epstein sexually abused girls during his 13 month work-release prison sentence during which he was allowed to 'work' out of his West Palm Beach office for up to 12 hours a day, six days a week, according to attorney Brad Edwards, who represents some of Epstein's alleged victims.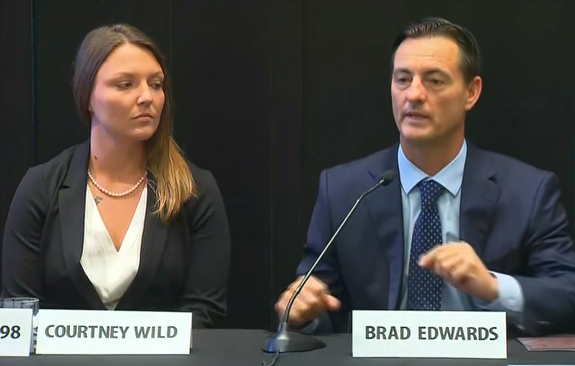 During a Tuesday press conference in New York City, Edwards introduced a woman named Courtney Wild, who says Epstein began abusing her when she was 14-years-old, according to Business Insider. 
Edwards said during the press conference that he raised the accusation to challenge the idea that Epstein was a model citizen while in jail. Edwards also said that Epstein was in his office most of the day during his 18-month sentence, of which he served 13 months, and that he had female visitors under the age of 21.

Edwards said Epstein had sexual interactions with the female visitors that constituted abuse and were similar in nature to the abuses described in the indictment and charges Epstein faces in court, which are one count of sex trafficking of minors and one count of conspiracy to engage in sex trafficking of minors. –Business Insider
Wild appeared in court on Monday during Epstein's bail hearing, saying "I was sexually abused by Jeffrey Epstein starting at the age of 14," while standing just feet from the pedophile money manager. 
Meanwhile, Bloomberg reveals that Epstein paid millions of dollars to silence accusers – including Wild. 
Some of Epstein's civil settlements exceeded $1 million, according to a person with knowledge of the matter. Three were for a total of $5.5 million, court records show. The total amount of Epstein's civil payments is unknown, but it's likely a small fraction of the $559 million that prosecutors say Epstein has claimed as his net worth.

…

More than two dozen lawsuits were ultimately resolved in private settlements after Epstein signed a non-prosecution agreement in 2008 that allowed him and four accomplices to avoid federal charges. –Bloomberg
Epstein's attorneys also used aggressive tactics with the women, according to the report – interviewing friends, neighbors and employers in abusive ways. The girls were grilled about their lives – including criminal records, drug use, and in one case – a history of abortions. 
"Does it give you any, any emotional pain that you aborted three fetuses?" asked Epstein attorney Mark Luttier. "Wouldn't you agree with me that aborting three fetuses would be far more traumatic than giving a man a massage in the nude?" he asked. 
Meanwhile, Epstein's publicist fed stories to the media "impugning the credibility of the victims" which suggested that their "allegations of abuse were made solely to extract money." 
According to the New York Post, Epstein also approached New York City publicist R. Couri Hay several years ago to 'beg for help with his image,' allegedly saying "I don't want 'billionaire pervert' to be the first line of my obituary." 
Of note, Epstein is not a billionaire. 
Hay's advice? Go to a mental-health facility for a year, donate to charity, meet the Pope and go meet with his rabbi. Now that he faces up to 45 years in the slammer, he may also want to engage a prison coach. 
Zero Hedge's mission is to widen the scope of financial, economic and political information available to the professional investing public, to skeptically examine and, where necessary, attack the flaccid institution that financial journalism has become, to liberate oppressed knowledge, to provide analysis uninhibited by political constraint and to facilitate information's unending quest for freedom. Visit https://www.zerohedge.com
---
This post has been republished with permission from a publicly-available RSS feed found on Zero Hedge. The views expressed by the original author(s) do not necessarily reflect the opinions or views of The Libertarian Hub, its owners or administrators. Any images included in the original article belong to and are the sole responsibility of the original author/website. The Libertarian Hub makes no claims of ownership of any imported photos/images and shall not be held liable for any unintended copyright infringement. Submit a DCMA takedown request.