Is the Netflix juggernaut finally dead?
Back in April, when Netflix reported strong Q1 earnings, what surprised most investors was the company's unexpectedly weak outflook, predicting a sharp slowdown in subscriber growth, and expecting 5.00 paid subscriber.
In retrospect, nobody was prepared for just how bad the final number would be, because moments ago while Netflix reported strong top and bottom line results, it was the collapse in Q2 subscriber growth that is the reason why the stock is plunging over 10% after hours, specifically Netflix reported that in Q2 it added a tiny 2.7 million subs, far below the company's 5.0 million forecast, and well below the Wall Street consensus estimate of 5.06 million.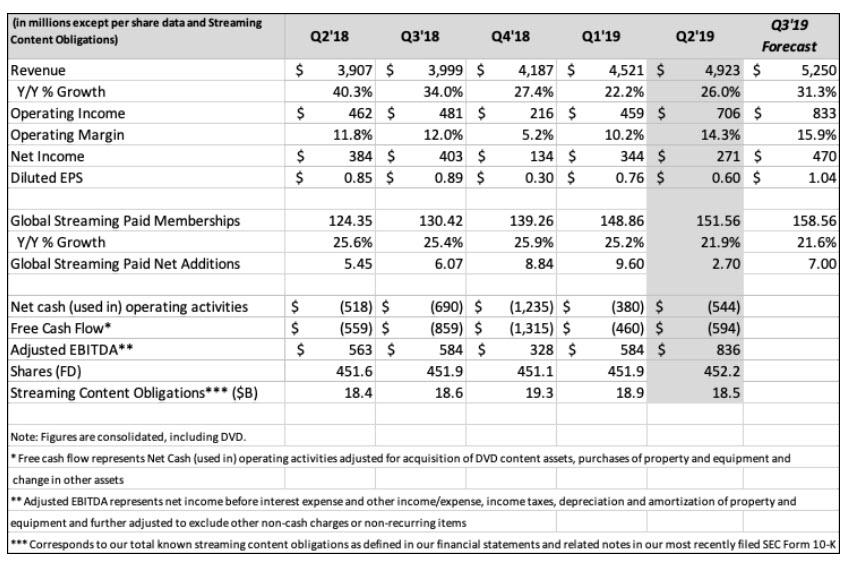 First the good news: EPS of 60 cents was above the 56 cents expected, with revenue of $4.92 right on top of the expected $4.93 billion. Additionally, the company reported a rather impressive Q1 EBITDA of $836 million, well above the $584MM in Q1. Of course, if that was the extent of it, NFLX stock would be surging. Looking ahead, Netflix reported that Q3 forecast revenue would be $5.250 8BN, a 31.3% increase Y/Y, which is also above the estimate of $5.2BN, a number which would generate EPS of $1.04.
However, the reason why Netflix is tumbling after hours is because just like one and two quarters ago, the growth story is once again in jeopardy as a result of the company's surprisingly weak subscriber print: to wit, whereas Wall Street expected Q2 subscribers to rise by 5.06 million, Netflix reported just half this number, or 2.70 million, which in addition to a far weaker than expected 2.825mm intl subs, domestic subs actually declined by 126K in Q2 to 60.1 million, a sharp slowdown from the 9.6 million paid net subscribers added in Q1.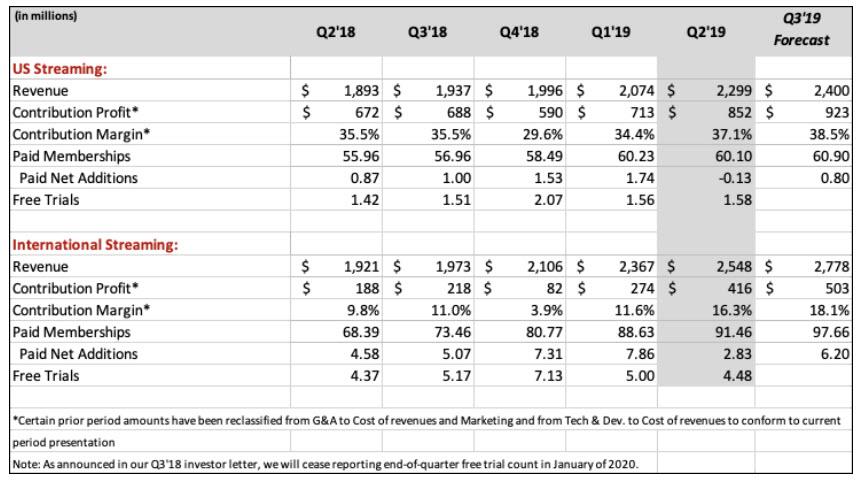 Looking ahead, Netflix now expects total subscribed growth in Q3 to rebound massively from 2.7 million to 7.00 million, rising to 158.56 million, of which the domestic subscribers are expected to increase by 800,000 from a drop of 126,000 in Q2, with international subs rising by 6.2 million to 97.66 million.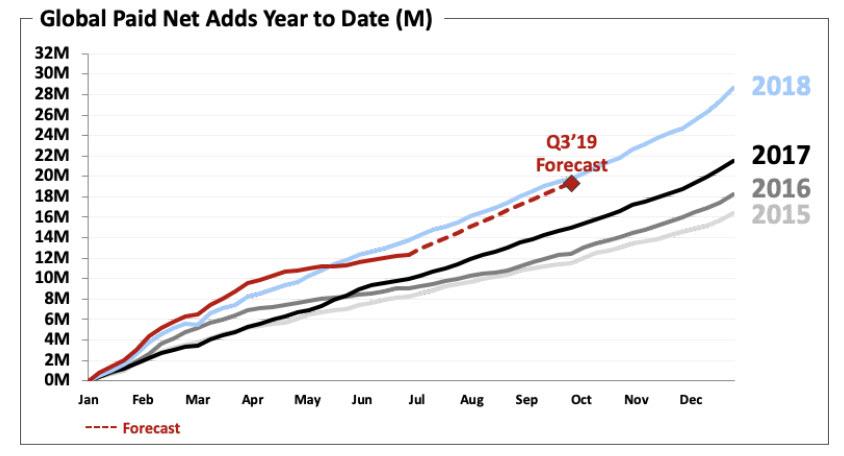 Commenting on this optimistic outlook, NFLX said that while its US paid membership was essentially flat in Q2, its expects it to return to more typical growth in Q3, "and are seeing that in these early weeks of Q3. We forecast Q3 global paid net adds of 7.0m, up vs. 6.1m in Q3'18, with 0.8m in the US and 6.2m internationally. Our internal forecast still currently calls for annual global paid net adds to be up year over year. There's no change to our 13% operating margin target for FY19, up 300 basis points year over year."
Some more details on why the company believes Q3 will be a turnaround quarter:
Q3 has started with Stranger Things season 3, and the first two weeks of Q3 are strong. In addition to the recently released season 3 of Stranger Things, our second half content slate includes new seasons of La Casa de Papel (Money Heist), The Crown, and the final season of the iconic Orange is the New Black as well as big films like The Irishman from Martin Scorsese and action movie 6 Underground (directed by Michael Bay and starring Ryan Reynolds).
While we don't doubt the company's sincere optimism, the fact that it has now disappointed on current or projected subs for three quarters in a row suggests that something may be off with the company's growth model, and perhaps its recent eagerness to hike prices is coming back to painfully bite it in the ass.
Which brings up the question we asked last quarter: why did Netflix announce a price hike in late Q1, to which we bring up the answer provided by Anthony DiClemente last quarter, who was worried that the market is "pricing in perfection" and wondered if the real story behind the recent price increase is that the company sees revenue coming more from fee increases than subscriber growth, suggesting an end to the company's unbridled growth trajectory.
Considering the abysmal subscriber growth in Q2 it appears he was right, and the risk is that the price increase alienates even more existing subs, even though the company itself disagreed, saying that price increases in the U.S., Brazil, Mexico and parts of Europe will slow subscriber growth for a brief period, but won't affect growth in the long run. Well, it now appears the long run may have been affected.
And then there was Netflix's Free Cash Flow, or rather Free Cash Inferno, which after modestly easing off in Q1 after exploding higher in Q4 of 2018, has once again started to rise, and in Q2 was $593 million, $35 million more than a year ago.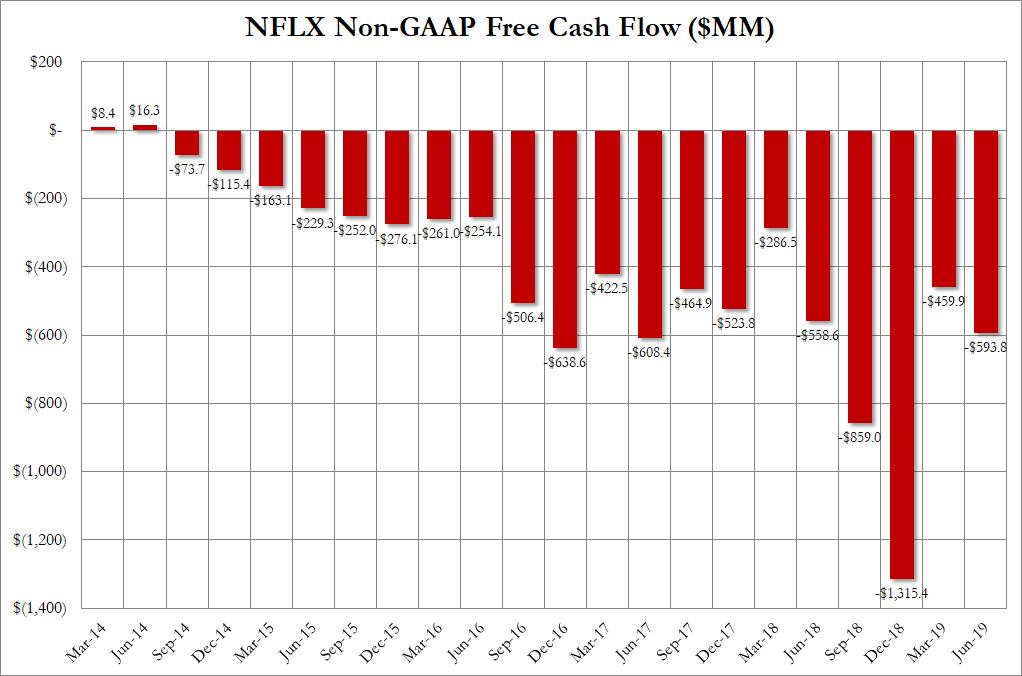 In other words, the company may no longer be growing by leaps and bounds, but at least it continues to burn unprecedented amounts of cash.
All things considered, the fact that NFLX has plunged as much as 12%, sending
Zero Hedge's mission is to widen the scope of financial, economic and political information available to the professional investing public, to skeptically examine and, where necessary, attack the flaccid institution that financial journalism has become, to liberate oppressed knowledge, to provide analysis uninhibited by political constraint and to facilitate information's unending quest for freedom. Visit https://www.zerohedge.com
---
This post has been republished with permission from a publicly-available RSS feed found on Zero Hedge. The views expressed by the original author(s) do not necessarily reflect the opinions or views of The Libertarian Hub, its owners or administrators. Any images included in the original article belong to and are the sole responsibility of the original author/website. The Libertarian Hub makes no claims of ownership of any imported photos/images and shall not be held liable for any unintended copyright infringement. Submit a DCMA takedown request.