As far back as 2013, China's macro-economic data has been 'questionably' smoothed at best, and outright fake at worst. Whether it is trade data ("never been faker" than in 2016) or aggregate production (2018's massive GDP distortions), as economist Nouriel Roubini once asserted, China just makes its numbers up.
And, as we pointed out earlier this week, this month was no exception, when following China GDP's dramatic slowing to just 6.2% YoY – the slowest since record began – there was a delightful surprise to appease those who are wondering whether record credit injections and more easing measures than during the financial crisis had any effect at all. To wit, China retail sales and industrial production rebounded handsomely with the former spiking 9.8% YoY – the most since March 2018.
There's just one thing though – the entire surge in retail sales (and industrial production) seems to have been triggered by an almost unprecedented sudden surge in auto sales to – who else – the government itself, in the form large, state-owned enterprises. Think Cash for Clunkers on steroids – if the clunkers belonged to the Federal Government, and the new cars purchased were made by the Government.
Yet there was one critical data set in China's manipulated economic data spreadsheet, which failed to get the royal goalseek treatment, one with dramatic implications for the broader market.
According to Commodore Research, Chinese June data showed that furniture sales in China totaled only 18.4 billion yuan last month. This marks a year-on-year decline of 14% from the 21.3 billion yuan in sales that was reported last year for June 2018's furniture sales.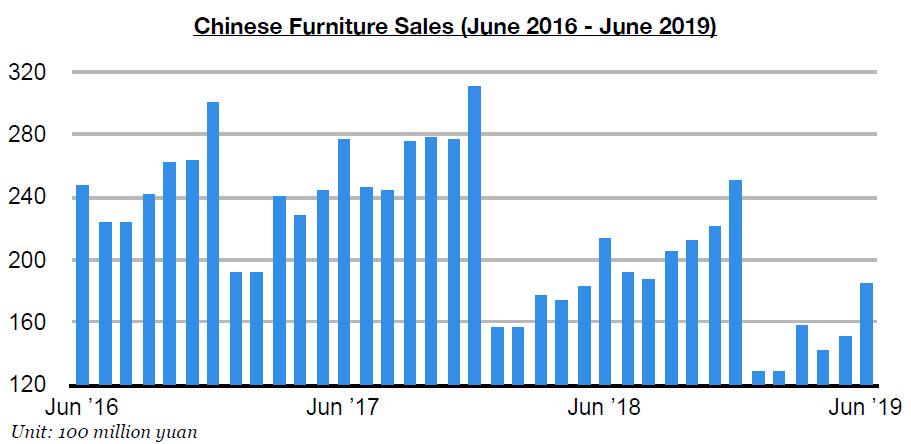 This is puzzling in light of the official Chinese data according to which the local housing market continues to hum along, firing on all cylinders, with the average, 70-city primary market property price rising 10.5% Y/Y in May.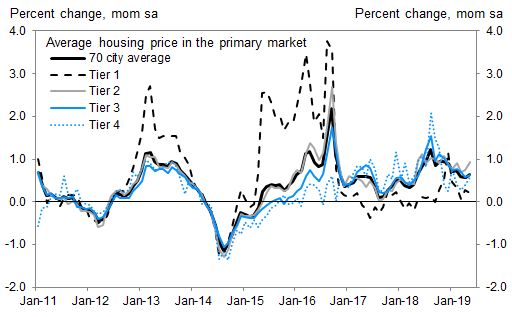 Alas, that does not seem feasible when one considers that furniture sales in China have now contracted on a year-on-year basis for eighteen straight months.
What does this mean? As Commodore Research concludes, "we continue to believe that there is a good chance that the ongoing plummet in furniture sales in China is pointing to much greater weakness existing in the Chinese housing market than is generally being recognized."
This could potentially be very bad news not only for China, but the entire world because as we explained all the way back in March 2017, "The Fate Of The World Economy Is In The Hands Of China's Housing Bubble", and if China's biggest, and most resilient bubble has now indeed burst, the not only is Trump about to steamroll China in the trade war, but the resulting deflationary shock wave is about to send every bond around the world deep into sub-zero territory.
Zero Hedge's mission is to widen the scope of financial, economic and political information available to the professional investing public, to skeptically examine and, where necessary, attack the flaccid institution that financial journalism has become, to liberate oppressed knowledge, to provide analysis uninhibited by political constraint and to facilitate information's unending quest for freedom. Visit https://www.zerohedge.com
---
This post has been republished with permission from a publicly-available RSS feed found on Zero Hedge. The views expressed by the original author(s) do not necessarily reflect the opinions or views of The Libertarian Hub, its owners or administrators. Any images included in the original article belong to and are the sole responsibility of the original author/website. The Libertarian Hub makes no claims of ownership of any imported photos/images and shall not be held liable for any unintended copyright infringement. Submit a DCMA takedown request.