Despite the headlines and scrutiny of US officials focused on Chinese multinational tech giant Huawei, the United States military continues to purchase China-made surveillance cameras, even installing them at sensitive bases like the headquarters of Air Force Space Command and North American Aerospace Defense Command (NORAD), according to bombshell Financial Times report this week. 
US law will ban military and government agencies from purchasing the Chinese manufactured equipment starting in August, but the FT investigation found that hundreds of thousands of dollars worth of the potentially compromising surveillance and monitoring components are still being installed in US bases. As the report points out, "China-made surveillance cameras are still watching over US military bases."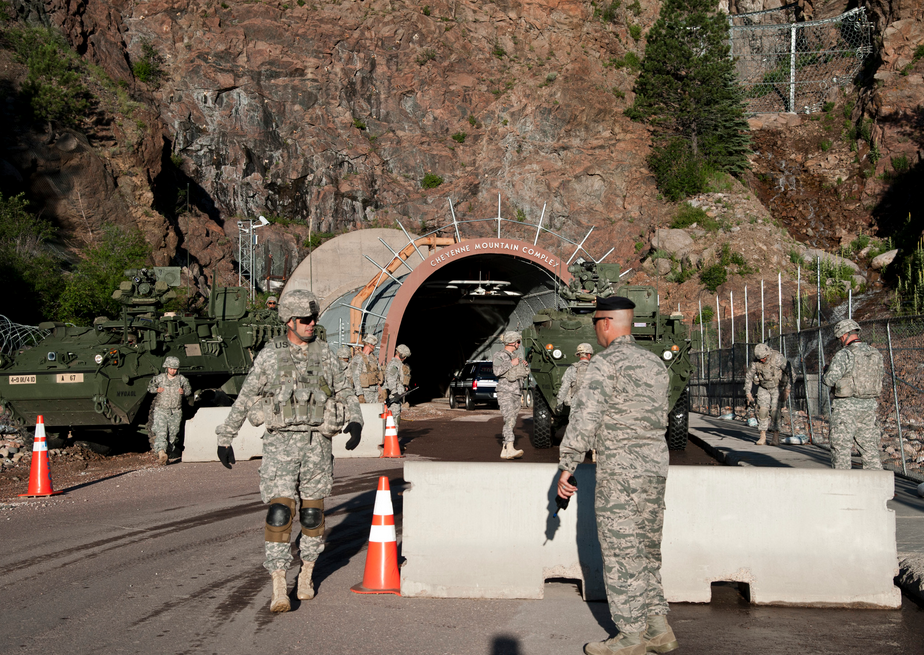 FT introduced its report with a deeply alarming example at none other than the ground zero location for the agency responsible for defending American and Canadian airspace:
Cameras made by Hikvision, which is 42 per cent owned by the Chinese government, remain in place at the Peterson Air Force Base in Colorado, the home of North American Aerospace Defense Command (Norad) and the headquarters of Air Force Space Command. The Peterson base spent $112,000 on Hikvision cameras in 2016 and a spokesperson said these were "not associated with base security or classified areas"…
US defense officials at this and other bases justified the procurement by saying the cameras wouldn't be connected to the internet, nor would they be used in classified or sensitive areas. 
Critics worry that the Chinese government could use software in the cameras to spy on America's most secretive military installations, especially following mounting evidence that Chinese intelligence and the People's Liberation Army (PLA) are using Huawei products, specifically its next generation 5G wireless network, as a Trojan horse backdoor to access other nations' secrets. 
Other examples of the US military recently using Chinese tech devices "in plain site" at national security related facilities include the following, according to the FT report:
A US Navy research base in Orlando, Florida, bought $4,000 of Hikvision cameras even after the passage last year of the National Defense Authorization Act (NDAA)…
Police departments in states including Massachusetts, Colorado and Tennessee are also still relying on Hikvision cameras. The Memphis Police Department alone has at least 1,500.
The US state department bought more than $20,000-worth of replacement Hytera radio parts for the US embassy in Guatemala, again after the NDAA was passed — as part of its work with the Policía Nacional Civil.
In 2017, an army memo said Hytera radios were being used for special forces training since the brand was "extensively used by Islamic State".
The Fort Drum army base, which acquired $30,000-worth of Hikvision cameras in June 2018, declined to comment.
Since 2015, the Defense Logistics Agency has spent almost $180,000 on Hikvision cameras, for US forces in Korea and a naval base in Florida.
In January 2018, the US army removed Hikvision cameras from Fort Leonard Wood, a base in Missouri, amid cyber security fears, according to the Wall Street Journal newspaper.
Interestingly, in a number of cases the decision to remove China-produced tech items at government facilities was due merely to concern over public perception amid the Huawei scandal.
"We never believed [the cameras] were a security risk. They were always on a closed network," Col. Christopher Beck, at Missouri's Fort Leonard base told the WSJ. He added the base removed the cameras to avoid "any negative perception."
Considering China-made cameras and related surveillance gear make up some one-third of the global market, according to many estimates, might they be impossible for the United States to remove completely? 
Zero Hedge's mission is to widen the scope of financial, economic and political information available to the professional investing public, to skeptically examine and, where necessary, attack the flaccid institution that financial journalism has become, to liberate oppressed knowledge, to provide analysis uninhibited by political constraint and to facilitate information's unending quest for freedom. Visit https://www.zerohedge.com
---
This post has been republished with permission from a publicly-available RSS feed found on Zero Hedge. The views expressed by the original author(s) do not necessarily reflect the opinions or views of The Libertarian Hub, its owners or administrators. Any images included in the original article belong to and are the sole responsibility of the original author/website. The Libertarian Hub makes no claims of ownership of any imported photos/images and shall not be held liable for any unintended copyright infringement. Submit a DCMA takedown request.