China and Cambodia reached a (no longer) secret agreement last spring which allows Beijing to make use of a Cambodian navy base near the coastal city of Sihanoukville, according to the Wall Street Journal, citing US and allied officials familiar with the matter.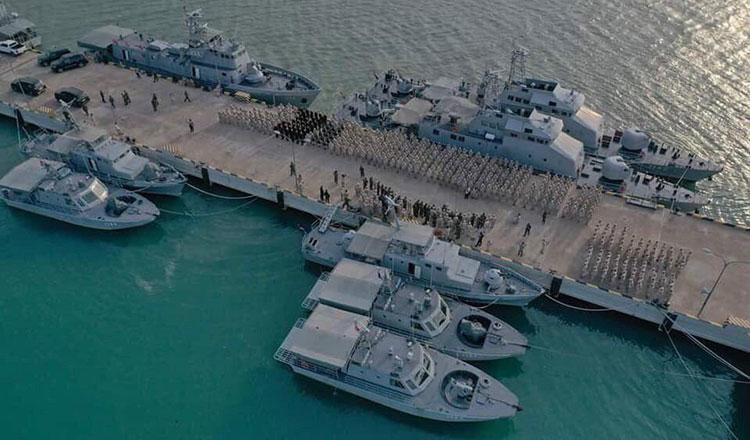 The deal gives China exclusive rights to a portion of Ream naval base in the Gulf of Thailand, close to an airport being constructed by a Chinese firm. According to an early draft of the deal seen by US officials, China will be allowed to use the base for 30 years, with automatic renewals once per decade after that. Beijing will be able to use the base to post military personnel, dock warships and store weapons.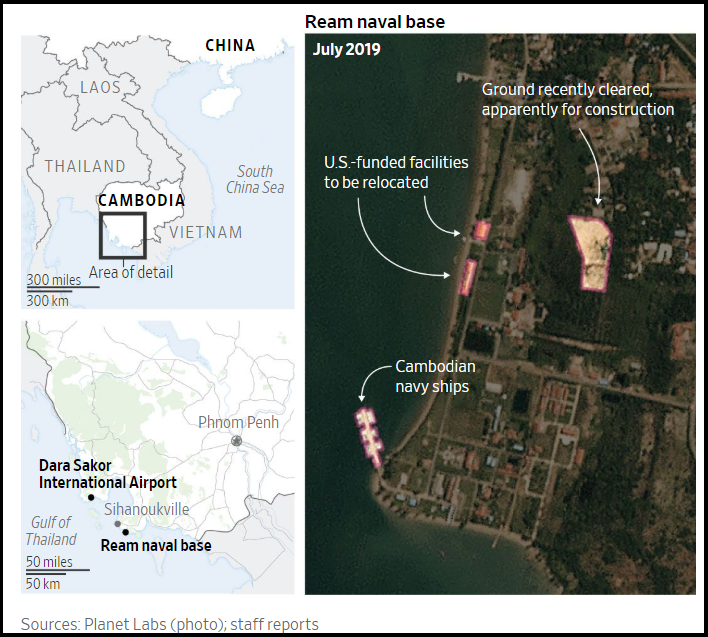 According to the early draft of the base accord, China would build two new piers—one for Chinese use, one for Cambodian, U.S. officials said. U.S. officials said further dredging would likely be needed for the base to host larger Chinese navy ships. 

The draft also allows China's personnel to carry weapons and Cambodian passports, and requires Cambodians to get Chinese permission to enter the 62-acre Chinese section of Ream, U.S. officials said. –Wall Street Journal
As the Journal notes, "Military operations from the naval base, airport, or both, would sharply increase Beijing's capacity to enforce territorial claims and economic interests in the South China Sea, to threaten American allies in Southeast Asia and to extend its influence over the strategically important Malacca Strait."
China is re-asserting their historic imperial hegegnony over the Asia-Pacific region while making deep strategic inroads across Africa, South America, and Europe

If you can't see it yet, wait til 2049

— Jack Posobiec 🇺🇸 (@JackPosobiec) July 21, 2019
While Chinese and Cambodian officials deny plans for a Chinese military base in the country ("Nothing is happening like that," according to Cambodian government spokesman, Phay Siphan, who called it "fake news."), concerns have been raised over construction in a China-backed investment zone that encompasses 20% of Cambodia's coastline, according to Bloomberg.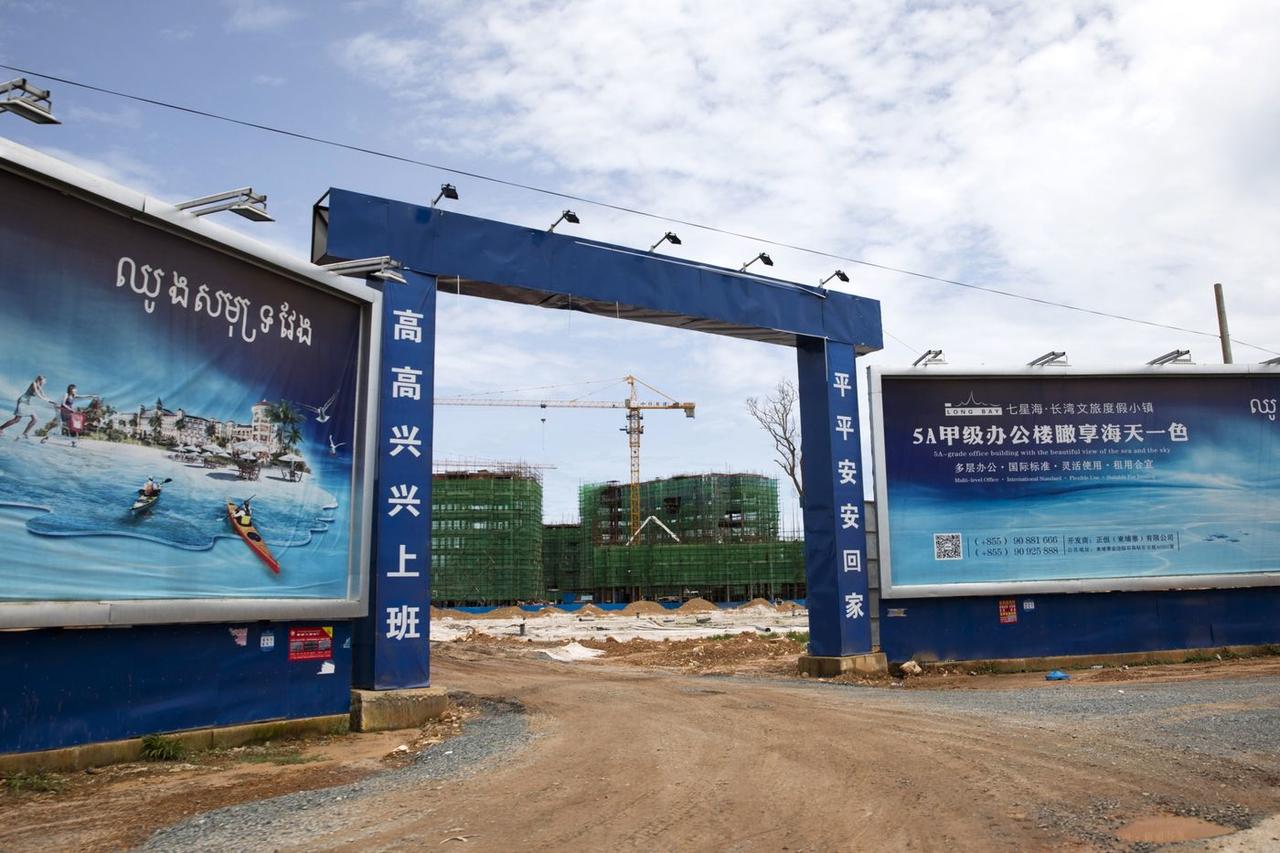 Dara Sakor, a $3.8 billion China-backed investment zone encompassing 20% of Cambodia's coastline, is unlike any other in the developing Southeast Asian nation. Controlled by a Chinese company with a 99-year lease, it features phased plans for an international airport, a deep-water seaport and industrial park along with a luxury resort complete with power stations, water treatment plants and medical facilities. –Bloomberg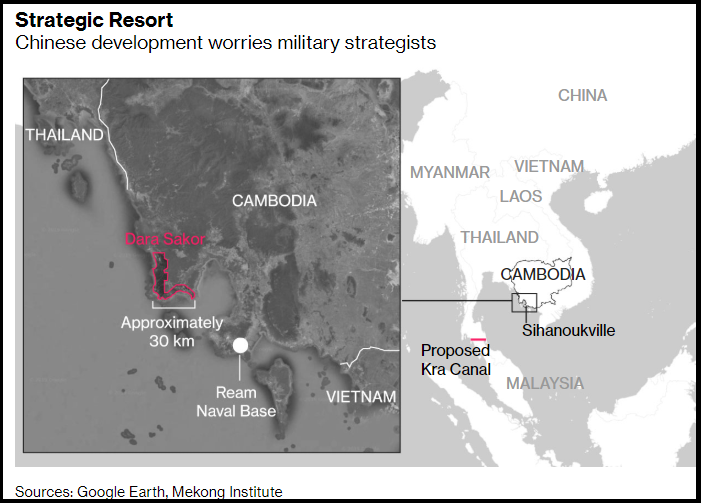 According to the Journal, US officials have been lobbying Cambodia not to allow China's military to make use of the Dara Sakor construction, which has made significant progress according to satellite photographs. "The site now features a two-mile-long runway—big enough for Boeing 747s and Airbus A380s, and for China's long-range bombers and military transports," per the report. 
Recent satellite images shows that an area inside the Ream base has recently been cleared in apparent preparation for construction work. A bridge at the entrance is also being repaired.

Meanwhile, a state-run Chinese construction company is working on Dara Sakor airport, which is due to open next year and will be Cambodia's largest despite being in a province with a population of 200,000 people. –all Street Journal
According to an Australian intelligence official, the Cambodian runway "seems far longer than needed for any normal commercial purpose or aircraft, and certainly longer than necessary for any tourist development envisaged there." 
While China's deal for Ream base doesn't constitute a 'full-scale Chinese base,' per WSJ, it "would give Beijing its first dedicated naval staging facility in Southeast Asia and a second outpost in what the Pentagon sees as a Chinese quest for a global network of military and dual-use sites," setting off alarm bells in DC. 
Washington is "concerned that any steps by the Cambodian government to invite a foreign military presence in Cambodia" would disturb regional peace and stability, said Emily Zeeberg, a spokesperson for the U.S. Embassy in Phnom Penh.

Surrounded by dense jungle and mangroves, and overlooked by a Buddhist temple, the naval installation in question, at Ream, covers about 190 acres and includes two facilities built with U.S. funding and used by the Cambodian navy, and a single pier where a dozen patrol craft dock. –Wall Street Journal
According to the report, US officials are debating whether Phenom Penh can be convinced to reverse course on the Chinese presence at Ream. One senior Pentagon official indicated that the United States wanted Cambodia to be a "preferred security partner," however other officials fear the country has instead chosen team-red.
https://platform.twitter.com/widgets.js
Zero Hedge's mission is to widen the scope of financial, economic and political information available to the professional investing public, to skeptically examine and, where necessary, attack the flaccid institution that financial journalism has become, to liberate oppressed knowledge, to provide analysis uninhibited by political constraint and to facilitate information's unending quest for freedom. Visit https://www.zerohedge.com
---
This post has been republished with permission from a publicly-available RSS feed found on Zero Hedge. The views expressed by the original author(s) do not necessarily reflect the opinions or views of The Libertarian Hub, its owners or administrators. Any images included in the original article belong to and are the sole responsibility of the original author/website. The Libertarian Hub makes no claims of ownership of any imported photos/images and shall not be held liable for any unintended copyright infringement. Submit a DCMA takedown request.