After more than two years fighting with Democrats over border security, the Trump administration has replaced plenty of dilapidated barriers – yet hasn't built a single mile of border fencing in open, unprotected sections of the southern US border, according to the Washington Examiner's Anna Giaritelli.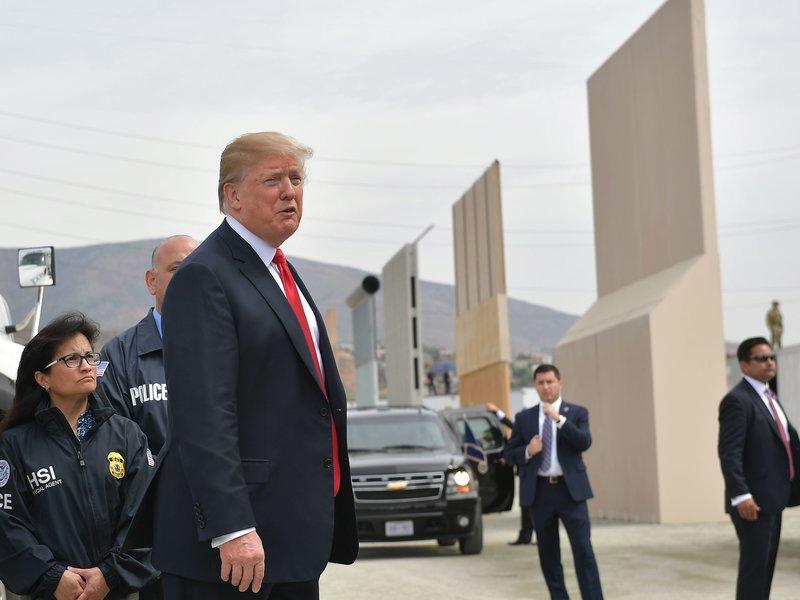 In a statement last week, U.S. Customs and Border Protection, the federal agency overseeing border barrier construction, confirmed that all the fencing completed since Trump took office is "in place of dilapidated designs" because the existing fence was in need of replacement. –Washington Examiner
CBP said that 51 miles of steel bollard fence had been replaced using funds set aside during FY2017 and 2018, however construction of new barriers where there aren't any is 'in the works' according to the report. 
The 50 miles of completed replacement barrier is a 10-mile gain since early April. In Trump's two and a half years in office, his administration has installed an average 1.7 miles of barrier per month, and none of it in areas that did not previously have some sort of barrier. A total 205 miles of new and replacement barrier has been funded in the two and a half years since Trump took office. –Washington Examiner
Red tape?
One reason given to the Examiner for the lack of fencing in open-border regions is due to a difficult approval process for environmental zoning permits, according to a senior administration official. Another senior official blamed Democrats for blocking wall projects that the administration wants to complete.
"The wall projects are moving along as quickly as practicably possible given the unprecedented obstruction from Democrat lawmakers to protect and prolong open borders," wrote the official, adding "These same obstructionists, including many who once supported border barriers, are the same people who would abolish ICE and DHS, let criminals run free across our borders, and turned a blind eye to the scourge human trafficking and child sex slavery enabled by their policies."
Despite the slow (or no) progress in safeguarding unsecured portions of the border, Trump is applauding his administration for the progress made in reinforcing the current barriers. 
Trump's 2020 campaign debuted the slogan "Finish the Wall" at his first rally of 2019 in El Paso, Texas. At one point during his speech, the crowd began cheering "build that wall." Trump responded, "Now, you really mean 'finish that wall,' because we've built a lot of it," though he did not share numbers with the thousands of people in attendance. –Washington Examiner
In 2017, Congress approved $341 million for 40 miles of replacement wall in San Diego, California; Santa Teresa, North Mexico; Calexico, California; and El Paso, Texas. 
"To this date, CBP has completed the construction of approximately 99 percent of the 40 miles funded in fiscal year 2017. Additionally, construction of 35 gates to close gaps in current border infrastructure in the Rio Grande Valley sector continues," according to a DHS statement. 
Approximately 400 miles is steel fencing comparable to the planned new wall, only shorter. The other 300 miles of barrier is Normandy style, or a handful of steel beams fastened together to prevent vehicular traffic from getting by. However, the four-foot-tall fence does not prevent people from crossing. –Washington Examiner
The Trump administration was sued earlier this year after reallocating $6.6 billion from the Pentagon and elsewhere to fund border wall construction. The move was blocked by the 9th Circuit Court of Appeals – which the Supreme Court is expected to weigh in on over the next few weeks following a request from the Justice Department. 
Zero Hedge's mission is to widen the scope of financial, economic and political information available to the professional investing public, to skeptically examine and, where necessary, attack the flaccid institution that financial journalism has become, to liberate oppressed knowledge, to provide analysis uninhibited by political constraint and to facilitate information's unending quest for freedom. Visit https://www.zerohedge.com
---
This post has been republished with permission from a publicly-available RSS feed found on Zero Hedge. The views expressed by the original author(s) do not necessarily reflect the opinions or views of The Libertarian Hub, its owners or administrators. Any images included in the original article belong to and are the sole responsibility of the original author/website. The Libertarian Hub makes no claims of ownership of any imported photos/images and shall not be held liable for any unintended copyright infringement. Submit a DCMA takedown request.